Fantasy Football: Top 10 Rookie Wideouts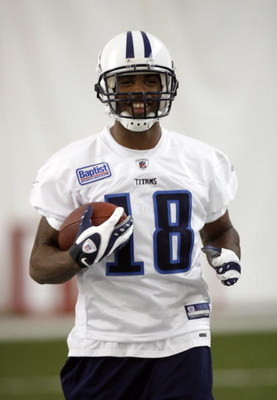 (Left: Can Kenny Britt help open up Tennessee's passing game?)
It's always nice to find gems in the late rounds, but somehow a little nicer when they are first year players.
Last year, when I wrote a Top 10 Rookie Report, I made a list in week one that featured Eddie Royal and DeSean Jackson.
Both receivers went on to top 900 receiving yards and were huge parts in their team's offensive success throughout the season.
While it's common knowledge that it usually takes a year or two (sometimes more) for a receiver to adjust to the NFL, there are always a few receivers who put up good enough numbers to be relevant in fantasy football.
And it's my job to find them.
Here's a look at the 10 guys with the best combination of talent, environment, and NFL-readiness.
11. Honorable Mention: Austin Collie (Colts)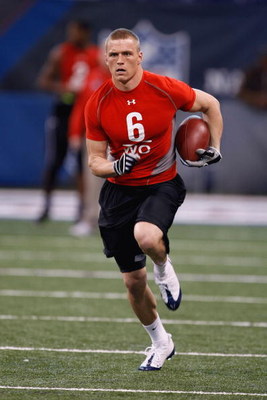 Collie is NFL-ready with great hands and solid speed, but is somehow behind Pierre Garcon.
Peyton Manning apparently feels more comfortable with Garcon at this time, and the receiver with more experience than Collie has been getting high praises all offseason.
Regardless, no third receiver in Indy' is a must-have as Reggie Wayne, Dallas Clark, and Anthony Gonzalez will steal the majority of the looks.
10. Jarrett Dillard (Jaguars)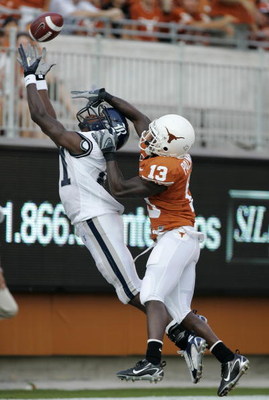 Dillard was an explosive and ultra-productive weapon at Rice. After impressive action in OTA, he could be on his way to doing the same for Jacksonville.
However, he still has veterans Torry Holt and Mike Walker ahead of him, and is in contention with fellow rookie, Mike Thomas, for the slot duties.
Dillard was more impressive in college and probably offers more as a receiver physically, but it's no certainty that Dillard holds off Thomas for the job.
Keep an eye on both receivers as the winner of Jacksonville's third spot could actually field decent numbers.
9. Juaquin Iglesias (Bears)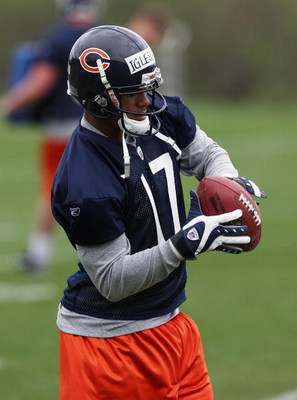 Iglesias is the apparent front-runner of the rookie receivers in Chicago, slightly beating out Johnny Knox, for now.
It has been reported that both receivers have developed a strong bond and solid chemistry with quarterback Jay Cutler, with Iglesias's being a little stronger than Knox's.
Iglesias is probably more NFL-ready, but isn't quite as fast or as explosive as Knox is.
With only Rashied Davis in his way for playing time, look for Iglesias to earn some solid time on the field as the team's third receiver.
8. Hakeem Nicks (Giants)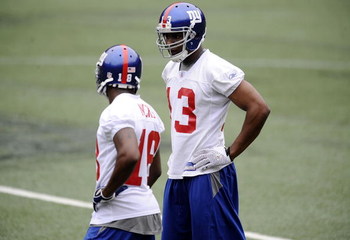 Both Hakeem Nicks and fellow rookie receiver Ramses Barden are elite prospects, but Nicks currently holds a strong edge on Barden for a chance at significant playing time.
Nicks has excellent ball skills and is much more polished than Barden, which will give him a shot at operating out of the slot for the Giants.
Their current starters are listed as Domenik Hixon and Steve Smith, which would have Hixon and Nicks on the outside, and Smith working the inside.
However, Nicks is still in a heated battle with Mario Manningham and Sinorice Moss for that third spot.
If we're being honest with ourselves, it's clear to just about everyone by now that Moss is a bust, and this competition is down to being between Nicks and Manningham.
7. Sammie Stroughter (Buccaneers)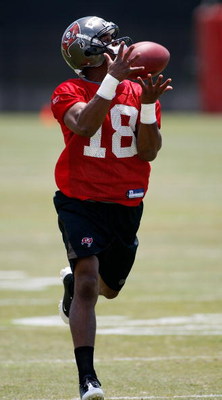 Stroughter is currently battling some injury issues, but no one was being praised more during workouts in May.
Stroughter has out-performed all of the receivers not named Antonio Bryant or Michael Clayton, and it appears the slot job is his to lose.
As long as he can get and stay healthy, the seventh rounder out of Oregon State could be looking at major playing time right out of the gates.
6. Darrius Heyward-Bey (Raiders)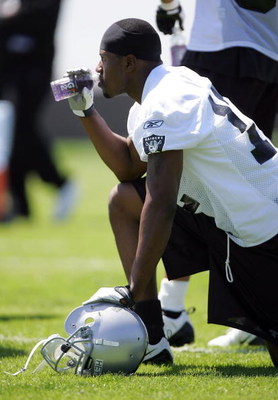 Heyward-Bey is another classic "measurables" draft pick for owner Al Davis. Being of sound athleticism, he should find himself as the starter from day one.
He began OTA with a case of the "dropsies", and recently has had hamstring woes.
But with receivers such as Chaz Schilens, Johnnie Lee Higgins, and Javon Walkers as his only serious competition, it's likely it'd take a broken leg for him not to start.
Fellow rookie Louis Murphy looks to be in the mix, but as long as Heyward-Bey is getting time on the field, he can be relevant in your league.
5. Kenny Britt (Titans)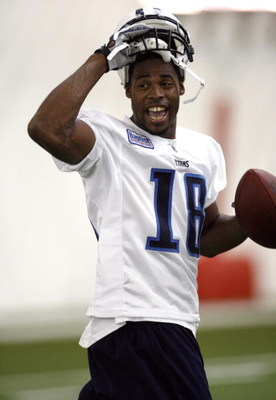 Britt probably isn't in line for fantasy dominance in his first year, but he should find himself working out of the slot, which will make him playable.
With good stats and experience in the Big East, Britt can clearly go up against athletic defenders, and isn't in a division with many physical corners.
This leaves him with many opportunities to capitalize on.
Still, with Kerry Collins leading a less-than potent pass attack, Britt's impact will be grounded for much of the season.
If the Titans can get their passing game going, Britt will become valuable.
4. Percy Harvin (Vikings)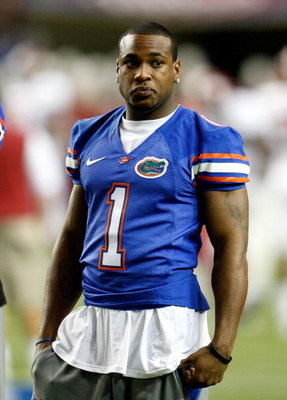 As it stands right now, there seems to be no competition for Harvin at the third receiver spot, ensuring he will have some sort of a role in 2009 with Minnesota.
Early reports have stated that Harvin is clearly raw and has a ways to go fundamentally, but his athleticism is even better than advertised.
As long as the Vikings can get the ball in his hands, he'll be able to make plays.
Well, with the Brett Favre rumor still alive and kicking, Harvin's stock is slowly ascending and could sky rocket once Favre officially signs.
Harvin is extremely explosive and could make a huge impact in his first season if he's used correctly.
3. Jeremy Maclin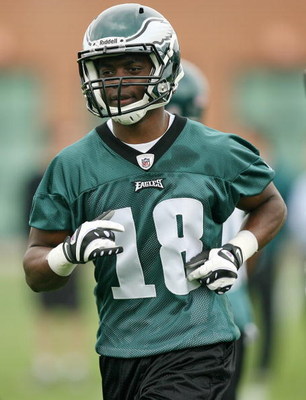 Maclin will start the season as the "third" receiver, but what that exactly means won't be known until the start of preseason.
The general thought is that Maclin will line-up on the outside with either DeSean Jackson or Kevin Curtis, with the odd man out going to work in the slot.
All three receivers have exceptional hands, play-making ability, and world-class speed.
Quite honestly, it's a toss-up for who ends the season with the most catches—assuming of course that Maclin is immediately integrated in the offense.
Considering the fact that he's a rookie, Maclin will most likely finish with the least production of the three.
But in an offense that spreads the ball around better than Fabio spreads "I Can't Believe It's Not Butter," he could still bring value to your bench.
2. Brian Robiskie (Browns)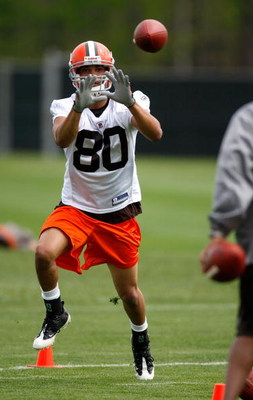 Robiskie is as NFL-ready as they come, and could be walking into the starting spot across from Braylon Edwards.
The only question is, who is throwing the ball to him, and can they get it to him consistently enough?
He still has some solid competition in veterans Mike Furrey and David Patten, but Robiskie runs crisp routes and has shown strong hands and awareness throughout the offseason.
It's his job to lose.
1. Michael Crabtree (49ers)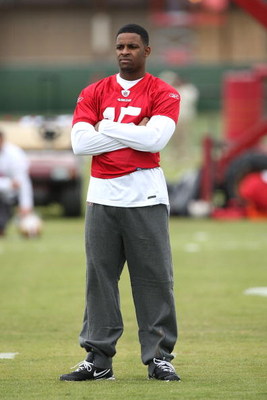 Crabtree is likely walking right into a starting job, regardless of what happens with Isaac Bruce or any other 49ers receiver.
He's completely NFL-ready, and, with no better way for him to learn, there's no reason he won't be starting from the get go.
Crabtree has excellent physical attributes, superb ball skills, and elite hands.
Most of his knocks were due to injury and the lack of an elite 40 time, but these things are overrated to begin with.
Crabtree is a lock to start, whether it be at the one or the two, and can be safely drafted as a solid WR3.
Keep Reading