Another wrinkle has been added to the ongoing Donald Sterling saga, with the Los Angeles Clippers owner filing a lawsuit against his wife, Shelly, and the NBA, alleging the two of committing corporate fraud, per ESPN.com's Ramona Shelburne:
Donald Sterling filed a lawsuit in Superior court Tuesday vs Shelly & NBA alleging corporate fraud

— Ramona Shelburne (@ramonashelburne) July 23, 2014
Donald alleges he is the sole shareholder of LAC, the corp that runs the Clippers. Once he revoked the trust, the shares reverted to him

— Ramona Shelburne (@ramonashelburne) July 23, 2014
Maxwell Blecher believes that any sort of ruling on this most recent suit might not come for years, via ESPN.com's Arash Markazi:
Donald Sterling has filed another lawsuit in Superior court today against Shelly and NBA. His attorney said a ruling may not come for years.

— Arash Markazi (@ArashMarkazi) July 23, 2014
This is different from the lawsuit he previously filed against the league and NBA Commissioner Adam Silver:
This new lawsuit is in addition to the federal lawsuit Donald Sterling already filed vs the NBA. His attorneys filed it Tuesday after court

— Ramona Shelburne (@ramonashelburne) July 23, 2014
With the many twists and turns of this story, it's becoming increasingly difficult to remain up to speed with each new development. The proposed sale of the Clippers from Shelly Sterling to former Microsoft CEO Steve Ballmer for $2 billion feels like ages ago.
Sterling and Blecher have always insisted that this would become extremely messy for both his wife and the league, and so it has. The sale of the team is tied up in the courts, and no resolution is in sight.
Meanwhile, people currently in the Clippers organization are caught in the crossfire.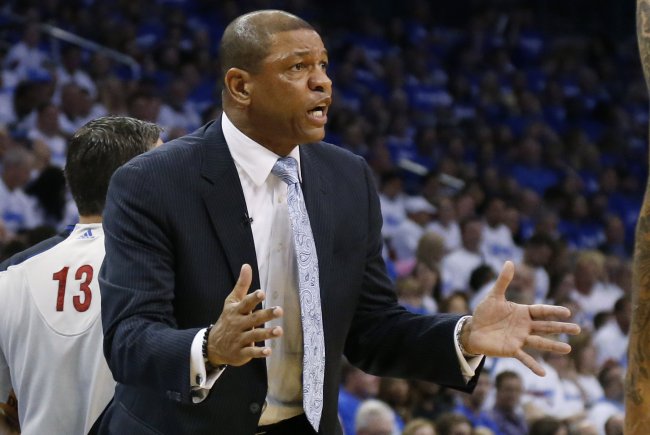 Sue Ogrocki/Associated Press
The team's interim CEO, Richard Parsons, testified in court on Tuesday that head coach Doc Rivers would want out if Donald Sterling remains the owner, per the Associated Press (via Yahoo Sports):
Doc is troubled by this maybe moreso than anybody else. If Mr. Sterling continues as owner, he does not want to continue as coach. If Doc were to leave, that would be a disaster. Doc is the father figure, the one who leads. He's the coach. He's the grown-up. He is able to connect with people and earn their trust. The team believes in him and loves him. If he were to leave, that is only going to accelerate the death spiral.
As CBSSports.com's Matt Moore pointed out, the original lawsuit that's currently ongoing will wrap up on July 28. If the judge doesn't reach a ruling by Aug. 15, though, Ballmer's $2 billion offer will expire.
At that point, Silver and the league would attempt to enter litigation to terminate Sterling's ownership and put the team up for auction.