On Monday, UEFA hit Paris Saint-German with sanctions after the organizing committee found that PSG abused disabled Chelsea supporters during the April 2 Champions League match in Paris between the teams.
PSG have since responded, releasing the following statement on their official site in response to the sanctions:
In their decision of 21 July 2014, UEFA has ordered the partial closure of two stands of the Parc de Princes at the club's next home match of the UEFA Champions League.

This sanction was taken due to the conduct of some supporters towards disabled fans during the match against Chelsea on 3 April 2014, yet warranted no official report.

Paris Saint-Germain is surprised and shocked by this unfair decision and asks UEFA to transmit to the club the grounds for this decision; the first step to launching an appeal against this sanction.

Paris Saint-Germain would like to reiterate its stance against all forms of discrimination, both inside the stadium and in the community. That is the first vocation of the Paris Saint-Germain Foundation that, for the last 14 years, has developed educational programs to promote integration and offer opportunities to underprivileged children and youths.
It's not the first time PSG have caught the gaze of UEFA. In May, they were fined $82 million and forced to reduce the size of their roster during the Champions League to 21 players after being hit with financial fair play sanctions.
The responses by both UEFA and PSG will likely be met with different opinions.

From UEFA's perspective, they cannot stand for any discrimination in the stands during the world's largest club competition. The sport has had more than its fair share of issues with racism, and a group of fans discriminating against the disabled is a huge negative.
PSG, on the other hand, likely feel miffed that the actions of a few fans affect the entire club. Not only that, but those supporters have also essentially cost the club money, as tickets can't be sold for the two stands in question.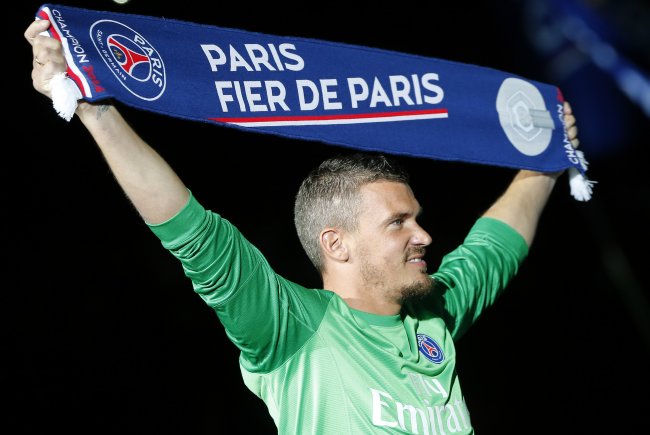 Jacques Brinon/Associated Press
These should be exciting times for PSG. They have won two consecutive league titles and are amongst the favorites to win the Champions League this season. They were a collapse against Chelsea away from reaching the semifinals in the competition last year.
Instead, the story of the summer—outside of the huge David Luiz signing—has become the sanctions imposed by UEFA. The club will certainly be hoping their play on the field can recapture the narrative once the season begins.