Greatest Matches We'll Never See
In WWE, we've seen many classic matches, between the best of superstars, but sometimes there is a rare chance that some of the other superstars don't get a chance to go at it...
Today, I was just thinking to myself about why we've never seen some of the matches in my slideshow...
These matches could've been instant classics and moneymakers...
Well...
Without further ado...
Lets get started...
Bret Hart vs. Kurt Angle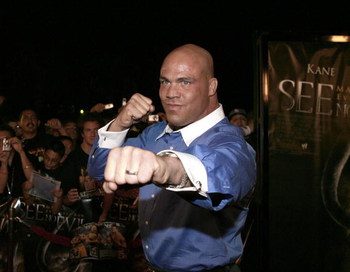 This would be an instant technical classic, between two of the best technical wrestlers of their respected eras.
This match would be won by Hart in my opinion, but it'll be a classic, too bad this will NEVER happen...
John Cena vs. Hulk Hogan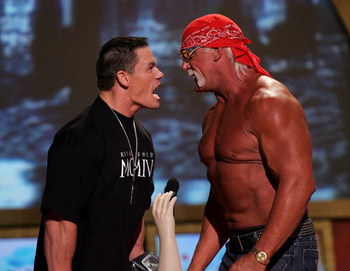 A match between two of the biggest superstars of their respected eras, Hogan and Cena. Although Hogan was obviously more over with the fans, it'll be a big time moneymaker for WWE.
Out of my whole slideshow, this match has the most chance of happening, and with Hogan with his problems now, the probability of this match happening is extremely low...
Eddie Guerrero vs. Edge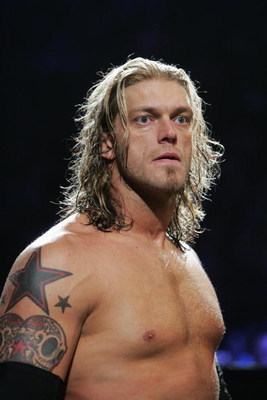 You say why this match? To tell you the truth, it was a personal dream match that I want to see again, even though there's NO CHANCE we'll ever see it.
Eddie Guerrero and Edge put on great matches in their careers, especially against each other, and with the way Edge treated Vickie, it would've been interesting...
By the way, EG fans, don't take it personally, it was just a dream match...
NWO vs. D-Generation X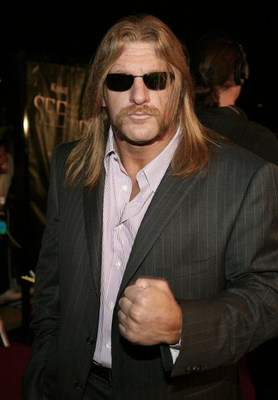 NWO and D-Generation-X, both considered two of the greatest, rebellious stables in WWE history.
NWO, Nash, Hall, and Hogan were the leaders of NWO, while DX's leaders were Triple H, Shawn Michaels, Road Dogg, and X-Pac.
Either way, this is more of a dream feud then match, but it'll still be an interesting match to see, and the winner of the match will be the best stable in WWE history...
Still, this will never happen...
Stone Cold vs. Hulk Hogan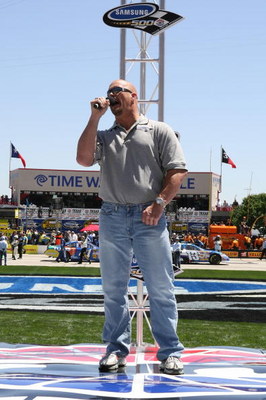 This match would be interesting, as Hogan was a children's hero, while Austin in my opinion is more of a rebel.
There was a rumor of these two facing off at Wrestlemania X-8, instead The Rock fought Hogan, as it never happened for some reasons...
Still this would be a classic, with Hogan as the much over face, and Austin as the heel, that'll be very interesting to see, two icons facing off, with only one coming out victorious...
Stone Cold vs. Hulk Hogan...
Shawn Michaels vs. The Rock
This is a match everyone wants to see, between two icons of this business, "The People's Champ", The Rock, facing off against "The Heart Break Kid", Shawn Michaels.
This match would've been interesting because I can see these two co-existing in the ring very well, even though Shawn can make anything happen.
This match would've been filled with "charisma", "heart", and just "greatness."
Personally, this is the dream match that I want to see the most, still, these two have never faced off in a one-on-one match, and the sad thing is, like the other matches, it'll never happen...
The Closing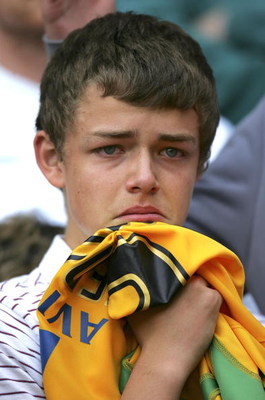 Some of these feuds were never really bound to happen, like Michaels/Rock, as Shawn was injured from what, 1997 or 1998 till 2002, where The Rock's career really skyrocketed, and when Michaels did return in 02, Rock was on basically on his way out...
Still, there was no excuse for them not to have a Austin/Hogan feud and match, but we know WWE...
Thanks for reading, comment if you want...
In the words of Ron Simmons, "DAMN"!
Keep Reading