While Big 12 commissioner Bob Bowlsby sent ripples throughout college football after decrying the lack of NCAA enforcement and saying that "cheating pays" during the conference's media days on Monday, the ACC was also having media days of their own.

While there wasn't that level of controversy during the press conferences littered throughout the day, there were plenty of notable moments as the ACC coaches took to the podium.
But before they made their remarks and answered questions, there was the small matter of the 2014 preseason voting being announced. There weren't many surprises, though Stewart Mandel of Fox Sports found one:
Wait .. let's take a closer look at that ACC player of the year vote. Specifically, No. 5 (???) pic.twitter.com/MlvDhXuJzv

— Stewart Mandel (@slmandel) July 21, 2014
Andy Bitter of the Roanoke Times put that selection in perspective:
Just so we're clear, a #Hokies QB who might not play got a vote for preseason player of the year in a league with the Heisman Trophy winner

— Andy Bitter (@AndyBitterVT) July 21, 2014
Indeed, it boggles the mind. There weren't as many surprises in the rest of the voting, however. Although, Miami's coach Al Golden had a few things to say about his team topping the Coastal Division, per ESPN ACC:
Al Golden says he was not surprised to see his team was picked to win the Coastal, while adding he has no interest in preseason poll.

— ESPN ACC (@ESPN_ACC) July 21, 2014
One of the highlights of the day was when Jimbo Fisher, head coach of the defending national champions, took to the mic. Bruce Feldman of Fox Sports passed along two of his more memorable quotes:
Jumbo Fisher on Jameis Winston on repeat as Heisman winner: "If he plays good and we play good, he'll win the Heisman." #fsu

— Bruce Feldman (@BruceFeldmanCFB) July 21, 2014
Jimbo Fisher on ppl taking shots at ACC.Mentions Pac12, B1G. "They haven't gotten more players drafted, won more bowls or more natl titles."

— Bruce Feldman (@BruceFeldmanCFB) July 21, 2014
Fisher wasn't done stirring the pot there, though, taking a shot at the Big 12's format. This led to Baylor coach Art Briles responding in kind at the Big 12 media days. Jake Trotter of ESPN passes along the "exchange" that went down:
Florida State coach Jimbo Fisher said Monday at ACC media days that it's 'ridiculous' the Big 12 doesn't play a conference championship game.

When informed of the comment, Baylor coach Art Briles lobbed a retort later in the day.

'Don't come down here to Texas and try to tell me how to do mine,' Briles said from Big 12 media days in Dallas. 'Jimbo Fisher needs to worry about the ACC. That's what he needs to worry about.

'I'm not telling him how to do their business.'
Well then.
For the past two days, there has been a lot of chest-thumping about Florida State winning the national championship and bringing it back to the ACC after it had been controlled by the SEC since 2005. Apparently, Fisher thought it was fair game to lob a few jabs in the Big 12's direction, too.
It wasn't just the ACC vs. the Big 12 or the ACC vs. the SEC either on Monday. It was also the ACC vs. the Big Ten.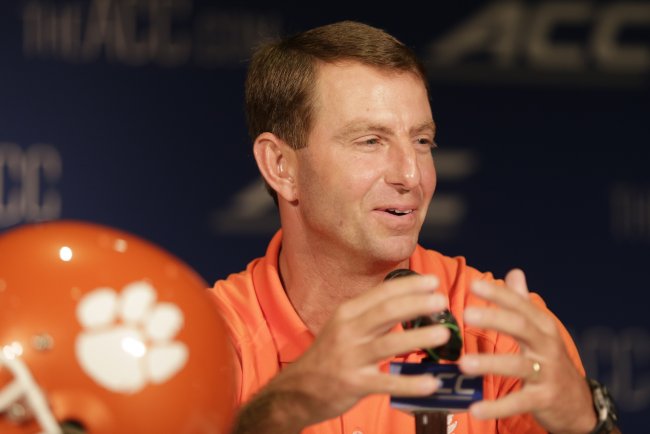 Chuck Burton/Associated Press
Earlier this month, Maryland coach Randy Edsall spoke to reporters of the school's move from the ACC to Big Ten, noting, "As a football coach, I feel better. Because I'm going to a football conference. I'm not in a basketball conference anymore."
On Monday, Dabo Swinney fired back.
"We just beat Ohio State," he said, according to Laken Litman of For The Win. "Aren't they in that conference?"
Indeed they are.
Swinney wasn't done there, also contrasting himself to Steve Spurrier, per the David Glenn Show:
Swinney: I have great respect for Coach Spurrier, but we're just from different planets. He's from Pluto, I'm from Mars.

— David Glenn Show (@DavidGlennShow) July 21, 2014
You can't blame Swinney for distancing himself from the head coach of Clemson's in-state rival, South Carolina. Surely, the Clemson faithful enjoyed that comment.
While Fisher and Swinney are known commodities, Pat Forde noted that one coach was a popular figure amongst the media throng covering the event:
New Wake Forest coach Dave Clawson won over a lot of reporters who hadn't been around him before. Harder part will be winning games in '14.

— Pat Forde (@YahooForde) July 21, 2014
A more known commodity, Frank Beamer, addressed the fact that Virginia Tech has struggled in recent years. Doug Powell of the Martinsville Bulletin passed along the following picture of Beamer addressing the media:
The caption above the photo read, "VT coach Frank Beamer: 'I think anytime you haven't been as successful as you feel like you need to be or want to be then it's incentive for the following year. No question.' #ACCkickoff."
Virginia Tech should have more than enough incentive, then.
Meanwhile, ACC Football on Twitter passed along some excerpts of various coaches talking about the upcoming season. Duke's David Cutcliffe was one:
.@Duke_FB Head Coach David Cutcliffe Previews 2014 Season: http://t.co/KJmBd7tLIA #ACCkickoff

— ACC Football (@theACCfootball) July 21, 2014
And Louisville's Bobby Petrino also stepped up to the mic in one of the most anticipated pressers of the day:
.@UofLFootball @CoachPetrinoUL Previews 2014 Season: http://t.co/yQogUmrXMb #ACCKickoff

— ACC Football (@theACCfootball) July 21, 2014
Of course, it may have been what Petrino didn't say—or to whom he reportedly didn't say it—that resounded loudly with the folks in attendance, per Dan Wolken of USA Today:
Shouldn't Petrino WANT to talk about Falcons stuff as opposed to... RT @KoryKeys: Per @Kelly_Quinlan, Petrino ducked all ATL media again.

— Dan Wolken (@DanWolken) July 21, 2014
All in all, it was an interesting day for the ACC's coaches, especially when the proverbial shots were fired toward the other conferences. Suffice to say, conference pride is strong in college football, even as realignment completely changed several of the biggest conferences in the sport.
Clearly, the folks in the ACC are keen to prove last year's national championship triumph by Florida State wasn't a fluke, but rather the start of an ACC trend of dominance. Time will tell.
But on Monday, it was abundantly clear that the ACC's coaches feel they are in the best conference in college football.