Updates from Thursday, Aug. 7
CBS Sports' Jon Heyman provides an update on Alex Rios:
Alex rios did clear waivers, as @calvinwatkins said. Nice player imo. Can run, throw, hit. Rather have him than byrd.

— Jon Heyman (@JonHeymanCBS) August 7, 2014
Updates from Wednesday, July 30
Yahoo's Tim Brown provides an update on the trade market for Alex Rios:
Rangers gaining traction on Rios talks in several places.

— Tim Brown (@TBrownYahoo) July 30, 2014
Updates from Sunday, July 27
Ken Rosenthal of Fox Sports reported on Toronto's interest in Alex Rios:
Among teams that have checked in on #Rangers' Rios, from my sources and @jonmorosi's: #Mariners, #SFGiants, #Yankees, #Reds.

— Ken Rosenthal (@Ken_Rosenthal) July 27, 2014
Whatever interest #BlueJays had in Rios was fleeting, sources say. Jays monitoring market; #Indians' Cabrera an option.

— Ken Rosenthal (@Ken_Rosenthal) July 27, 2014
Updates from Tuesday, July 22
According to the Rangers, Alex Rios is not in the lineup:
Here's how the #Rangers line up tonight in the Bronx. pic.twitter.com/ZuzYUV98EY

— Texas Rangers (@Rangers) July 22, 2014
Jon Heyman of CBS Sports reported on another team interested in Rios' services:
In an interesting twist, the Blue Jays are showing interest in their former player Alex Rios, according to sources.

Rios is one of the best hitters in a thin market for middle-of-the-lineup batters, so it shouldn't come as a surprise Toronto, with three key injuries hurting them now, would check in. Yet, it is a bit ironic since the Blue Jays were thrilled in 2009 when the White Sox shocked folks and claimed the outfielder off waivers, taking a $69.835-million contract many believed was untradeable at the time.

(...)

The Royals and Mariners are among other teams with interest in Rios, and the Giants could make sense, as well.
Original Text
Currently in the midst of one of his most consistent seasons in the MLB, veteran Alex Rios is reportedly drawing interest from a postseason contender as a trade target.
Jon Heyman of CBS Sports reports the Kansas City Royals are considering the corner outfielder:
The Royals are looking for corner bats as they try to fix their offensive woes and get back into the AL Central race, and Rangers right fielder Alex Rios is one player they've considered.

Kansas City is 14th in the AL with a .687 OPS and 12th with 388 runs, so it understands it needs some help.
Should the Rangers deal Rios?
Rios, 33, boasts a .302 average with four home runs and 42 RBI this season to go along with eight triples. With the Rangers currently 39-59 and well outside of the AL West race, they need to make moves now to build toward the future.
Unfortunately, Rios suffered an ankle injury that caused him to leave Saturday's game in the first inning. Despite the injury, manager Ron Washington was optimistic about his return coming soon, per Evan Grant of The Dallas Morning News.
"I don't think tomorrow, but Tuesday could be an option," Washington said of Rios. "The ankle is a lot better, a lot better. We'll use today to get some more swelling out of it and tomorrow for treatment and hope he's ready to go on Tuesday."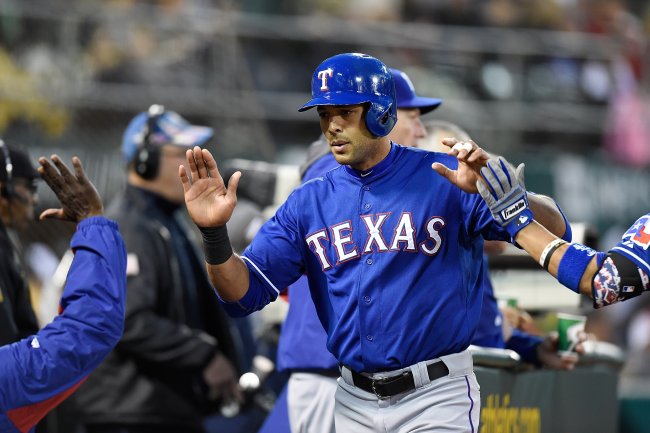 Thearon W. Henderson/Getty Images
That's good news for Rios, who could be on the move for a second straight season. After being dealt from the Chicago White Sox last year, Rios hit .280 with six homers and 26 RBI in 47 games with the Rangers.
Regardless of which team he lands on, Rios also adds veteran leadership. On a team like the Rangers that hasn't had much reason for optimism, he has served as a leader in the mostly young lineup.
If Rios is dealt to a potential playoff team, he has a chance to contribute good numbers and be a consistent offensive force. Though his four homers aren't extremely impressive, his .302 average and .330 on-base percentage gives any franchise a good bat in the lineup.
Follow @RCorySmith on Twitter.