Updates from Tuesday, Aug. 19
Nick Underhill of The New Orleans Advocate reported on Jairus Byrd's potential return to the Saints lineup:
Byrd said he expects to play

— Nick Underhill (@UnderhillAdv) August 19, 2014
Katherine Terrell of NOLA.com reported more from practice:
New Orleans Saints safety Jairus Byrd returned to practice Tuesday after missing the Sunday and Monday sessions. He participated in team drills.

(...)

That seemed likely Monday night when Byrd posted a vague, but optimistic, message on his Twitter account.

"Healed by the grace of God," Byrd tweeted Monday night.
Updates from Tuesday, July 29
Ian Rapoport of NFL.com reported on Jarius Byrd's back surgery:
This spring, #Saints S Jairus Byrd had surgery in LA by Dr. Robert Watkins to create space in his spinal cord, alleviate possible bruising

— Ian Rapoport (@RapSheet) July 29, 2014
Earlier, the Saints posted a Vine of Byrd at Saints camp. He is no longer on the PUP list, according to head coach Sean Payton, courtesy of The Advocate's Ramon Antonio Vargas:
.@jairusbyrd in the morning walkthrough #SaintsCamp https://t.co/7IH3b54t9i

— New Orleans Saints (@Saints) July 29, 2014
ESPN's Mike Triplett and Larry Holder of NOLA.com relayed which activities Byrd participated in today:
#Saints S Jairus Byrd not participating in this first set of team drills so far. Did walk-through and individual work. Likely being eased in

— Mike Triplett (@MikeTriplett) July 29, 2014
Byrd is participating in 7 on 7 drills.

— Larry Holder (@LarryHolder) July 29, 2014
Updates from Friday, July 25
Nick Underhill of The New Orleans Advocate has an update on Byrd's recovery:
Byrd was placed on PUP

— Nick Underhill (@UnderhillAdv) July 25, 2014
The Advocate's Ramon Antonio Vargas had more:
#saints coach Sean Payton says Byrd is on PUP day to day. Progress ahead of schedule, but no risks.

— Ramon Antonio Vargas (@RVargasAdvocate) July 25, 2014
Original Text
The New Orleans Saints pushed their chips to the middle of the table by signing safety Jairus Byrd to a $56 million contract this offseason. It's yet to be determined, though, if fans will have to wait to see their new defensive star in action.
ESPN's Mike Triplett reported Monday that it is still possible for Byrd to be limited at the opening of training camp, despite his recovery from back surgery going well:
#Saints S Jairus Byrd recovery from back surgery has gone as expected, per league source. Unknown if hell be limited to start training camp.

— Mike Triplett (@MikeTriplett) July 21, 2014
Triplett later reported a potential timeframe for Byrd's return to the Saints:
Obviously there's a good chance the Saints will take a cautious approach with their prized free-agent acquisition. But all along, they expected Byrd to recover in plenty of time to participate in training camp and be fully healthy for the regular season.
Byrd, 27, underwent a procedure in May to clean up an issue with an injured disc. The organization maintained that it was an elective surgery, which the team hoped would have him at full strength heading into training camp. Head coach Sean Payton told reporters Byrd would have been able to play through the injury in the regular season:
This is something after the doctors looked at it, and the specialists out in [Los Angeles] looked at it, [they] felt this was one scenario that would kind of take care of it rather than try to [keep managing it]. If it was during the season, you wouldn't go through the procedure. You would treat it symptomatically then.
A three-time Pro Bowler, Byrd became the Saints' surprise spring acquisition in March. Despite New Orleans needing to part with veterans Will Smith, Jonathan Vilma and Roman Harper in free agency to clear cap space, the team gave Byrd a six-year, $56 million deal with $28 million guaranteed.
The Saints also signed veteran cornerback Champ Bailey as they attempt to shore up their secondary. Defensive coordinator Rob Ryan's schemes are built on a blitz-heavy outlook that can often leave defensive backs on an island. Adding Bailey and Byrd to a defense that ranked second in passing yards against and sixth in Football Outsiders' DVOA rankings puts New Orleans near the top of NFC favorites.
Triplett ranked Byrd fourth on his ranking of best Saints players: "[H]e's been a turnover machine, which made him especially attractive to the Saints. Byrd's 22 interceptions rank second in the NFL over the past five seasons, and he has forced 11 fumbles in his career."
Byrd spent his first five NFL seasons with the Buffalo Bills, a relationship that became more contentious by the year. He made the Pro Bowl and All-Pro teams as a rookie in 2009 and established himself among the league's premier coverage safeties. After making his second Pro Bowl team in 2012, Byrd and the Bills came to a standstill when the team gave him the franchise tag.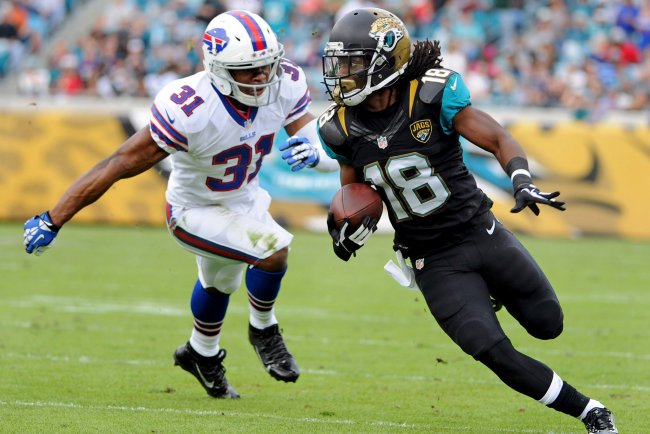 USA TODAY Sports
Numerous reports surfaced indicating that Byrd had requested a trade. The rumor mill filled up with possibilities, but nothing of substance came to pass, and he played out the 2013 season on the franchise tender. Byrd made 48 tackles and four interceptions while appearing in 11 games. He dealt with a plantar fasciitis injury for most of the season.

The Saints will hope Byrd can return to the apex of his abilities in 2014. While still effective, he struggled mightily against the run last season, ranking 45th among safeties in run stop percentage, per Pro Football Focus (subscription required). New Orleans was a below-average unit against the run and will need improvement at every position after the mass exodus of veterans.

With his recovery going as expected, Byrd should find his rightful place among the game's best safeties. Given what they're paying him, the Saints better hope so.
Follow Tyler Conway (@tylerconway22) on Twitter.