It just wouldn't be NHL hockey in Vancouver if the Canucks didn't have some form of goaltending controversy. Fresh off a battle between No. 1 goaltenders Roberto Luongo and Cory Schneider—a conflict Vancouver dealt with by dumping both players—the Canucks now face the dilemma of having three goalies for two roster spots.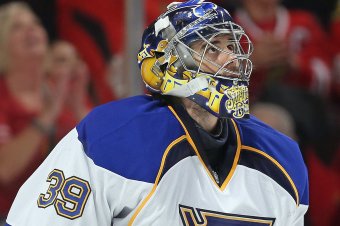 Jonathan Daniel/Getty Images
In Ryan Miller, the Canucks have the legitimate starter that the trades of Luongo and Schneider stripped the team of. The 2010 Vezina Trophy winner has played 559 NHL games over his career, posting an excellent .915 save percentage in the process. He commanded a massive return at the trade deadline and, even after a bad postseason, was able to land a three-year, $18 million contract from Vancouver.
Jeff Vinnick/Getty Images
Pretty clearly behind Miller on the depth chart is the man he pushed out of the starting job, 26-year-old rookie Eddie Lack. Lack has long been a promising prospect for the Canucks, combining the frame of a modern goalie (6'4", 187 pounds) with exceptional results over two seasons as an AHL starter. He posted a .912 save percentage in 41 games last season despite slumping down the stretch (7-7-1, .887 save percentage following the Luongo trade).
The third goaltender in the pecking order is 24-year-old Jacob Markstrom. Markstrom, a staple on top prospects lists for years now, has been a brilliant goaltender in Swedish league play, at the AHL level and in both senior and junior tournaments—everywhere, in short, other than the NHL.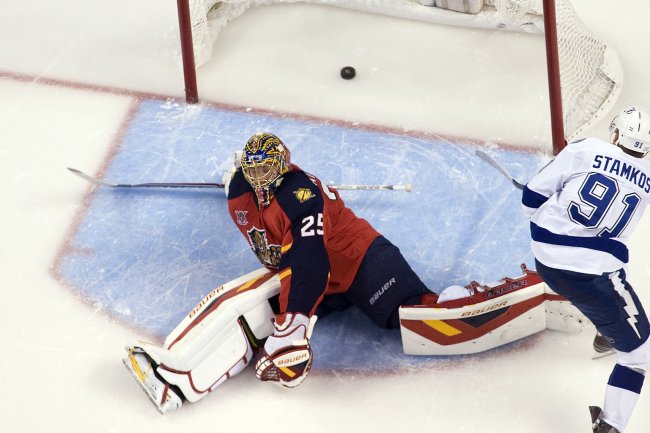 Eliot J. Schechter/Getty Images
The trouble is that he hasn't just been middling in the NHL; he's been downright brutal. A .873 save percentage over 16 NHL games last season was a big reason for Florida's implosion and at least as big a reason the Panthers were willing to send him out of town in the Luongo deal. Over 47 career games, Markstrom has a wretched .896 save percentage.
Normally, the solution to that would be to let Markstrom develop in the minors, giving him more minutes at a level where he's proven himself capable.
The wrinkle is that Markstrom has burned through his waiver eligibility. With four professional seasons under his belt, he needs to clear waivers to be demoted to the minors.
Additionally, it's believed that Markstrom has little interest in more time in the AHL. The Vancouver Province's Jason Botchford reported early in July that "it's believed" the goalie had asked the Canucks for a trade and that the team was doing its best to accommodate him.
Certainly the best route forward for the Canucks would be to deal Markstrom for some tangible return, but the combination of the goalie's lackluster NHL track record and the inability to stash him in the minors is going to dramatically impact his trade value; a deal may not be possible.
In that situation, would the Canucks choose to keep three goaltenders on the roster, or would they risk demoting Markstrom to the minors?
Both decisions come with a downside, but exposing the young goaltender to waivers is probably the best way to go. By that point of training camp, NHL teams should have their goaltending pretty much set, so there's a chance Markstrom slides through. And even if he doesn't, Vancouver will benefit more from roster and salary-cap flexibility than it will from hoarding a goalie that doesn't play.
Jonathan Willis covers the NHL for Bleacher Report. Follow him on Twitter for more of his work.
Statistics courtesy of Hockey-Reference.com and NHL.com; salary information via CapGeek.com.