Like several of his Colombian teammates, David Ospina turned more than a few heads with an impressive World Cup this summer.
But perhaps the most important head he turned was that of Arsenal manager Arsene Wenger, as the club have finalised the transfer that will send the Colombian keeper from Nice to North London.
The club's official website confirmed the agreement: "David Ospina will join Arsenal Football Club on a long-term contract for an undisclosed fee."
Arsenal had reportedly been monitoring Ospina for some time, per the Mirror's Alan Nixon, but his solid showing at the World Cup—and his reasonable price tag—was enough to convince the Gunners to pull the trigger on a move to bring him to Emirates Stadium.
The keeper had spent the last six seasons with Nice, but in May declined to extend his contract, which was set to to expire after the 2014-15 season. Presumably, that decision was made with the hope of moving to a bigger club in the next year.
If that was his intention, his wish was granted.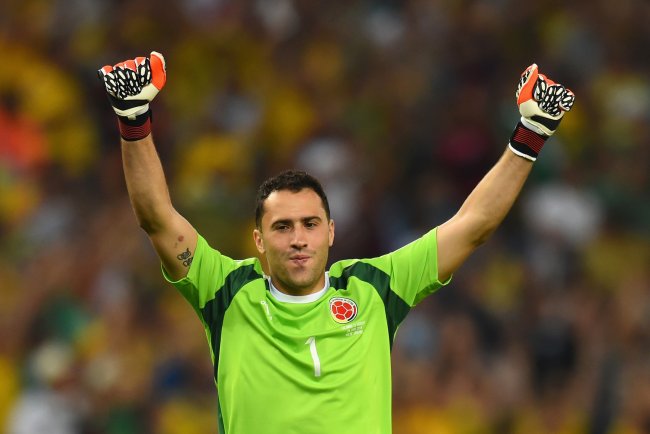 Matthias Hangst/Getty Images
Ospina made 29 starts a season ago for the French club, earning a 7.19 average match rating from WhoScored.com for his efforts. He was even more impressive in five starts in the World Cup, helping lead Colombia to the quarterfinals and earning an average 7.26 rating.
With Arsenal, however, Ospina will have to fight for the starting gig. At the moment, the incumbent keeper is Wojciech Szczesny, but Arsenal may not have just brought Ospina aboard to push him.
They may have also bought an upgrade.
Matt Spiro of beIN Sports certainly thinks so:
No way Ospina would automatically accept no2 role.Ambitious, young and talented. Szczesny faces serious competition if €4m deal goes through

— Matt Spiro (@mattspiro) July 20, 2014
Juan Arango of World Soccer Talk agrees:
Let me be quite frank. Think Ospina could be @arsenal starter sooner rather than later.

— Juan Arango (@JuanG_Arango) July 20, 2014
Statistically speaking, the two provide an interesting comparison.
Ospina is a year and a half older than Szczesny... but has played in first division four years longer.

— Juan Arango (@JuanG_Arango) July 20, 2014
The stats below would suggest that while Ospina's defense kept him busier, he was more proficient in keeping balls out of his net. On the other hand, supporters of Szczesny would rightly argue that he played against better competition in the Premier League.
Still, statistically speaking, Ospina was in rarefied air a year ago, according to David Wall of OptaJean:
Ospina is one of four keepers to save at least 80% of shots faced in the major Euro leagues last season. Others are Buffon, Navas & Neuer.

— David Wall (@1DavidWall) July 20, 2014
Wojciech Szczesny vs. David Ospina, 2013-14 Season

| | | | | |
| --- | --- | --- | --- | --- |
| Player | League Games | Clean Sheets | Goals Conceded Per Game | Saves Per Game |
| Wojciech Szczesny | 37 | 16 | 1.11 | 2.05 |
| David Ospina | 29 | 12 | 0.89 | 2.79 |
Stats via Squawka Football
Not too shabby. Szczesny is a solid keeper in his own right but has a fight on his hands this season. That is why this signing is a win-win for the Gunners—either they've purchased an upgrade at keeper on the cheap, or they've bought an extremely talented deputy on the cheap who will push Szczesny to further heights.
This signing won't move the needle like the additions of Alexis Sanchez and Mathieu Debuchy did, no, but it could end up being one of the most important decisions of the summer for Wenger and Company.