The Golden State Warriors enter the 2014-15 NBA season tasked with improving, but doing so amid a deep Western Conference is easier said than done.
Shooting guard Klay Thompson and perpetual playmaker Stephen Curry form arguably the most explosive scoring backcourt in the game—certainly in terms of the ability to light it up from beyond the arc.
Presuming those two—the "Splash Brothers"—remain on their promising career arcs, there is a viable, title-contending-caliber foundation in Golden State. The acquisitions of Shaun Livingston and Brandon Rush have helped enhance the perimeter rotation at first-year coach Steve Kerr's disposal, too.
Kerr described his optimism at how well-rounded his team ought to be as he prepares to take the reins of a talented roster, per USA Today's Sam Amick:
We should be very balanced. We should be good at both ends of the floor. I'd like to use our bigs a little bit more offensively as passers and playmakers. The strength of our team, besides the backcourt shooting, is the length on the wings. Between Andre [Iguodala] and Harrison (Barnes) and Draymond (Green) and Klay and Shaun Livingston, we've got a lot of long defenders, who can switch and play a lot of different people. We should be able to take advantage of that and be a very good defensive team.
All-Star forward David Lee is a double-double machine up front, and defensive stopper Andrew Bogut protects the paint and alters shots among the best centers. The trick is for everyone to be healthy entering the playoffs.
The Warriors need the likes of former first-round pick Harrison Barnes to accept his role as a sixth man behind Andre Iguodala and step up for this squad to ascend into the true upper echelon of the Association. Draymond Green adds versatility off the bench with his ability to distribute and size to play as big as a 4.
Odds Shark has the Dubs at 22-1 to win the Larry O'Brien Trophy. Those are the eighth-shortest odds in the league—a high compliment, considering the tall task ahead.
Improvement from the current, young nucleus, valuable contributions from newcomers and Kerr meshing well with the players will all determine what type of squad Golden State is this coming season. With the release of schedules, it's time to examine the Warriors' top games and make an early inference as to what their record will be.
Click here for the full schedule, courtesy of NBA.com.
Analyzing Marquee Matchups
Golden State Warriors vs. Los Angeles Clippers (at Golden State November 5, March 8/at Los Angeles December 25, March 31)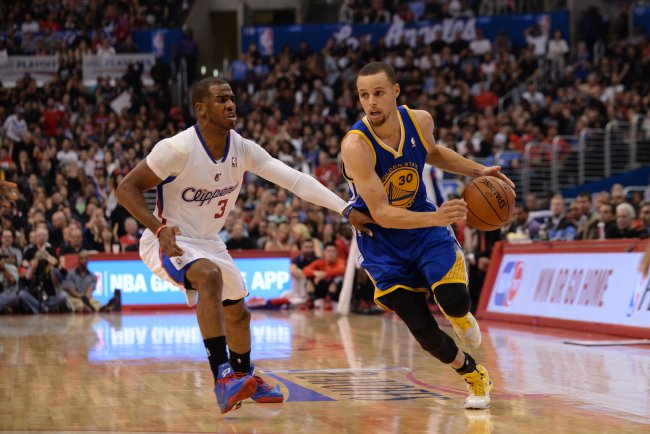 Noah Graham/Getty Images
This initial encounter may be during the 82-game regular season, but there will be a vengeance factor at play. The Clippers knocked Golden State out of the 2014 NBA playoffs in the opening round, needing all seven games to do it.
A thrilling decisive Game 7 saw Los Angeles win 126-121. Bogut was injured for the playoffs and thus robbed Golden State of a necessary presence inside to deal with the Clippers' DeAndre Jordan and Blake Griffin.
LSU associate coach Eric Musselman noted a key quote from Bogut; one that accentuates his value on offense as well:
"I'm not the most athletic guy. But I have a good basketball IQ. I know a lot about spacing. I know where guys like the ball." Andrew Bogut

— Eric Musselman (@EricPMusselman) July 19, 2014
With how much success Clippers coach Doc Rivers has had in the past on defense—he won a championship in Boston with that as the focal point—his club figures to be better on that end in 2014-15. The same must be true for the Warriors if they want a chance to avenge a bitter postseason exit.
The matchup between Curry and his counterpart in Chris Paul will be phenomenal to watch. Curry and Paul are among the best point guards in a league loaded at that position. Much of the outcome should be determined by how well Kerr has figured out his lineups, but Golden State has the personnel to give the Clippers significant issues.
Golden State Warriors vs. Oklahoma City Thunder (at Oklahoma City November 23, January 16/at Golden State December 18, January 5)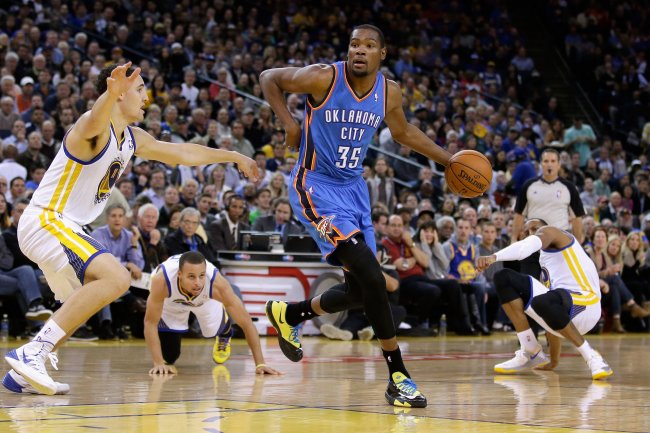 Ezra Shaw/Getty Images
At some point, the reigning NBA champion San Antonio Spurs will have to experience some sort of drop-off. Tim Duncan, Manu Ginobili and Tony Parker don't have much time left together. When that happens remains to be seen because last year proved that the Spurs aren't finished.
San Antonio will be the gold standard all others aspire to until we know otherwise. In the meantime, the Thunder and Warriors have the best combination of potential, youth and overall talent in the Western Conference at the moment. When they square off, it should offer a glimpse into what the future holds.
Time has to be of the essence for Oklahoma City and Kevin Durant to deliver a championship. Durant, 25, is already the best active scorer, but he doesn't have a title to show for it. He and Russell Westbrook, along with Serge Ibaka, are still trying to figure out how to take that next, significant step.
But as ESPN's Marc Stein hints, perhaps Durant won't be around to wait and find out if the Thunder can ultimately get it done:
Who else sees Wizards' hire of one of Kevin Durant's HS coaches (David Adkins) as another sign Wiz are already prepping for 2016 run at KD?

— Marc Stein (@ESPNSteinLine) July 16, 2014
All eyes will continue to be on Durant, how he coexists on the court with Westbrook and what OKC will do.
Even the crafty Curry will have a tough time dealing with Westbrook guarding him, though Golden State has an edge with Iguodala harassing Durant better than most can. Ibaka provides a stiff test for Lee in the post, and has developed a similar shooting range to make Lee work as a defender.
The Warriors and Thunder embody a battle of strengths and explosive offenses almost guaranteed to be among the most enthralling showdowns of the season. It should come down to a final possession. Considering the creativity Durant and Curry have, crunch time should be a marvel to witness.
Record Prediction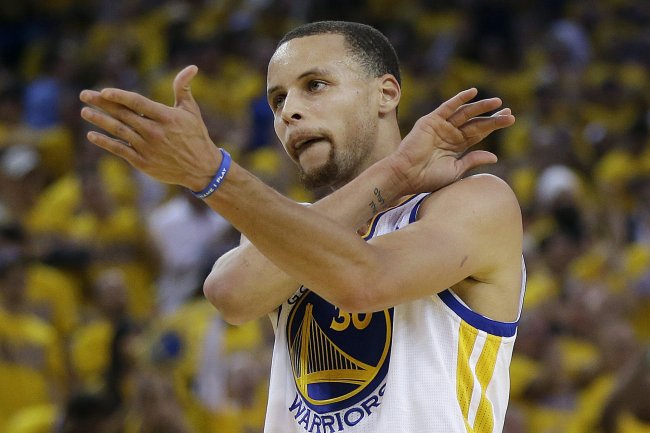 Marcio Jose Sanchez/Associated Press
Since Kerr is an unproven commodity as a coach—not to rule out the possibility that he will do a great job—it's difficult to project which way the Warriors will go. They won 51 games a season ago, and it was only good enough for the No. 6 seed.
A similar win total should be expected, given that Golden State looks promising on paper and also accounting for the slight fluctuation that should occur in the standings. Seeing the Warriors miss out on the playoffs, regardless of how the players respond to Kerr, would indeed be a shock.
This is a landmark season for the organization, though. Make no mistake about it. Curry is at a crossroads of sorts as the face of the franchise. It heavily depends on his playmaking ability to carry a lot of the load.
How will the Warriors fare in 2014-15?
As long as the main rotation is mostly intact entering the postseason, there's reason to believe the Warriors could make the NBA Finals.
The Dallas Mavericks pushed San Antonio to seven games in the first round as the eighth and final seed. Golden State was just two games in front of the Mavs in the standings—three ahead of the Phoenix Suns, who didn't make it to the postseason.
The line is so fine in the West, proving that anyone fortunate to get a playoff berth is capable of emerging as a contender. The Spurs are a bit longer in the tooth and will have everyone gunning for them as the title holders.
Golden State added length to the perimeter, something Kerr has referred to as a big strength. That could be the difference the Warriors need to help Curry in that facet of the game and boost themselves to a potential championship run.
The sheer grind of the regular season should see Golden State post a record good enough for an upper-middle playoff seed. However, they are as capable as any of the NBA's younger teams to rise to the occasion and emerge as NBA champions as soon as 2014-15.
Record Prediction: 55-27