For the first time since 2005, a conference other than the SEC won the BCS National Championship, as Florida State defeated Auburn 34-31 in January. Without question, that added to the buzz and excitement at this year's ACC Media Days.
Of course, one of the stars of that game and last year's Heisman Trophy winner, Jameis Winston, was the main attraction on Sunday. Winston, as you might imagine, attracted quite the throng of reporters.
Matt Fortuna of ESPN passed along the following picture on Instagram with the caption, "Just a bit of a turnout for this Jameis Winston fella (and PJ Williams) #FSU #Noles."
It didn't take Winston long to address the Seminoles' triumph in the championship contest, either, per Aaron Brenner of The Post and Courier:
Jameis Winston opening statement: "How does it feel to have the ACC get the national title? We took it away from the SEC. It's a blessing."

— Aaron Brenner (@Aaron_Brenner) July 20, 2014
Ralph D. Russo of The Associated Press was not having it when Winston asked those present to give a round of applause for FSU's national title:
That's not the way this works. RT @steelerwill: Jameis Winston asks ACC media to give FSU hand for winning natl title http://t.co/i8qKcEIpw5

— Ralph D. Russo (@ralphDrussoAP) July 20, 2014
No cheering in the press box!
While Winston took his moment to reflect on the past achievements of the 2013 Florida State football team, he quickly turned to addressing the future:
Jameis Winston "We're starting over, man. Clean slate. We're not really defending the nat'l title. We're worried about getting another one."

— Aaron Brenner (@Aaron_Brenner) July 20, 2014
Jameis Winston: "In college football, we don't worry about (recruiting) stars. We worry about wins and championships."

— Aaron Brenner (@Aaron_Brenner) July 20, 2014
He addressed some interesting topics, like whether college athletes should be paid, per Bruce Feldman of Fox Sports:
Jameis Winston asked abt college athletes being paid: "We're blessed to get a free education.. And that's enough for me." #fsu

— Bruce Feldman (@BruceFeldmanCFB) July 20, 2014
And he spoke about his baseball career, per Dan Wolken of USA Today:
Jameis Winston handling media session very well. Interesting change in his answers on FB/BB questions. Seems to realize he will have to pick

— Dan Wolken (@DanWolken) July 20, 2014
He also touched on how baseball has potentially affected his throwing motion while playing quarterback and discussed making changes in that regard, which pleased Chris B. Brown of Grantland:
Good MT @TomahawkNation Winston plans to hold the ball higher so his delivery is not as long. Says elongation probably comes from pitching

— Chris B. Brown (@smartfootball) July 20, 2014
Finally, he told reporters he'll never shy away from being in the limelight:
Jameis Winston: "I don't have a problem with the spotlight. Because I want to be in that situation."

— Aaron Brenner (@Aaron_Brenner) July 20, 2014
But if you think he's staying in Tallahassee for four years, well, think again, if the following tweet from Wolken is any indication:
Missed this from earlier. Jameis was asked about being a four-year player. His answer: "I can't predict the future."

— Dan Wolken (@DanWolken) July 20, 2014
Winston heads into the 2014 college football season as the face of the sport, so it's no surprise that he would also be the face of ACC Media Days. Of course, he might be the butt of a few jokes as well, like the following one:
Miami's Denzel Perryman on FSU game this year: "Don't be surprised if there are fans dressed as crabs."

— Dan Wolken (@DanWolken) July 20, 2014
The question is whether he can replicate or better his 2013 campaign, when he threw for 4,057 yards, 40 touchdowns, 10 interceptions, completed 66.9 percent of his passes and ran for 219 yards and another four scores.
It will be hard to top a season in which he won the Heisman and a national championship, of course. But if anybody is capable of doing so, it's Florida State's dynamic quarterback.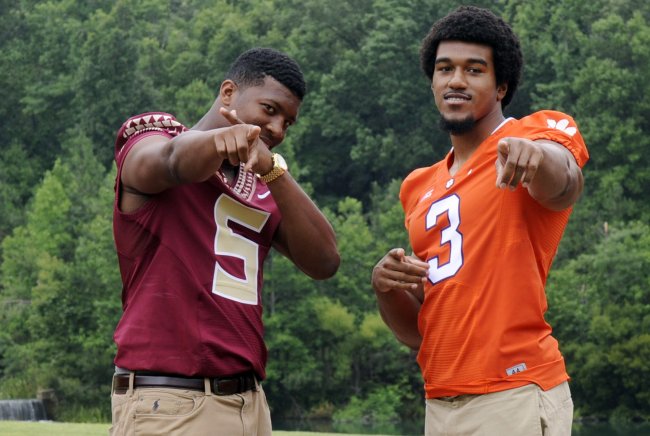 USA TODAY Sports
Winston wasn't the only notable speaker on the day, however. ACC commissioner John Swofford also made an appearance and noted that the ACC has played a tough non-conference schedule over the years. Stewart Mandel of Fox Sports wasn't buying that one:
With a straight face? RT @JonSolomonCBS: Swofford makes his pitch that ACC has played the toughest nonconference schedule in recent years.

— Stewart Mandel (@slmandel) July 20, 2014
Swofford also talked about the new playoff and his support of it, per ESPN ACC:
ACC commish John Swofford on CFP: "I can remember for years Mike Slive and I being the lone voices in the room pushing for a playoff."

— ESPN ACC (@ESPN_ACC) July 20, 2014
Andrew Carter of the Charlotte Observer relayed a few final observations from Swofford's time on the mic, and general takeaways from the day:
Other takeaways: No timetable on ACC TV channel. Swofford confident big 5 autonomy near. Atlantic players don't like idea of playing for 2nd

— Andrew Carter (@_andrewcarter) July 20, 2014
Some of the league's top players also provided highlights. Louisville's exciting receiver, DeVante Parker, finished last season with 55 receptions for 885 yards and 12 touchdowns. He told reporters he had world-class speed, per ESPN ACC:
DeVante Parker says he ran a 4.34 40 a few months ago. He wants to try and get to a 4.2.

— ESPN ACC (@ESPN_ACC) July 20, 2014
Meanwhile, Miami's Duke Johnson has rushed for a total of 1,867 yards and scored a total of 17 touchdowns in his first two years at the school despite missing five games a season ago. He knows that this year, the burden of the offense will be on his shoulders:
Duke Johnson says he puts the pressure on his shoulders bc this is his team.

— ESPN ACC (@ESPN_ACC) July 20, 2014
In that regard, he has plenty in common with the man of the hour, Famous Jameis. It remains to be seen if a Duke can take down the defending kings, however.