The legend continues to grow.
Rory McIlroy took another step in his ascent as golf's next great superstar on Sunday, winning the Open Championship and earning both his first Claret Jug and his third major championship in his young career. That put him in some pretty vaunted company, as ESPN Stats & Information tweeted:
Rory McIlroy joins Tiger Woods and Jack Nicklaus as the only players to win 3 of the 4 majors at age 25 or younger.

— ESPN Stats & Info (@ESPNStatsInfo) July 20, 2014
McIlroy is certainly feeling good about what he's accomplished at such a young age, per Jason Sobel of the Golf Channel:
Rory McIlroy: "Three legs toward the career grand slam and going for a fourth at age 25, so feeling pretty good right now."

— Jason Sobel (@JasonSobelGC) July 20, 2014
He deserves to feel good. While things got a bit hairy on Sunday, McIlroy generally dominated the Hoylake course. He shot a 66 on both Thursday and Friday, ending his curse on the second days of tournaments. After shooting at just one-under for the first 15 holes on Saturday, he notched eagles on 16 and 18. When things got tight on Sunday, he responded with four pars and a birdie on the final five holes.
At every turn, he was excellent. Historically excellent, per SportsCenter on Twitter:
Rory McIlroy is 7th man in Open Championship history to win Claret Jug while leading wire-to-wire (no ties). pic.twitter.com/Y6bkmqH6tp

— SportsCenter (@SportsCenter) July 20, 2014
When you begin to put McIlroy's career into historical context, you start to see just how special his achievement on Sunday truly was. Consider the following, from Justin Ray of the Golf Channel:
Rory McIlroy: 1st player, all-time, from Europe to win 3 different majors

— Justin Ray (@JustinRayGC) July 20, 2014
Rory McIlroy is the youngest player in golf history to win multiple majors wire-to-wire with no ties.

— Justin Ray (@JustinRayGC) July 20, 2014
Should Rory McIlroy win the 2015 Masters, he would be 2nd-youngest to win career grand slam (age 25, Tiger was 24).

— Justin Ray (@JustinRayGC) July 20, 2014
It's breathtaking stuff, really. For years, we've wondered if McIlroy would be the next big thing. He's been billed as golf's savior, especially as Tiger Woods' career has taken such a dramatic and disappointing turn for the worst. It would be enough pressure to hamper the development of many a player.
But McIlroy is living up to it, as Sobel noted:
Talk about pressure. Rory's father was so sure he'd win by 25 that he bet on him. Imagine growing up with that? And fulfilling the prophecy?

— Jason Sobel (@JasonSobelGC) July 20, 2014
The bet Sobel is referring to came 10 years ago, when Gerry McIlroy and three of his friends decided to bet £400 that Rory would win the British Open before the age of 26, which he's, of course, now done. They'll now cash in to the tune of £200,000.
So McIlroy isn't just making history, he's making friends and family some serious dough, too.
And he was making friends in his winner's speech both at the Royal Liverpool Golf Club and in Great Britain when he made the following comments, via BBC Sport:
Rory McIlroy: "#TheOpen is the one we all want, the one we all strive for & to hold the Claret Jug is an incredible feeling" #OpenChampion

— BBC Sport (@BBCSport) July 20, 2014
He nearly cost himself many of those fans a few minutes later, however, as SportsCenter on Twitter passed along:
Rory McIlroy raises Claret Jug at Royal Liverpool and gets booed... for being a Manchester United fan. » http://t.co/6wySbBxtGS

— SportsCenter (@SportsCenter) July 20, 2014
Hey, nobody's perfect, right?
McIlroy still has plenty of career milestones to achieve. Next year, he'll set his sights on winning the career Grand Slam at the Masters. After that, he'll look to become just the 20th player to earn five major championships. Could he one day become the fourth man in history to notch 10 majors?
Can he ever catch Tiger Woods, who has 14 majors, or Jack Nicklaus, who is the all-time leader with 17?
Keep something in mind—Nicklaus won two majors at the age of 40 and his final major at the age of 46. In theory, McIlroy has at least another 15 years to add more majors to his tally. It's improbable he'll catch Nicklaus, yes, or even Woods.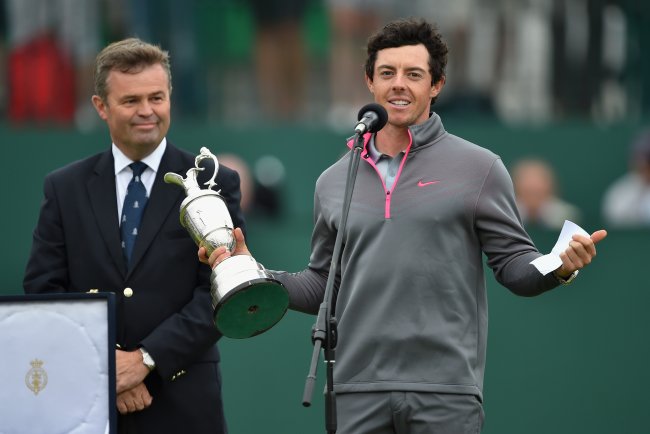 Stuart Franklin/Getty Images
But it isn't impossible. It's not out of the question. He's won three majors in the last four years. Even if he only keeps up that pace for the next 12 years, he'll still finish with an incredibly impressive nine major titles, tying him with Ben Hogan and Gary Player for fourth-most in history.
He has the chance to be one of the game's all-time greats. That type of ability comes with plenty of pressure and expectation, but on Sunday, McIlroy once again proved he can handle the hopeful gaze of the golfing world that craves another superstar.