Take a bow, Rory McIlroy.
The Northern Irishman won the 2014 British Open with an astounding score of 17-under, holding off final-day charges from Sergio Garcia and Rickie Fowler.
His final-round score of 71 made things interesting throughout the day, but in the end there was no confidence-shattering collapse to be had for McIlroy. He has now won three different majors before the age of 26, joining Jack Nicklaus and Tiger Woods as the only other golfers to do so.
McIlroy also stood to make his father quite a hefty chunk of change, via the PGA Tour:
10 years ago, Rory's father made a 500-to-1 bet that Rory would win #TheOpen before age 26: http://t.co/qNHkXa03qv pic.twitter.com/aQ9AnWyj8y

— PGA TOUR (@PGATOUR) July 20, 2014
Sergio Garcia started off the day surging up the leaderboard, notching three birdies on his first six holes of the day to surpass Fowler and close the gap on McIlroy.
McIlroy got himself into a bit of trouble on the par-five No. 5 hole. His errant second shot hit the grandstand and forced him to make a drop. He did have a chance to save par, but his putt went just wide and he bogeyed the hole.
He then missed a five-foot putt for par on the next hole, bogeying that one as well to drop to 15 under. As ESPN Stats & Info noted, the chase was on:
McIlroy's lead down from 6 strokes to 3 thru 6 holes. No player has ever held a lead larger than 5 at this tournament and failed to win.

— ESPN Stats & Info (@ESPNStatsInfo) July 20, 2014
Or so everyone thought. McIlroy buckled down over the back nine, notching birdies on the 10th and 16th holes to solidify his score and finish at an astounding 17 under.
Garcia is yet to win a major, but he could have hardly played better than his final-round score of 66 on Sunday. Fifteen under would win just about any other tournament, but not on this day.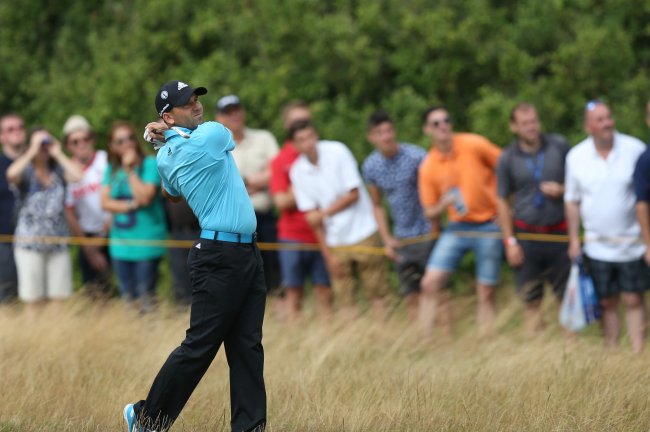 Scott Heppell/Associated Press
Fowler's final-round 67 was truly excellent and four strokes better than McIlroy, who was his playing partner on the day. He's looking to become a fixture in majors and showed plenty of promise with the way he handled the pressure on Sunday. GolfChannel.com's Justin Ray provides the key stat:
Rickie Fowler: 1st player to finish in top-5 in each of season's 1st 3 majors since Tiger Woods in 2005.

— Justin Ray (@JustinRayGC) July 20, 2014
Woods was the subject of much criticism due to his final-round 75, which left him at five over par for the tournament.
He avoided straightforward answers of some post-round inquiries, per GolfChannel.com's Jay Coffin:
Tiger was asked to give himself a grade for the week. "I'm not going there," he said. Didn't know that was an actual grade. #TheOpen

— Jay Coffin (@JayCoffinGC) July 20, 2014
But he was willing to discuss what went wrong for him in the tournament.
"I got four rounds in," Woods said, via USA Today's Steve DiMeglio. "Unfortunately I didn't play very well today. It was a little different than it was on the first day, obviously. But, again, I just made too many mistakes. I had two triples, two doubles."
He certainly could have done without the No. 2 hole in this tournament. Woods hit three bogeys and a double bogey on that part of the course over his four rounds here.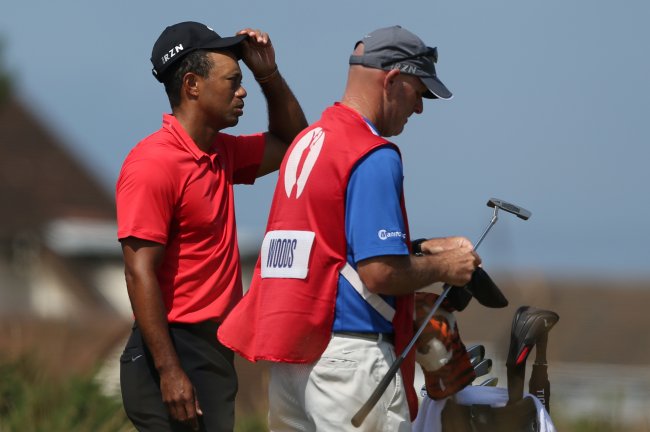 Jon Super/Associated Press
Tom Watson was an early bright spot, finishing with an incredible final-round score of 68.
CBS Sports' Kyle Porter couldn't help but compare Watson's performance to Woods at one point:
Tom Watson today: 3 under Tiger Woods today: 3 over #RyderCup

— Kyle Porter (@KylePorterCBS) July 20, 2014
The 64-year-old American will have plenty of the younger golfers evaluating their own games and wondering how in the world he comes up with these results at such an advanced age.
Phil Mickelson, also with no chance in this tournament, shot a 68 on Sunday to finish with a respectable five-under for the tournament. Porter was under the impression that Lefty was really just amusing himself out on the course Sunday:
Sometimes I feel like on Sundays when he's out of it Lefty just hits it in ridiculous places on purpose to see if he can get up and down.

— Kyle Porter (@KylePorterCBS) July 20, 2014
Mickelson finished with a flourish, notching birdies on two of his last three holes to walk away from the tournament in style.
For McIlroy, it is just a victory at the Masters that eludes him now. Mickelson believes he won't have to wait long for that trophy, via ESPN's Bob Harig:
Phil on idea of Rory getting third leg of career Grand Slam: Masters would be left "and that definitely will happen and probably soon.''

— Bob Harig (@BobHarig) July 20, 2014
A victory at the Masters would certainly cement McIlroy's status as one of golf's young greats, although this resounding victory has likely already accomplished that feat. His ability to effortlessly dominate major tournaments should make him an excellent draw on the PGA Tour, while his youth and sage personality will appeal to a wide swath of fans.