It's still early and there's plenty of ground left to be made up, but several of the biggest names in golf have already finished their final round at the 2014 British Open.
Though they aren't in contention for the Claret Jug, both Tiger Woods and Tom Watson wrapped up their tournament Sunday morning—with both heading in opposite directions. It's no surprise to see Watson posting a low number in The Open, but Woods fell further down the leaderboard on Sunday.
Both 25-year-old phenoms in Rory McIlroy and Rickie Fowler teed off at 9:40 a.m. ET and figure to be contending for the win. Neither player has the history of Watson or Woods in The Open, but they have a chance to etch their names on the Claret Jug later Sunday.
With the final round of The Open underway, here are some of the early scores and an updated scoreboard.
Early-Scores Breakdown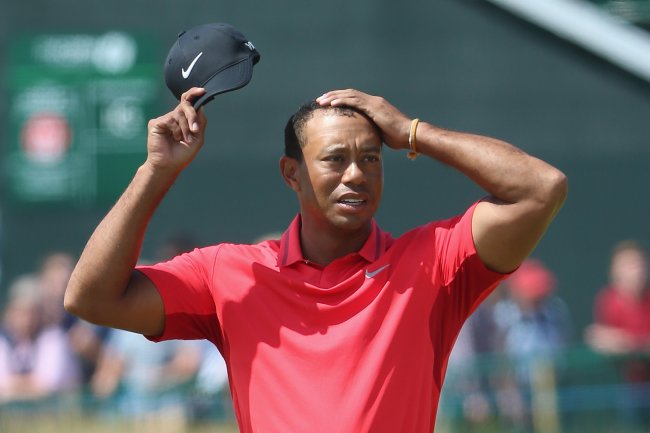 Andrew Redington/Getty Images
The 2014 British Open might have been Woods' return to the major stage, but it certainly wasn't the comeback he had in mind.
Woods was off his game yet again on Sunday, slipping further behind the pack with a three-over 75 for his third consecutive day over par. That score culminated in what would be one of his worst performances as a professional in a major tournament, per Bleacher Report:
Tiger Woods shoots a 75 on Sunday, finishes +6 at #TheOpen. Will be his worst major finish in which he's made the cut http://t.co/CticT0K4uI

— Bleacher Report (@BleacherReport) July 20, 2014
Much was made about Woods coming back to the course where he routed the field to take the title in 2006. That emotional victory for him was a stark difference from where he finished on Sunday after barely making the cut on Friday.
The Open's official Twitter account noted the disparity between the two performances:
Tiger Woods finishes with a 75 for a 6 over total of 294. That's 24 shots worse than when he won at Hoylake in 2006 #TheOpen

— The Open (@LiveBulletins) July 20, 2014
As for Watson, the five-time British Open winner went out with class on Sunday.
He'll get another shot next year at St. Andrews but certainly didn't rest on his laurels in the final round at Royal Liverpool. A special moment for Watson came as he was walking onto the final green at Hoylake, as The Open points out:
Standing ovation for Tom Watson as he walks up the 18th fairway. We'll see him next year at St Andrews for his farewell performance.

— The Open (@The_Open) July 20, 2014
Watson tipped his hat to the crowd after climbing up the leaderboard 16 spots—moving ahead of Woods—by the end of his round. The four-under 68 also garnered some respect from ESPN's Bob Harig:
So great the R&A gave Tom Watson another year. 68 today. Gets to say goodbye at St. Andrews. Hope he makes cut there too. #TheOpen

— Bob Harig (@BobHarig) July 20, 2014
While Woods and Watson were two of the biggest names on the course along with Phil Mickelson, an unfamiliar player saw his name climb several spots.
Chris Wood carded a seven-under 65 to move his name into the 12th position early in the day. While he was still double-digit shots off the lead, Golf Monthly points out just how special the round was on the weekend:
Chris Wood birdies his last four to shoot 65 - only second 65 of the week, following D Johnson in round 2

— Golf Monthly (@GolfMonthly) July 20, 2014
Wood's round might also provide a glimpse of what's to come during the remainder of the final round on Sunday. With several contenders like Adam Scott, Sergio Garcia and Fowler hoping to chase down McIlroy, low rounds are clearly out there at Hoylake.
Mike Colman of News Corp Australia suggests what could be coming after Wood's round:
England's Chris Wood just finished a 65 round. If Adam Scott or someone 10 behind or better can do the same, it could be interesting.

— Mike Colman (@MikeColman_) July 20, 2014
The top contenders are on the course now as The Open is still up for grabs. With multiple notable players already completing the final round, it's now time for two of the best youngsters to duel it out for the Claret Jug.
Will some of those early scores hold up as the best of the day? Can McIlroy maintain his six-shot lead to take his third major title? All of that and more will be answered at the iconic Royal Liverpool course on Sunday.
Follow @RCorySmith on Twitter.