Declaring the Memphis Grizzlies' offseason complete at this point would constitute a premature shrug. The Grizzlies remain a move away from true championship contention.
Having 15 players on the roster shouldn't mean the roster is full. Rather, the Grizzlies should reflect on the assets they have that could be included in a move to bolster their competitiveness in the crowded Western Conference.
Trading before the season would be wise for a grinding team that often finds itself rallying late in the year.
Need for Scoring
The Grizzlies entered the offseason needing additional scoring after a middling 2013-14 scoring performance. They were 15th in offensive rating and 18th in effective field-goal percentage.
In the first-round loss to the Oklahoma City Thunder, the Grizzlies struggled to outscore a superior offensive team they ably defended. Memphis players shot 41.7 percent from the field after placing seventh in the league at 46.4 percent during the regular season.
They failed to score 90 points in three of the seven games.
The Vince Carter signing boosts bench scoring, replacing the second-best three-point shooter in the NBA in Mike Miller with a solid, high-volume outside shooter who averaged 17.6 points per 36 minutes in 2013-14.
However, the Grizzlies are still a bit soft in this department among starters. They have three considerable scorers in Zach Randolph, Mike Conley and Marc Gasol.
Since the core trio averaged 49.2 points per game and likely won't combine for much more, the Grizzlies need the other two starters to put forth supportive scoring.
Courtney Lee's 11 points per game on 47.6 percent shooting, as well as the spacing he creates, do enough for the offense at his spot.
On the other hand, the Grizzlies were far too soft at the 3 last season. Due to Tayshaun Prince's six points per game and 13.3 percent usage rate, opposing defenses could expend energy on the other four players and ignore him.
Replacing Prince with someone who could produce enough to attract attention from defenders would maintain an array of scoring options, relieve pressure on the core and ensure that any starter can step up when others experience shooting troubles.
Assets
The Grizzlies might be able to market some of Prince's traits, such as his low turnover rate and useful physical tools for defense, in a trade.
Even though Prince allowed 108 points per 100 possessions last season, he helped win some games by taking away space defensively and getting steals.
Which of these backcourt players would be most palatable to include in a trade?
However, other pieces must be included to get an adequate player for the 3-spot. Throwing in a perimeter player is a smart idea.
The Grizzlies have four shooting guards. Including Lee would make teams listen. As Noam Schiller wrote in a Hardwood Paroxysm article, "The Idea of Courtney Lee is an eminently popular sales pitch." Lee's decent outside shooting, spacing and nice turnover rate (9.9 percent last season) are attractive.
If the Grizz would rather keep his balance of perimeter scoring and defense, they may put Tony Allen in a deal. According to Adrian Wojnarowski of Yahoo Sports, he was mentioned in a rumor involving the Minnesota Timberwolves.
Allen is a valuable defender and helped build the "grit and grind" defense. However, he's 32 years old and unimpressive offensively, producing 102 points per 100 possessions.
The Memphis Flyer's Kevin Lipe wrote, "Having Tony Allen on the court every night means spending an awful lot of time playing 4-on-5 on one end of the court."
Quincy Pondexter would be a smart inclusion in a deal, even though he mostly plays the 3-spot.
Coming off a foot injury that sidelined him for most of the past season, the 26-year-old offers hope of a productive future as a three-and-D player. His 39.5 percent shooting from three-point range and 104 points allowed per 100 possessions in 2012-13 provide a glimmer of what he could be.
Tendency to Climb the Standings Late
Lately, the Grizzlies have found themselves in the position of rising in the Western playoff race after being hampered by injuries or simply slow starts. Last season, they rose from 12th to seventh in the conference after Gasol's return from injury.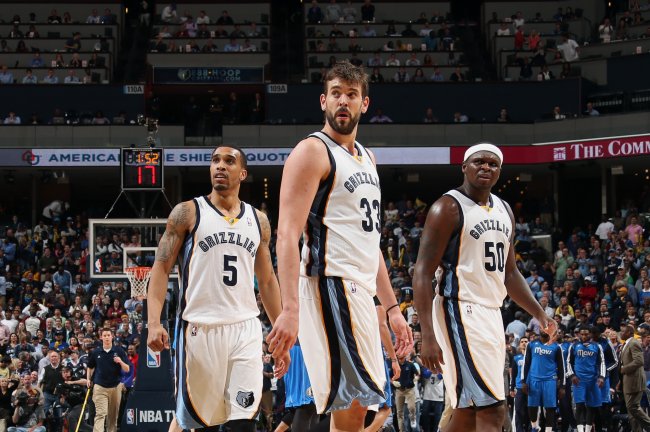 Joe Murphy/Getty Images
In 2012-13, they finished 26-9 after regrouping with their post-Rudy-Gay-trade rotation only to finish fifth.
The 2011-12 season saw them finish 16-4 after Randolph came off the injury list to take fourth place in the West. That season, Memphis was forced to trade for Marreese Speights early in the season to address its woeful frontcourt depth.
In each case, the Grizzlies needed to adjust on the fly due to roster changes or shortcomings. Speights couldn't enter the rotation immediately since he was given a game to get used to Lionel Hollins' system before entering the rotation.
The Grizzlies lost three of four games after dealing Gay before they began to surge.
Memphis suffered in various ways without Gasol, but as Lipe noted, the offense seemed to be "driving with the parking brake on."
Low Margin for Error in the West
The West is too competitive to leave sore spots in the rotation. A 48-win team missed the playoffs last season. The Grizzlies only earned the fifth spot in the 2013 playoffs with 56 wins.
One shouldn't rule that out for the upcoming season.
Western contenders are laden with shooting. Every playoff team in the conference except Memphis was in the top 12 in offensive rating and six were in the top eight in effective field-goal percentage.
The San Antonio Spurs validated their array of shooting in the playoffs by knocking down more than 46 percent of their attempts from the field and 38 percent from downtown in each series.
Memphis can't let the deficit in shooting continue if it wishes to win a title.
Dealing for a shooter is a must in order to balance the offense and defense. A trade to replace Prince with a reasonable starter at the 3-spot could lift the Grizz in the way Prince's arrival in 2013 relieved Gay's inefficiency.
Unless otherwise noted, advanced metrics come from Basketball-Reference.com.