The Golden State Warriors could be on the cusp of doing something really special, and that has nothing to do with their rumored pursuit of all-world stretch 4 Kevin Love.
Even if they reel in their lines without one of the offseason's biggest fish, this team is positioned to make a substantial leap forward during the 2014-15 campaign.
Golden State's involvement in the NBA's Love Affair hasn't stopped, and it won't until something is settled on that front. Whether the Warriors will actually land the prolific power forward may come down to their willingness to part with promising swingman Klay Thompson.
Some say Golden State is willing to make that leap. Others disagree. The Warriors executives, along with the rest of the hoops world, have reportedly held endless discussions on the matter. While these stances are always subject to change, the consensus seems to have the team leaning toward keeping Thompson.
"Multiple sources say that after the debate, they've made the close call to keep Thompson out of it," Tim Kawakami of the San Jose Mercury News reported. "Close call. Agonizing call, by some descriptions. But that's the call."
If that call holds, what should Warriors fans expect for a life without Love? An even greater existence than they one they've enjoyed over the past two seasons.
Better Roster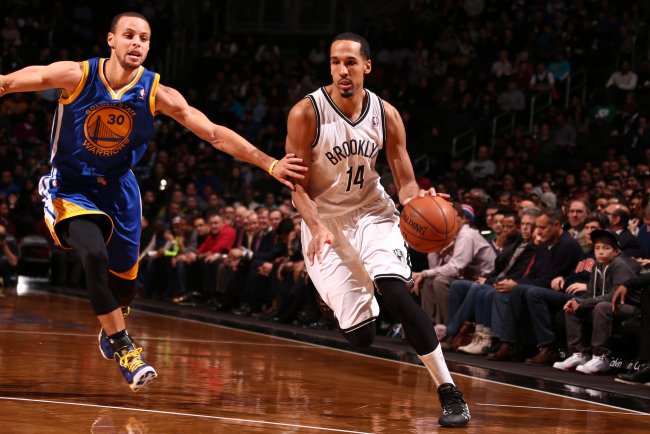 Nathaniel S. Butler/Getty Images
While Love's addition would greatly improve Golden State's star power, the Warriors have been doing just fine with a strength-in-numbers approach.
Over the last two years, Golden State has racked up 98 regular-season victories and nine playoff wins. During that stretch, it has only employed one superstar: Stephen Curry, who may not have officially joined that exclusive club until the 2013-14 season.
Some might argue the Warriors don't have enough elite players to compete with the league's elite teams. However, the stat sheet says otherwise.
Among high-usage lineups (minimum 200 minutes played), the Warriors starting five of Curry, Thompson, Andre Iguodala, David Lee and Andrew Bogut registered the second-highest efficiency rate in the league. With those players on the floor, Golden State outscored its opponents by an astounding 15.4 points per 100 possessions, via NBA.com.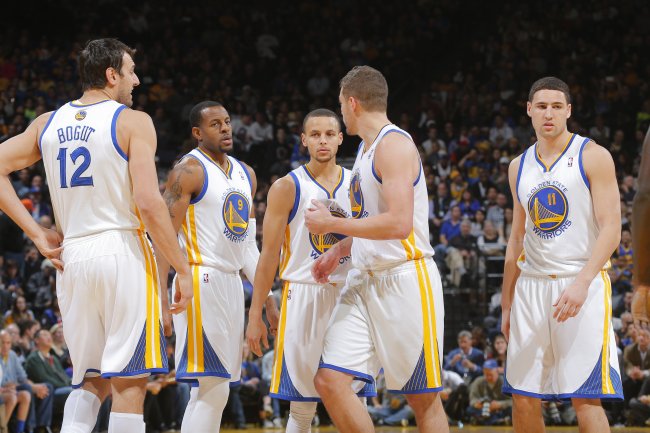 Rocky Widner/Getty Images
Production wasn't the issue. Health and, by extension, depth were.
Of those five players, only Thompson and Curry cleared the 70-game threshold (making 81 and 78 appearances, respectively). When the Warriors didn't have their best, they didn't have much at all. Golden State's second team contributed just 28 points a night, the seventh-lowest total in the league, according to HoopsStats.com.
Addressing that issue has been the key focus of Golden State's subtle but impactful offseason moves.
First came 6'7" combo guard Shaun Livingston, a steady—albeit a tad limited—offensive weapon with major potential at the opposite end. With a 6'11" wingspan, he has enough length to be a disruptive presence anywhere on the perimeter.
Interestingly, sounds like the Warriors think that Livingston can get minutes at PG, SG and SF. At least defensively.

— Tim Kawakami (@timkawakami) July 2, 2014
"He is a veteran player who, we believe, adds a lot to our roster with his versatility," general manager Bob Myers said in a statement. "He possesses the size and skills to play both backcourt positions."
Livingston cannot shoot. He's attempted 49 triples in his career and misfired on all but 10 of them. However, that might be the only weapon missing from his arsenal.
"On offense, Livingston brings the ball-handling, court-vision and calm hand needed to run an offense," wrote Adam Lauridsen of the San Jose Mercury News. "He's crafty with the ball, able to read defenses and decisive in exploiting weaknesses. "
The Warriors have plenty of scorers, and Livingston has the tools to find them. The 28-year-old also has a lethal post-up game, where his size helps create favorable mismatches.
Whether slithering into the lane off the dribble or bullying down on the low block, he has a knack for getting to the line.
His .392 free-throw rate (free throws per field-goal attempt) trumped all of Golden State's perimeter players. The Warriors took only 21.1 trips to the charity stripe a night, seventh-fewest in the league, and saw their opponents average 24.7. Those numbers need to be better balanced, and Livingston could really help with that.
After filling a backup point guard spot that essentially stayed vacant last season, the Warriors turned their attention to the wing and found a familiar face for that void.
Brandon Rush, whom the team traded to the Utah Jazz in a cap-clearing deal last summer, returned to the Bay on a two-year deal. A silky shooter (career 40.9 three-point percentage), he suffered a career-threatening knee injury during the second game of the 2012-13 campaign and did not return.
He spent last season shifting in and out of Utah's rotation, setting career lows in points (2.1), minutes (11) and field-goal percentage (33.3). However, he's further removed from that injury now and reportedly wowed Warriors execs during a recent workout, via Antonio Gonzalez of The Associated Press:
Bartelstein said Myers walked out of Rush's recent workout for NBA teams after 10 minutes and said, "I've seen all I need to see."

— Antonio Gonzalez (@agonzalezAP) July 16, 2014
Livingston and Rush aren't cornerstone players, but the Warriors already have a strong foundation in place. And there's reason to believe the incumbents will look even better with head coach Steve Kerr and his heavyweight staff coming aboard.
Better Coaching Staff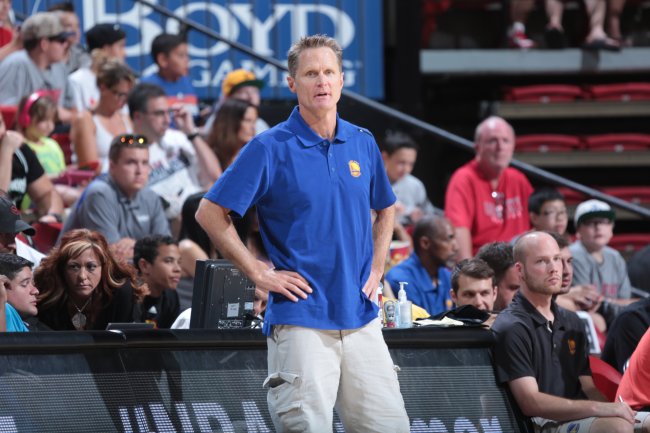 Jack Arent/Getty Images
Kerr has no coaching background to draw from, but he's built his collection of assistants accordingly.
"Kerr hired a staff that includes associate head coach Alvin Gentry and assistant coach Ron Adams, who combine for 45 years of NBA coaching experience," observed Diamond Leung of the Bay Area News Group.
On paper, the pieces fit like an NFL staff.
Warriors fans can picture Gentry as the offensive coordinator. He last served as a head coach for parts of five seasons with the Phoenix Suns, where his tenure overlapped with Kerr's.
During Gentry's three full campaigns in the desert, the Suns posted three top-10 rankings in offensive efficiency. In the 2009-10 season, Phoenix led the entire league with a 115.3 offensive rating, via Basketball-Reference.com.
He spent 2013-14 as the lead man on Doc Rivers' Los Angeles Clippers staff, once again displaying his sharp offensive mind.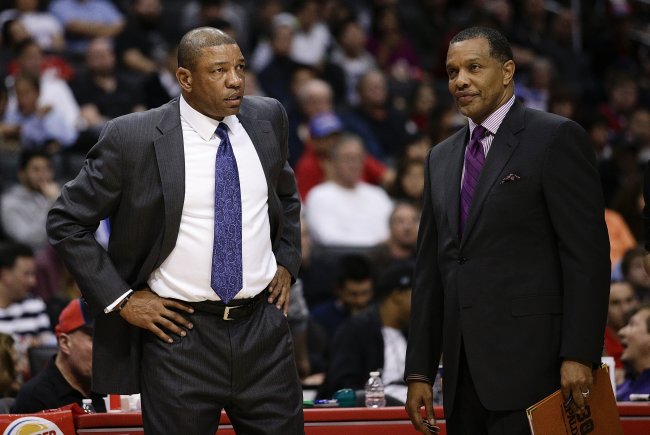 Jae C. Hong/Associated Press
"With All-Stars Chris Paul and Blake Griffin at his disposal last season under Rivers in L.A., Gentry organized the Clippers' fourth-ranked offense," wrote Aaron Falk of The Salt Lake Tribune.
At the opposite end, Kerr will lean heavily on the veteran Adams.
Golden State will be the seventh NBA stop for Adams, who helped first-year Boston Celtics coach Brad Stevens last season. Prior to that, Adams helped build defensive juggernauts with Tom Thibodeau in Chicago and Scott Brooks in Oklahoma City.
Described by Thibodeau in a letter "as fine a teacher as there is in the game today," via Baxter Holmes of The Boston Globe, Adams has a wealth of experience to share with Kerr.
That's not to suggest that Kerr arrived to the Bay empty-handed. Far from it, in fact.
The former TNT analyst might have studied this team from afar, but he seems to know it inside and out. The visions he has for this offense almost seem to come right from the message boards of Warriors fans who grew tired of Mark Jackson's ball-stopping, isolation-heavy system.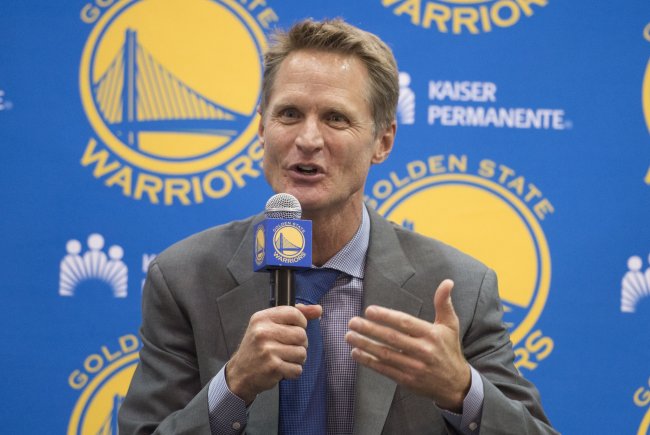 USA TODAY Sports
"I think you'll see a lot of ball movement; I think you'll see the bigs utilized as passers on the elbows and on the block," Kerr told reporters of the offense he plans to install. " ... I think in today's NBA you have to run; you have to play fast and score early."
To make a long story short, Kerr sounds like he gets it.
He knows the Warriors have enough athletes and shooters that they should be running at every opportunity. He recognizes the passing talents of guys like Bogut and Lee and understands how crisp ball movement can put defenses in a bind.
Frankly, Kerr knows there are a lot of weapons that weren't used properly last season. With his vision and the experience of his staff, he should be able to have this team hitting on all cylinders even without Love.
Better Team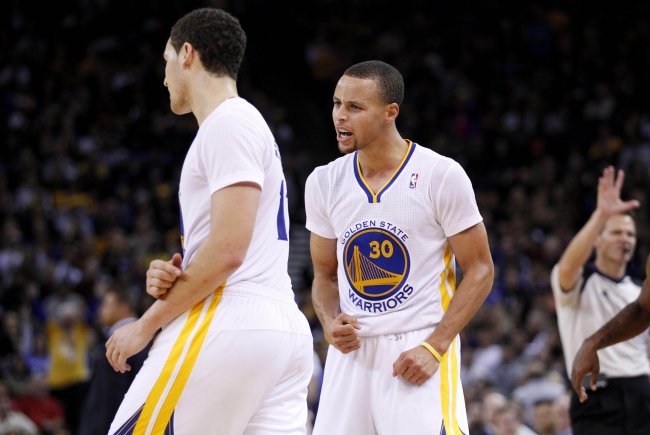 USA TODAY Sports
Jackson built something really good during his tenure.
The Warriors defended at an elite level (99.9 points allowed per 100 possessions, third overall, via NBA.com). They relentlessly attacked the glass (51.1 rebounding percentage, ninth in the league).
And, on occasion, they scored. Their 105.3 offensive rating ranked 12th in the NBA.
With Curry, Thompson and Lee alone, you'd think that number would have been so much better. It needs to be for Golden State to climb the daunting Western Conference ladder.
The problem was that Jackson's offense was too often Curry, Thompson and Lee alone. The three each attempted more than 14 shots a night. Harrison Barnes was the next closest at 8.7, but his touches were often wasted on isolation plays he isn't equipped to convert.
Iguodala, a career 33.1 percent three-point shooter, spent excruciatingly long stretches off the ball as a perimeter threat defenses didn't really have to respect. Kerr has plans to take full use of his Swiss Army knife's offensive versatility, via Leung:
Steve Kerr to KNBR on Andre Iguodala: "I don't like to see him standing in the corner. That's where he gets lost a little bit."

— Diamond Leung (@diamond83) May 21, 2014
Bogut maximized his value as a defensive anchor and rebounding presence. But he was a forgotten piece at the opposite side, registering career lows in field-goal attempts (5.6) and assists (1.7). Kerr is ready to tap far deeper into the big man's offensive potential, per Leung:
Steve Kerr said he went to Australia for the purpose of meeting Andrew Bogut and telling him he'd be a bigger part of the offense.

— Diamond Leung (@diamond83) July 12, 2014
If Kerr's vision for this offense materializes, Golden State should have one the NBA's strongest attacks.
With the ball flying around the court, defenses will only be able to give so much attention to the sharpshooting "Splash Brothers." If they overcommit to stop the three, slashing lanes should open for Iguodala and Barnes.
With Livingston and Iguodala capable of running the offense, Curry can seek out shots as an off-ball threat. Lee and Bogut should have no shortage of touches, where they can call their own numbers or find open teammates. Rush gives Golden State another long-range gunner. Draymond Green's jack-of-all-trades talent should thrive in a wide-open offense like this.
These offensive gains should not bring defensive regression.
The Warriors won 51 games last season. Will they win more or less in 2014-15?
The team has tremendous individual defenders: Iguodala, Bogut, Thompson, Green, Livingston. The Warriors have a few sieves, but those could prove even easier to hide with a mind like Adams moving them around.
This has the makings of a two-way force. Those are rarities in the NBA.
Should the Warriors be considered championship favorites? Of course not. For those wondering, Love's arrival wouldn't change that, either.
But the pieces are in place for this to be at least a conference finalist. And with this much offensive firepower and defensive discipline, anything could happen in a seven-game series.
The Warriors have the chance to be a really special team—with or without Love.
Unless otherwise noted, statistics used courtesy of Basketball-Reference.com and NBA.com.