That infamous time of year has rolled around. The MLB trade deadline is fast approaching, and we should see plenty of familiar faces in new places in short order.
While some teams are aiming to bolster their rosters in an effort to make pushes for the postseason, others are looking to the future and will trade current assets with expensive contracts.
Needless to say, the rumor mill has already begun to spin, and many notable names around the league are already involved in trade discussions.
So, which players are rumored to be on the trade block? Which teams are interested in acquiring their services? Let's speculate on a few of these situations based on recent buzz to surface around the Web.
Angels and Padres Talking Pitchers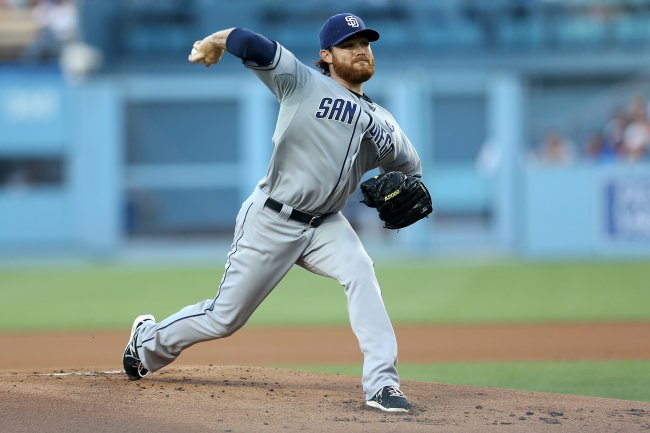 Stephen Dunn/Getty Images
As of Friday morning, the Los Angeles Angels are 57-37, while the San Diego Padres are 41-54. It only makes sense that these two teams would be doing business at this point in the season.
While the Angels are looking to improve their rotation and depth on the mound, the Padres make the perfect trade partner due to some nice arms currently on the roster.
On Wednesday, Ken Rosenthal of Fox Sports reported the sides weren't seeing eye-to-eye on Ian Kennedy but continued to talk about Houston Street:
Sources: #Padres, #Angels do not match up for Kennedy. Teams still talking on Street. Pads hearing out other clubs interested in Kennedy.

— Ken Rosenthal (@Ken_Rosenthal) July 16, 2014
Well, that appears to have changed once again, according to a tweet from Ollie Connolly of MLB.com:
The Angels and Padres are set to resume trade talks this morning involving all three off: Huston Street, Ian Kennedy & Tyson Ross per source

— Ollie Connolly (@OllieUKEZ) July 17, 2014
Now, it appears the two sides are not only talking about both Kennedy and Street once again, but Tyson Ross is also in the conversation.
All three of these arms would improve the Angels' chances of going deep into the postseason and making a push for each one would certainly keep things very interesting before the trade deadline.
Mariners and Rays Trade Talk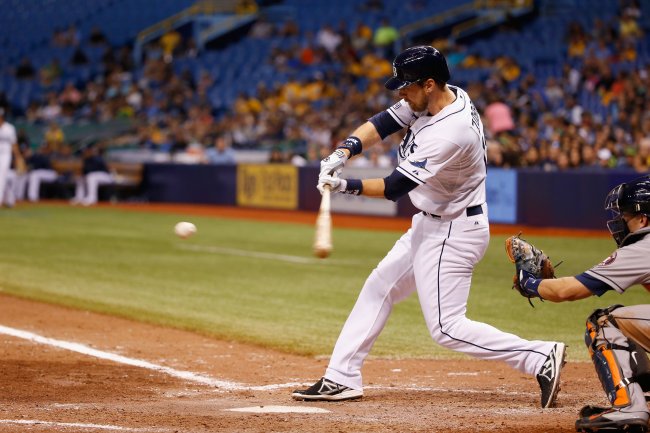 Scott Iskowitz/Getty Images
The Seattle Mariners are sitting nicely with a 51-44 record; however, they are in the ultra-competitive AL West and need to make up some ground. The Tampa Bay Rays are floundering with a 44-53 record and appear willing to negotiate.
According to a tweet from Jon Morosi of Fox Sports 1, the Mariners are interested in acquiring both David Price and Ben Zobrist:
Mariners are having ongoing trade discussions with Rays regarding David Price and Ben Zobrist, sources say. No deal imminent. @FOXSports1

— Jon Morosi (@jonmorosi) July 17, 2014
Price is having a nice season with a 3.23 ERA and 167 strikeouts while allowing 61 runs on 137 hits in 20 appearances. Zobrist is having another solid year at the plate, batting .266 with 85 hits, 19 doubles, three triples, six home runs and 24 RBI.
Seattle is going after this duo due to its failed attempt at acquiring Marlon Byrd, as Morosi noted on Twitter:
Mariners' talks regarding Price and Zobrist come at a time when progress has stalled in their efforts to acquire Marlon Byrd. @FOXSports1

— Jon Morosi (@jonmorosi) July 17, 2014
It sounds as if these discussions are only in the preliminary stages, so we'll have to wait and see how this develops.
Dodgers Don't Want Papelbon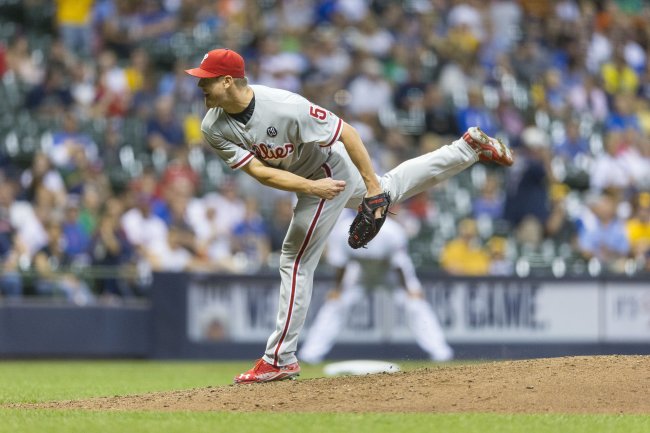 Tom Lynn/Getty Images
Philadelphia Phillies closer Jonathan Papelbon has expressed his desire to play for a contender. Obviously, he's not too thrilled about his team's 42-53 record.
Well, it appeared as though the 54-43 Los Angeles Dodgers were willing to fulfill the pitcher's request, according to a tweet from Mark Saxon of ESPN:
Spoke to a baseball source today who said he expects the #Dodgers to pursue Jonathan Papelbon

— Mark Saxon (@markasaxon) July 16, 2014
That's changed in a big way, as Saxon rescinded his previous information:
I have subsequently been told the #Dodgers are not interested in Papelbon

— Mark Saxon (@markasaxon) July 17, 2014
Papelbon is having a nice season in Philadelphia, and it can be expected that he'll garner some interest before the trade deadline passes. Although, as it looks right now, the Dodgers will not be in play for the closer.