The Los Angeles Lakers have awoken from their slumber.
Sure, it took general manager Mitch Kupchak and Co. missing out on all of the big names to rise and participate, but as they say in a cliche manner, better late than never.
Both Nick Young and Jordan Hill are back in the fold, and Jeremy Lin is on the roster after a trade. Even better, he brings with him a first-round pick. To top it all off, ESPN.com's Marc Stein reports the front office then won the bidding war for forward Carlos Boozer.
So the roster is taking shape, and there are some intriguing pieces in place for the future such as Young and Julius Randle. However, the brass are on a roll and clearly far from done.
Here's the latest.
Wesley Johnson the Odd Man Out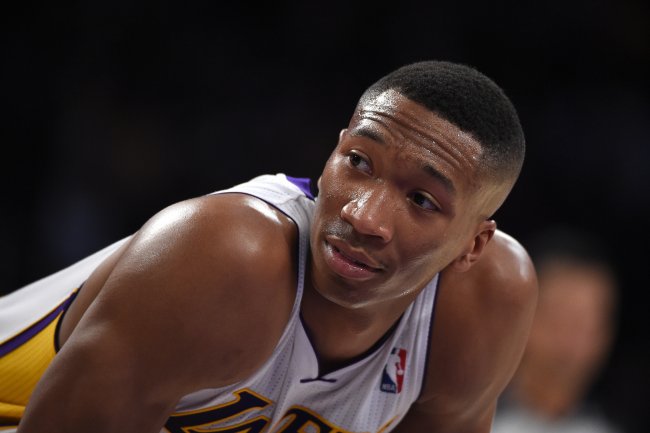 Mark J. Terrill/Associated Press
Somebody had to be that guy.
There was at least one person on the roster from a season ago who would somehow not fit into the Lakers' plans despite the team having a plethora of cap room in the infancy of a rebuild.
That someone is Wesley Johnson, per Mark Medina of the Los Angeles Daily News:
Ryan Kelly will likely reach deal soon w/ Lakers. Lakers like Xavier Henry, but no deal is imminent. Lakers unlikely to keep Wesley Johnson

— Mark Medina (@MarkG_Medina) July 16, 2014
It has been a wild, tumultuous ride for Johnson after being the No. 4 overall pick in the 2010 draft, with stops in Minnesota, Phoenix and Los Angeles while averaging 8.1 points and 3.3 rebounds per game.
The front office is clearly being careful with its cash regarding multiyear deals, with their hearts set on the 2015 free-agency period, when players such as Kevin Love, Rajon Rondo, LaMarcus Aldridge and more become unrestricted free agents.
With that in mind, rotational pieces like Ryan Kelly and Xavier Henry are being given more emphasis at this point over projects like Johnson, and that is nothing but a good thing.
Mitch Kupchak in No Hurry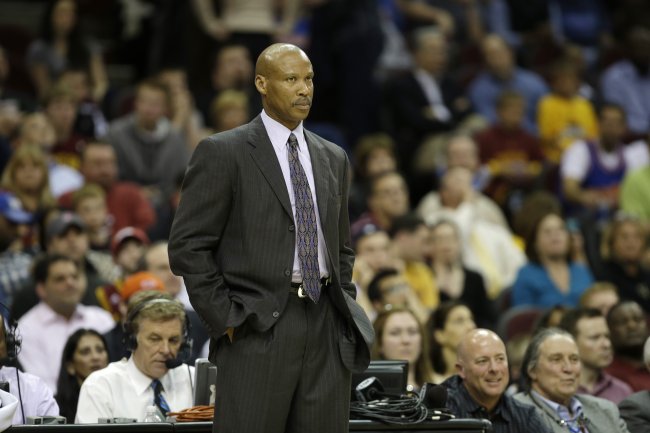 Mark Duncan/Associated Press
Let's allow The Rock to take it away for a moment, courtesy of SportsNation:
.@TheRock on the Lakers still not having a head coach: "It Does Matter." #TheRockonSN pic.twitter.com/u8kVAVy5kf

— SportsNation (@SportsNation) July 15, 2014
Believe it or not, the man is 100 percent correct. The longer the Lakers drag their feet in regard to one of the most important positions in any franchise, the worse things could be next season—that's not to suggest they care about next season, though.
According to NBA on ESPN, the front office is not exactly sprinting to the finish line where hiring a coach is concerned:
Sources: Lakers aim to hire coach within next week or two (via @mcten) -- http://t.co/IuzoancimK

— NBA on ESPN (@ESPNNBA) July 15, 2014
In an ESPNLosAngeles.com article by Dave McMenamin, Kupchak made light of the situation:
Maybe we can wait until September. Obviously that's one of the next things that we're going to address, and with putting the roster together and getting through the draft and getting through this last period, a week or two, the next thing we're going to work on is the coach, and I think we're going to have somebody in the next couple weeks.
However, it's no joking matter.
There is a thought process out there that suggests the coach should come first, and then the subsequent pieces can fit to his liking. The Lakers have done the opposite, and impressionable young stars like Julius Randle are going at it in the summer league without a head coach.
It's interesting that Byron Scott has long been hailed as the favorite, although sources told McMenamin that he would still need a second interview to secure the position—even though he already has the blessing of Kobe Bryant.
It's a strange time in Los Angeles, and it appears it will be extended for at least a few more weeks.
Metta World Peace Up for a Reunion Tour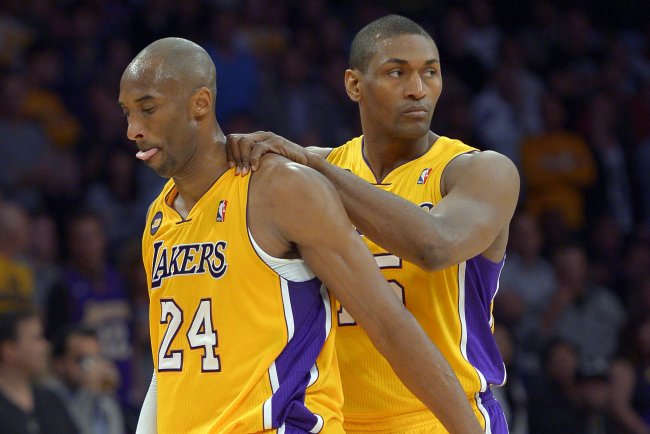 Mark J. Terrill/Associated Press
Not only is Metta World Peace on the hunt to extend his playing career, as can be seen in the tweet below, he apparently wants to re-up with the Lakers after starting just one game in New York last season.
@BR_NBA no way in the world I am retiring. I'm too good. Last year I had a consistent pre-season. I can't control what a coach does!

— mettaworldpeace.com (@MettaWorldPeace) June 13, 2014
It's funny to shrug it off as a "fat chance" that the Lakers would want to bring back World Peace during somewhat of a youth movement, but Medina hints that the team has at least been in contact with him:
I'm told Metta would love to play for Lakers, Clippers or Knicks. But my sense is any talks Lakers may have had w/ him have not been deep

— Mark Medina (@MarkG_Medina) July 17, 2014
A journeyman at this stage of his career, he has not exactly posted eye-popping contributions in the past few years, four of which came as a member of the Lakers:
| | | | | | | |
| --- | --- | --- | --- | --- | --- | --- |
| SEASON | TEAM | GP | FG% | REB | AST | PTS |
| '09-'10 | LAL | 77 | .414 | 4.3 | 3.0 | 11.0 |
| '10-'11 | LAL | 82 | .397 | 3.3 | 2.1 | 8.5 |
| '11-'12 | LAL | 64 | .394 | 3.4 | 2.2 | 7.7 |
| '12-'13 | LAL | 75 | .403 | 5.0 | 1.5 | 12.4 |
| '13-'14 | NYK | 29 | .397 | 2.0 | 0.6 | 4.8 |
ESPN
World Peace has a lot to prove on the court before a team takes a major risk in bringing him on at the age of 34.
With that said, there is value to be had for any franchise in the form of veterans, and the Lakers are no exception.
Again, if the Lakers are hesitant to dish out longer deals, then perhaps a reunion with World Peace is not the right idea. He could come off the bench next year in a rotation, but it's clear he thinks highly of the miles left on his tires, so it all has to come together at the negotiation table.
Until it does, don't get those purple and gold World Peace jerseys out of the bottom of the closet.