Wimbledon 2009: On a Musical Note!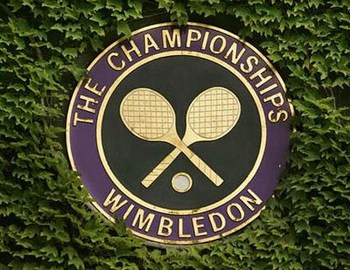 Wimbledon 2009 provided us with some fantastic highs and mighty lows; unpredicted successes and unexpected losses.
The greatest tennis players in the world battled for the Wimbledon crown; the eventual champions were crowned.
A number of worthy tributes will be created to the many fantastic matches gifted to us during the tournament; but this, my friends, is not one of them!
To learn what songs your favourite players are singing in the aftermath of the most prestigious tournament in tennis...Read on!
Disclaimer: The following slide show is intended for humorous purposes only. It is not intended to hurt, offend, belittle or disrespect anybody mentioned, directly or indirectly.
[Created with the help of...Rocky Getters!]
Roger Federer—15? Pfffft, that's nothing!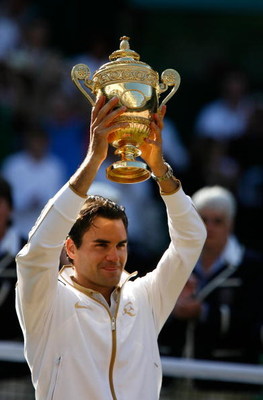 15 Grand Slams for the Swiss champ...and predictions of five or six more!
On realising this, Federer bursts into song in the middle of his press conference. He sings surprisingly well—is there nothing this man cannot do?!
"Tonight, I'm gonna have myself a real good time...I feel alive...and the world, it's turning inside out, yeah...I'm floating around in ecstasy so...Don't stop me now...Don't stop me cause I'm having a good time, having a good time...!"
Song: "Don't Stop Me Now"
Artist: Queen
Marat Safin—If I can break racquets so well, why would I bother breaking serves?!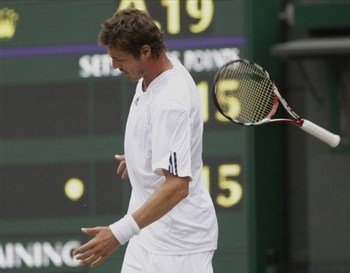 Here's one man renowned for what he can do with a tennis racquet...that is, after being called on a foot fault!
After an Anger Management session, Marat for once does not break his racquet—but instead, into song:
"Can't forget to breathe slow, count from one to ten with my eyes closed, cause ladies...err, that'd be 'Safins'...take it in and get composure, Before I lose it, get composure...."
Song: "Breathe Slow"
Artist: Alesha Dixon
Fernando Verdasco—It's All About The Hair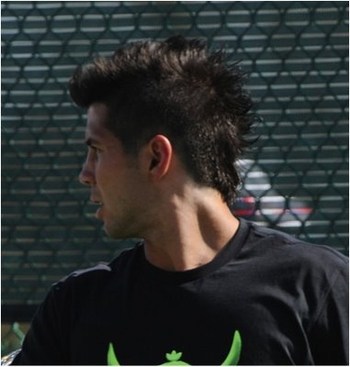 Having made his breakthrough at the Australian Open this year, Fernando Verdasco has played some gruelling, sweaty matches. More surprising than his sudden excellent form? The way his hair remains intact, regardless!
Unable to get his hair to sit right one day, Fernando starts singing mournfully:
"Tell me why, Ain't nothin' but a heartache, Tell me why, Ain't nothin but a mistake...Tell me why, I never wanna hear you say...I want it that way...I want it that way..."
Song: "I Want It That Way"
Artist: Backstreet Boys
Andy Roddick—Third Time Unlucky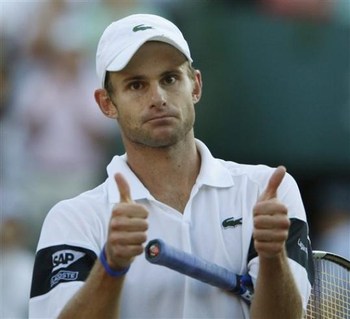 Andy Roddick—Sunday was his third Wimbledon final, this time losing out at 16-14 in the fifth.
Having had his heart wrenched out yet again, he begins to sing softly:
"We're so close, to reaching...That famous happy end and almost believing this was not pretend...Let's go on dreaming, for we know we are...So close...so close...and still, so far..."
Song: "So Close"
Artist: Jon McLaughlin (created for the movie Enchanted)
Daniel Nestor/Nenad Zimonjic—Champ Is The Word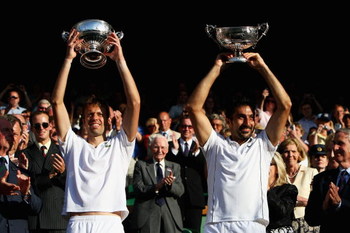 Daniel Nestor and Nenad Zimonjic successfully defended their Wimbledon doubles title this year, in sync with each other throughout the match.
However, there was a breakdown in communication during the award ceremony, as Daniel started singing:
"During the struggle, they will pull us down...But please, please let's use this chance to turn things around...And tonight, we can truly say...Together we're invincible..."
While at the same time, Nenad was singing:
"We are the champions, my friends...And we'll keep on fighting till the end. We are the champions—We are the champions...No time for losers, 'Cause we are the champions...of the world..."
Result? A tuneless mess!
Song 1: "Invincible"
Artist: Muse
Song 2: "We Are The Champions"
Artist: Queen
Serena Williams—Fighting Hard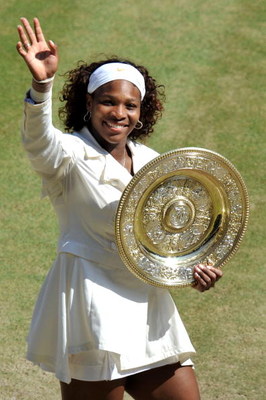 Serena Williams claimed the Wimbledon title from her sister on Saturday, and had to work hard for the win.
After the match finished, she grabbed the mic and sang:
"Makes me that much stronger, makes me work a little bit harder, itt makes me that much wiser...So thanks for making me a fighter...Made me learn a little bit faster, made my skin a little bit thicker, makes me that much smarter...So thanks for making me, a fighter..."
Song: "Fighter"
Artist: Christina Aguilera
Elena Dementieva—Yet Again
For the second year running, Elena Dementieva reached the semifinals of Wimbledon, just missing out on that elusive final.
She sings, trying to convince herself...
"Try again, never stop believing. Try Again, don't give up on your love. Stumble and fall, it's the heart of it all...When you fall down, just try again..."
Song: "Try Again"
Artist: Westlife
Rocky Getters—Ode to Maria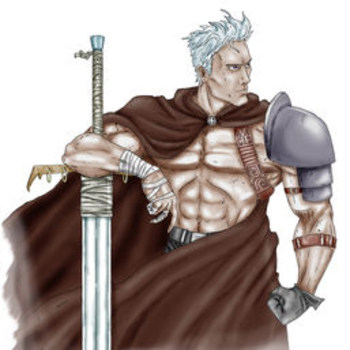 B/R's very own Rocky Getters is well known, not only for his writing abilities, but for his enormous love of Maria Sharapova...
He called her once more and sang:
"I lay my love on you, it's all I wanna do...Every time I breathe I feel brand new. You open up my heart, show me all your love, and walk right through...As I lay my love on you..."
Song: "I Lay My Love On You"
Artist: Westlife
Maria Sharapova—Hung Up? Or Hanging Up?
Maria Sharapova is famous within B/R for her rejections of writer Rocky Getters...but this time, her reply came in the form of song...
"Come on now, who do you, who do you, who do you, who do you think you are...Ha ha ha bless your soul...You really think you're in control...
Well, I think you're crazy...I think you're crazy..."
Song: Crazy
Artist: Gnarls Barkley
Tommy Haas—Who Knew?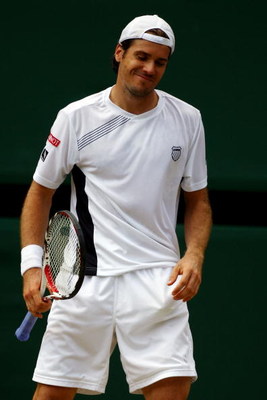 Tommy Haas made it to the semi-finals of Wimbledon this year, beating Novak Djokovic along the way.
Well aware that nobody was expecting him to do so well, Tommy Haas sings:
"Now tell me, who would have thought it could be this amazing? Now, who would have thought the tiny courageous? Tell me, who would've thought that love so belated, could save me and bring me back to you?"
Song: "Who Would Have Thought"
Artist: Darren Hayes
Andy Murray—Will He, One Day?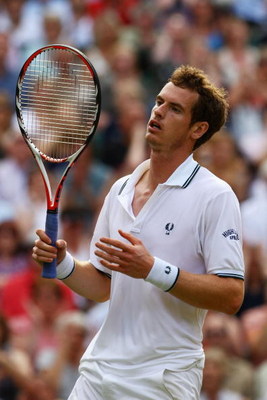 Andy Murray—Britain's first legitimate hope for a Grand Slam win in years. He got further this year than he ever has before in Wimbledon; but with the media harassing him constantly, he must be feeling the pressure!
Indeed—after losing to Andy Roddick, he grumbles:
"Does it feel like ya, You're never gonna find it...Does it feel like ya, Always one step behind it....
Does it feel like ya moving too fast, does it feel like ya want something you can't have....
Will I ever...?"
Song: "Will I Ever"
Artist: Lyfe Jennings
Rafael Nadal—Tell Me It's A Nightmare...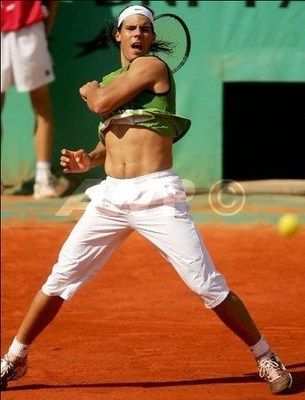 Rafael Nadal's knees prevented him from defending his Wimbledon title. He said it was the "hardest decision" of his career.
After hearing the news that he wouldn't be able to compete, Nadal lamented:
"Say it isn't so, say it isn't so...Tell me it's a lie, say everything's alright...Say it isn't so..."
Song: "Say It Isn't So"
Artist: Bon Jovi
Pete Sampras—Oh No You Didn't!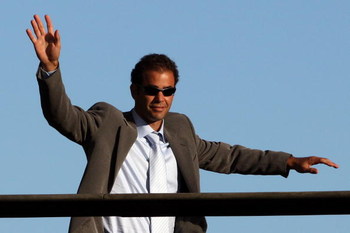 Pete Sampras' record of 14 Grand Slam titles was broken on Sunday by Roger Federer. He smiled and was gracious in front of the cameras, but as soon as he was alone—or, thought he was alone—this is what happened:
"It's not fair, and I think you're really mean. I think you're really mean, I think you're really mean...Oh you're supposed to care, but you never make me scream...you never make me scream...
Oh it's not fair, and it's really not ok. It's really not ok, it's really not ok...Oh you're supposed to care, but all you do is take...Yeah all you do is take..."
Song: "Not Fair"
Artist: Lily Allen
Keep Reading