Updates from Thursday, Aug. 14
Adriano has taken a significant step toward making his Barcelona return after he took part in training with the first-team squad.
The Brazilian recently discovered a heart problem during a medical, but Barca's official website provides the following update:
Xavi Hernández and Marc-André ter Stegen once again trained apart as they worked on their recoveries , whilst Thomas Vermaelen was treated by the physios and Adriano Correia joined in with the rest of the squad for part of the session.
Updates from Wednesday, Aug. 6
Barcelona delivered a brief update on Adriano's heart condition on Wednesday, after a recent medical exam had revealed an abnormal heart rhythm.
Barca's official website reports:
Song, Afellay and Adriano, who were all left out of the squad that faces Napoli this evening, trained on pitch 1 at the Ciutat Esportiva Joan Gamper. The Brazilian is still working on his abnormal heart rate.
Original Text
FC Barcelona defender Adriano Correia is expected to be out the next four to six weeks after a preseason medical exam uncovered an abnormal heart rhythm, the club announced Wednesday afternoon.
Adriano, 29, has also undergone an electrophysiological study in recent days, which will help determine the cause of the abnormal heartbeat. The procedure involves wired electrodes to stimulate the heart and its pathways, according to John Hopkins University. After patients undergo an EP study, doctors are better able to locate a possible blockage that's causing the symptoms.

Barcelona said Adriano will undergo physical therapy while on the sidelines. He'll be able to return whenever doctors are satisfied they have cured the problem to the point where there will be no more complications.
Adriano is heading into his fifth season with Barcelona after a 2010 transfer from Sevilla. He made 26 appearances in La Liga play last season, scoring three goals while providing solid back-line defense. He's scored nine goals in 90 appearances overall.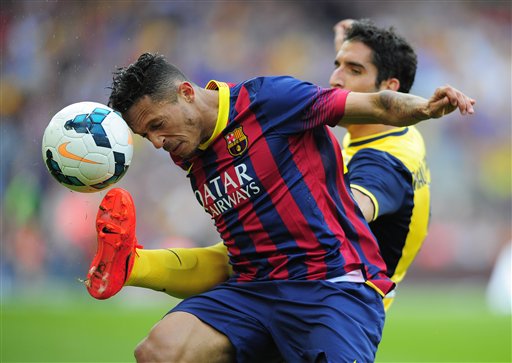 Manu Fernandez/Associated Press
However, even before the injury, there was uncertainty with his status. There had been numerous rumblings about a potential transfer, with Liverpool and Inter among the high-profile names linked to the full-back. Adriano's agent, Pailo Affonso, recently told Football Italia that his client would be keen on a move over to Italy—though nothing was quite in the works as of yet.

"Nobody at Inter has spoken to me, but I have a good relationship with the leaders at big Italian teams," Affonso said. "It must be said that Adriano would like to play in Serie A—that's one of his targets. But at the moment it will be difficult."
Adriano is currently slated to sit behind Jordi Alba in Barcelona's starting lineup. He's also faced disappointment on the national level, having been left off the Brazilian national team's roster for the World Cup. The host country famously flamed out in the knockout round and lost to the Netherlands in the third-place game.
Having just signed a new deal with Barcelona in 2013, Adriano has little power in forcing a transfer. He is under club control through 2017. Given their third-place finish last season and pressure to get back to the La Liga pinnacle, that could mean a lot more of being a backup once he returns to action.
Barcelona are scheduled for their first preseason match with Recreativo Huelva this weekend. Adriano's earliest possible return likely puts him in position to dress for their Joan Gamper Trophy match with Italian side Leon on Aug. 18. Either way, the club will be understandably careful before bringing him back into the fold.
Follow Tyler Conway (@tylerconway22) on Twitter.