A look at the Raiders offense
This is a look to the Raiders offense for the upcoming season. There are many questions to be answered to their offense. that's because they finished a dismal last in passing last year and not very well overall as yards and touchdowns were concerned. they also had a hard time scoring in the red zones which they need to improve for this season to win more games.
JaMarcus Russell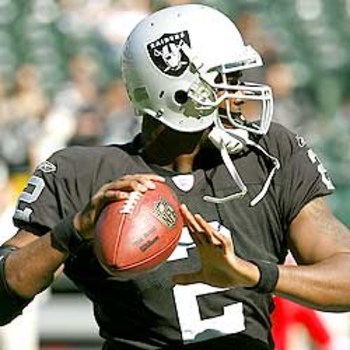 There are a lot of questions surrounding Russell whether his work ethic is good enough? we all know he has a gun for an arm but is the accuracy there?
But i think that after all that being said he really didn't have that bad of a season and it was pretty much his rookie year because of his hold out his actual rookie season. He had more touchdowns than interceptions and he almost had 3000 passing yards and i expect him to do even better next season.
Darren McFadden, Michael Bush, Justin Fargas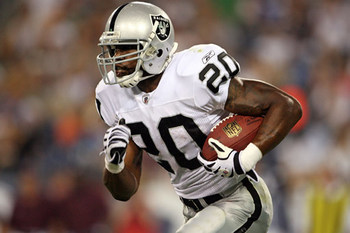 Yes the three headed snake in the back field. DMC, Bush and Fargas. i expect for them not to put up great individual stats but as a whole to be good. They all have there own ways of running. DMC has that breakaway speed and can be used in the slot, bush is a pound the ball and fargas is a bruiser gets every yard he can get. With Lorenzo blocking at full back i expect them to be close to the top 5 in running this upcoming season after 10th last season with a injured mcfadden and bush not being used alot.
DHB, Schliens, JLH, Murphy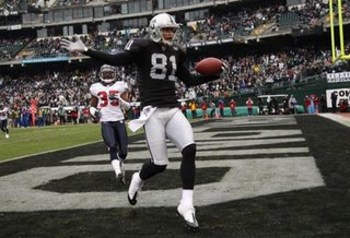 the Raiders have youth and speed at the receiver position how they get used and who will start is still to be decided. I have a feeling that Chaz will be the number one just by the way he finished last season. He is quiet doesn't showboat everything that you want in a receiver and that he also has great speed and size and doesn't drop the ball that much. DHB might not start right away if walker is back from his injury but with that being said he will eventually because of his explosive speed and putting more pressure on the defense to cover him because he can beat them deep all the time. JLH their leading receiver last year in catches and yards was used in the slot just like he is going to be used this season along with murphy who i think might be very good and a steal for the round he was picked in.
Zach Miller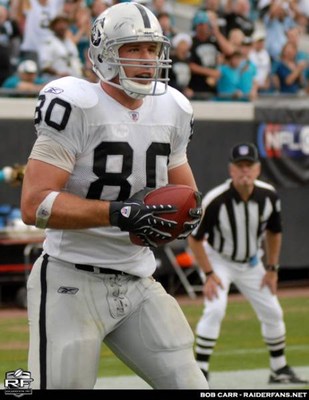 Miller where to start with this tight end stud. He was by far the best receiver for the Raiders and the most reliable target for young QB Jamarcus. He had the most catches and yards out of all other receivers. He barely drops the ball and runs great routes with decent speed. i expect him to do even better this season with hopefully a better jamarcus and maybe even a pro bowl for zach.
Keep Reading

Oakland Raiders: Like this team?