Day 3 of SEC Media Days from Hoover, Alabama, features an eclectic mix of coaches, players and officials with plenty to say about the state of college football's best conference for the 2014 season.
Much of the focus will be on LSU head coach Les Miles, who speaks during the second session, but he is far from the only figure of note. Missouri head coach Gary Pinkel, Arkansas head coach Bret Bielema, SEC coordinator of officials Steve Shaw and many more promise to provide plenty of interesting sound bytes.
Here is a full breakdown of the most notable highlights and comments from Wednesday's SEC gathering in Alabama.
Day 3 Recap
SEC Media Days kicked off Wednesday with Shaw taking the podium. Officiating is always a hot-button issue in college football, and it is under the microscope in the SEC more so than perhaps any other conference.
The introduction of the "targeting rule" last season was quite controversial, so Shaw spent a great deal of time discussing it.
According to Jon Solomon of CBSSports.com, Shaw said that targeting penalties decreased significantly as the 2013 season went on:
Shaw: SEC called 14 targeting fouls in 1st 8 weeks of 2013, 5 targeting fouls after that point.

— Jon Solomon (@JonSolomonCBS) July 16, 2014
Per John Adams of the Knoxville News Sentinel, Shaw believes that underscores the success of the rule:
SEC director says targeting rule achieved its goal. He said targeting fouls decreased as season went along.

— John Adams (@johnadamskns) July 16, 2014
One of the biggest issues fans, coaches and players alike had with the targeting rule was that the 15-yard penalty would still stand even if player ejections were reversed after video review. That will no longer be the case in 2014, according to SEC football communications director Chuck Dunlap:
Shaw reminds audience that if targeting is overturned in 2014, 15 yard penalty will be picked up. (SEC fought for this change).

— Chuck Dunlap (@SEC_Chuck) July 16, 2014
There is also further emphasis on protecting quarterbacks this season with low hits resulting in personal foul penalties, per Antonya English of the Tampa Bay Times:
Another new rule: hitting player below the knee "in a passing posture with one of both feet on the ground" is now a penalty. #SECMD14

— Antonya English (@TBTimes_Gators) July 16, 2014
The SEC is going to expand one of its officiating crews to eight officials for the entire season in order to see if it is a practical change to make moving forward, according to Adams:
SEC will expand experiment of using 8th official. One crew will work with 8th official all season.

— John Adams (@johnadamskns) July 16, 2014
Shaw even made mention of a new rule regarding contrast between teams' jerseys and numbers, which could come into play considering the constantly changing state of college football uniforms:
New jersey rule: Numerals not in contrast to the jersey will result in team getting charged a timeout at start of each quarter.

— Jon Solomon (@JonSolomonCBS) July 16, 2014
Although Shaw wasn't necessarily viewed as a must-see speaker with so many high-profile coaches and players on Wednesday's slate, he turned in an impressive performance. Aubrey Bloom of the Bryan-College Station Eagle thought Shaw did a fine job explaining the rationale behind the rules and regulations:
I gotta give it to Shaw, this is a substance filled session. Doing a great job explaining and also backing up with video clips.

— Aubrey Bloom (@aubreyrbloom) July 16, 2014
Missouri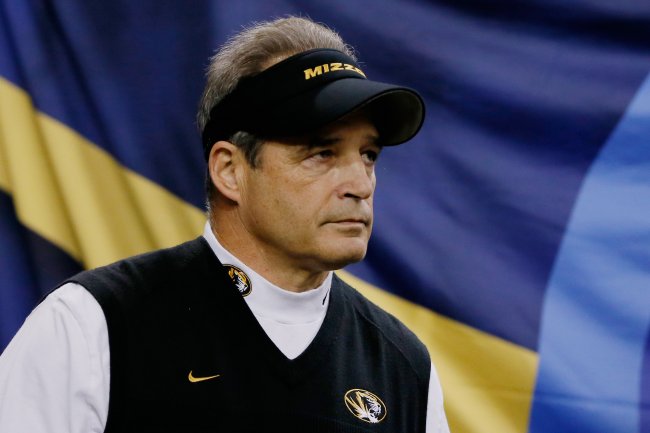 Kevin C. Cox/Getty Images
Following Shaw's session, Pinkel took the podium and came out swinging against SEC Media Days.
According to Josh Kendall of The State, Pinkel poked fun at the continued growth of the event:
Gary Pinkel voices all our nightmares: "When the league expands again, you guys will be here two weeks."

— Josh Kendall (@JoshatTheState) July 16, 2014
It didn't take long before the name of wide receiver Dorial Green-Beckham came up. The troubled star transferred to Oklahoma after being dismissed by Pinkel and Mizzou.
Per ESPN's Brett McMurphy, Pinkel still believes that DGB can be great despite the issues he ran into while with the Tigers:
Pinkel on DGB: "He made mistakes, had chance to learn lessons. He can do a lot of great things for himself"

— Brett McMurphy (@McMurphyESPN) July 16, 2014
Missouri came from out of nowhere to get into national championship contention last season. The Tigers certainly won't sneak up on anyone this year, but Pinkel made it clear that the preseason polls don't mean much to him, according to ESPN's Alex Scarborough:
Pinkel not upset with preseason voting last year: "I had no idea how you voted for us. I don't really care."

— Alex Scarborough (@AlexS_ESPN) July 16, 2014
Perhaps the biggest key to Mizzou's success in 2014 is the play of freshman quarterback Maty Mauk. He was quite productive when pressed into action last season and Pinkel has strong feelings about Mauk's ability to be a big-time player:
Gary Pinkel getting lot of questions about QB Maty Mauk: "He has the it factor"

— Brett McMurphy (@McMurphyESPN) July 16, 2014
It wasn't long ago that the Tigers were considered outsiders in SEC country, but Dennis Dodd of CBSSports.com believes that Pinkel and Mizzou are being treated differently and taken more seriously at SEC Media Days this year:
Judging from #SECMD14 Mizzou has quickly gone from contiguous warm body in conf realignment to warmly accepted member who can play.

— Dennis Dodd (@dennisdoddcbs) July 16, 2014
Pinkel will always be linked to reigning SEC Defensive Player of the Year Michael Sam, who famously became the first openly gay NFL player after being selected by the St. Louis Rams in the 2014 draft.
According to Bruce Feldman of Fox Sports, Pinkel admitted that Sam's decision to come out was a big deal at the time:
#Mizzou's Gary Pinkel on Michael Sam's announcement that he is gay: "It was much bigger than football. It was much bigger than Mizzou."

— Bruce Feldman (@BruceFeldmanCFB) July 16, 2014
With that said, Pinkel is hopeful that Sam's bravery will lead to players no longer being defined by their sexual orientation in the future, per David Morrison of the Columbia Daily Tribune:
Pinkel: "I hope, five years from now, there are no discussions about this. That we've moved on and respect people for who they are."

— David Morrison (@DavidCMorrison) July 16, 2014
Quarterbacks are always hot commodities at SEC Media Days, so there were plenty of eyes on Mauk following Pinkel's press conference. Mauk had plenty to say about his own team, but he was questioned extensively about other teams and players as well.
Former Texas A&M quarterback Johnny Manziel is now a member of the Cleveland Browns, but his name was still brought up a number of times throughout the day. Mauk is clearly a fan and paid him the ultimate compliment, according to Brent Zwerneman of the Houston Chronicle:
Mizzou's Maty Mauk says he watches film of @JManziel2 'all the time' -- called him greatest to ever play the college game.

— Brent Zwerneman (@BrentZwerneman) July 16, 2014
Mauk also praised Johnny Football's incredible escapability, per Bloom:
Mauk said Manziel could "turn anything into a big play."

— Aubrey Bloom (@aubreyrbloom) July 16, 2014
There may never be another Manziel, but Mauk has some similar traits and will need to flash his dual-threat ability this season in order for the Tigers to have success.
Pinkel didn't come across as particularly enthusiastic or boisterous, but he exuded a quiet confidence regarding his team's chances in 2014. He will have to work around the losses of key players like Green-Beckham, Sam and running back Henry Josey, but there is still a great deal of talent on the roster.
The biggest challenge is the fact that the Tigers now have a target on their backs after doing so much damage in the SEC last year. If they embrace that and handle it effectively, though, they will certainly be in the mix.
LSU
There are personalities in the college football coaching world, but very few are as entertaining as Les Miles. The LSU coach always packs a huge punch, and Day 3 of the SEC Media Days was no exception.
While Steve Spurrier is still considered the biggest character in the SEC, Miles isn't far behind. He made that known right off the bat when he stepped up to the podium with an update about his family instead of football, per Andy Staples of Sports Illustrated:
Les Miles on visiting his Longhorn swimmer daughter on the Texas campus: "It was miserable. I hated it. But it was great fun."

— Andy Staples (@Andy_Staples) July 16, 2014
So, we can rule out any possibility of him ever coaching for Texas.
Miles then addressed his program's quarterback battle. With sophomore Anthony Jennings and freshman Brandon Harris hoping to earn snaps, the two signal-callers still have a chance to lead the Tigers this fall.
After an entire spring and much of the summer, Miles wasn't ready to reveal who the starter will be, as SEC blogger Matt Couch points out:
Les Miles: "Quarterback will be Jennings or Harris. Will be a fight to the finish"

— Matt Couch (@MattCouchSports) July 16, 2014
One of the Tigers players in attendance, running back Terrence Magee, also provided his thoughts on the battle, per Patrick Clay of KALB-TV:
"I'm telling you what, they're gonna make (the decision) tough." - Terrence Magee on #LSU's QB competition @KALBSports #secmd14

— Patrick Clay (@patrickclayTV) July 16, 2014
Magee has been practicing behind the two quarterbacks, so he clearly has a first-hand look.
The Tigers' leader was also asked about some of the departures from the SEC, with players like Johnny Manziel, AJ McCarron and Aaron Murray now in the NFL. Unlike last season, Miles won't have to deal with as many prolific quarterbacks.
Miles responded as expected:

Les Miles on perceived lack of SEC star power: "I'm so thrilled that some of those quarterbacks left." Jokes he won't miss Manziel filmstudy

— Bruce Feldman (@BruceFeldmanCFB) July 16, 2014
As for the team that he brings into the fall, there is plenty of excitement for the Tigers. Though they lose the backfield tandem of Zach Mettenberger and Jeremy Hill, the players coming in have generated a lot of hype for the program.
He spoke about where he feels his team is heading into the fall, per College GameDay:
"I like us. And I like us in every game." - Les Miles

— College GameDay (@CollegeGameDay) July 16, 2014
Much of that excitement comes from the No. 2 recruiting class, according to 247Sports' composite rankings. That class includes two 5-star offensive players in Leonard Fournette and Malachi Dupre, along with multiple defensive prospects.
La'el Collins commented on the entire incoming class and how well they've performed thus far:
La'el Collins on #LSU FR: "I've never seen a group of young guys work so hard. They inspire me to get some extra work in. It excites me."

— Bruce Feldman (@BruceFeldmanCFB) July 16, 2014
While the entire class is impressive, LSU fans are clamoring for Fournette to line up and take carries. The No. 1 player in the 2014 rankings has drawn comparisons to all-time greats like Adrian Peterson even before taking a college snap.
Fellow running back Magee didn't shy away from that comparison for his freshman teammate, as Carl Prather of WAFF-TV notes:
LSU RB Terrence Magee Say frosh RB Leonard Fournette reminds him of Adrian Peterson... impressive... #SECMD14

— Carl Prather (@CarlPratherWAFF) July 16, 2014
Prather also provides comments from Magee on where Fournette will rank when his tenure is over:
Terrence Magee also says he believes Fournette will be on of the best to ever wear an #LSU uniform. #SECMD14

— Carl Prather (@CarlPratherWAFF) July 16, 2014
Hype is one thing, but bringing results is completely different. With an impressive class coming in, the Tigers still have talent all over the field and championship aspirations.
Magee spoke about those hopes with the media, per Steve Schneider of WAFB-TV:
Terrence Magee: the goal for #LSU is to be one of the four teams to make college football's new championship format. pic.twitter.com/8KRcQ7Ursz

— Steve Schneider (@9SportsDirector) July 16, 2014
Between all of the new players and the veteran coach, LSU might be in for another memorable season. On the heels of yet another 10-win season, Miles has a chance at accomplishing exactly what Magee referenced in 2014.
Arkansas
Coming off a disappointing 3-9 season for Arkansas football, Bret Bielema took the podium to speak about the future.
Though his team didn't do much winning the year prior, Bielema chose to focus on the rest of the program from the start. McMurphy passes along comments from the coach:
Bielema: "Everything in our program - other than wins - every part other than that column has been skyrocketing up"

— Brett McMurphy (@McMurphyESPN) July 16, 2014
The second-year coach might have made light of the win total from the year prior, but he certainly doesn't expect the same results in year two. McMurphy also shares Bielema's answer to a question about the last two conferences in which he's coached:
Bielema biggest difference b/w coaching in B1G & SEC "Winning vs. losing. It's quite simple. I didn't come here to lose"

— Brett McMurphy (@McMurphyESPN) July 16, 2014
Much of the talk before Bielema took the stage was about quarterback Brandon Allen. The signal-caller finished last season with 1,552 yards, 13 touchdowns and 10 interceptions.
While those numbers on paper don't look terrible, he finished the season 3-8 in games that he took the field. Bielema clearly hasn't given up faith on the quarterback, though:
Any Arkansas fans that don't believe in Brandon Allen at QB, Bret Bielema has a message: "Sit back and relax because it ain't gonna change."

— Alex Scarborough (@AlexS_ESPN) July 16, 2014
As for one of the Arkansas players in attendance, Brey Cook passed along his thoughts on Allen, via Aaron Peters of Razorback Nation:
2014 SEC Media Days, Brey Cook, "biggest difference will be Brandon Allen's ability to step up and lead the team" ... http://t.co/Jk9LcyYzfN

— Aaron Peters (@AaronPetersRN) July 16, 2014
In the past, Bielema has made it clear that he believes the no-huddle offense is a player-safety issue. Along with Nick Saban, the Razorbacks coach supported the proposed rule change that would limit no-huddle offenses in the future.
After Pinkel voiced his thoughts on the issue, Bielema stood firm on his concerns with the style, per David C. Morrison of the Columbia Daily Tribune:
Someone asks Bielema to respond to Gary Pinkel's assertion that fast-paced offense health concerns are "fiction." Here we go...

— David Morrison (@DavidCMorrison) July 16, 2014
Bielema apparently didn't pass that along to Alan Turner, as Sallee notes:
Arkansas DB Alan Turner says that he doesn't think the hurry-up offenses create a hazard.

— Barrett Sallee (@BarrettSallee) July 16, 2014
Along with both Cook and Turner, the final player in attendance for the Razorbacks was Trey Flowers. The full presser for Flowers was provided by SEC Sports:
VIDEO - Arkansas' Trey Flowers speaking at #SECMD14: http://t.co/K4EmXdPvRD

— SEC Sports (@SEC) July 16, 2014
The Razorbacks are coming off a tough season, but apparently have confidence heading into 2014. Allen will have a lot to do with how far Arkansas goes, but he has a chance to show how much he learned from the trying season in 2013.
Cook added his comments on the team's camaraderie this offseason, per Edward Aschoff of ESPN:
Brey Cook: "I've never seen a team buy in as much as this team this summer" He said this year the whole team have bought in #Razorbacks

— Edward Aschoff (@AschoffESPN) July 16, 2014
It might be another difficult season for Bielema and his coaching staff this fall with the depth of the SEC, but more wins should be coming for this program.
Follow @MikeChiari on Twitter