Manchester United's hopes of signing Arturo Vidal remain in the balance after Giuseppe Marotta, Juventus CEO, confirmed the Chilean midfielder is not for sale.
Marcus Christenson of The Guardian reported comments from the Italian club's latest press conference, which saw Massimiliano Allegri unveiled as Antonio Conte's managerial replacement:
Giuseppe Marotta, Juve CEO, at press conference: "Arturo #Vidal is not for sale. He's one of the most important players in the squad." #mufc

— Marcus Christenson (@m_christenson) July 16, 2014
BT Sport's James Horncastle built upon this by tweeting further comments straight from the Juve chief:
Marotta: Vidal is a Juventus player. Many things have been written. We've never put him up for sale

— James Horncastle (@JamesHorncastle) July 16, 2014
Marotta cont: Important clubs have asked after him, but we have never sat down to talk

— James Horncastle (@JamesHorncastle) July 16, 2014
United fans are sure to feel a sudden jolt of disappointment—if not familiarity—when hearing Vidal's indispensable nature highlighted by his current club. The 27-year-old midfielder, who starred at the World Cup with Chile, possesses the power, tackling ability and relentless energy United's midfield currently craves.
Understandably, Allegri is more than willing to have such a player in his squad, noted by Horncastle:
Allegri: "I'm happy to coach players like Pogba and Vidal." Naturally

— James Horncastle (@JamesHorncastle) July 16, 2014
Vidal previously added to speculation by confirming he would "love to play for one of the biggest clubs in the world," reported Chilean television station Chilevision and via Tom Sheen of The Independent. The midfield destroyer also confirmed "it will not be a problem if the chance to join Manchester United falls through," underlining his happiness in Turin.
Where will Arturo Vidal be playing his football next season?
Simon Jones of the Daily Mail previously suggested United were ready to balk at the player's potential £32 million price tag. After spending £28 million on Ander Herrera, per Sky Sports, and in excess of £27 million on Luke Shaw, according to BBC Sport, many fans would be extremely disappointed to see the club miss out on a marquee talent like Vidal.
It certainly forces one to reminisce about last summer's transfer mishaps under David Moyes. The Scottish boss—sacked before the conclusion of his debut season in charge—failed to land a number of targets including Cesc Fabregas, Daniele De Rossi and Sami Khedira. Despite the acquisition of Herrera and Shaw, Vidal is the game-changer United need to secure.
One reason for the English club's potential hesitation was offered by Tom McDermott, writer for Sky Sports:
I'd be flabbergasted if #mufc don't pay £34m for Vidal. Can only assume it's a knee issue.

— Tom McDermott (@FootballMcD) July 15, 2014
Vidal's fitness certainly remained troublesome through the World Cup, but United can still be confident of landing the battler if a hefty sum is offered. Marotta's quotes may have been deliberately issued in response to reports claiming the Red Devils' dwindling interest, perhaps in an attempt to speed things up or kick-start an emotional response from fans.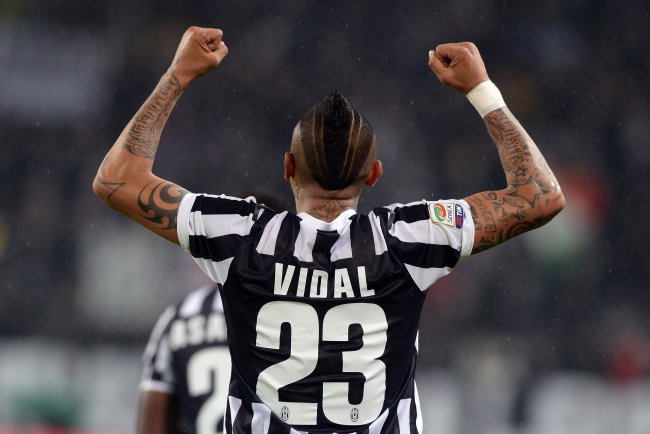 Claudio Villa/Getty Images
Alex Richards of ESPN FC believes Juve are trying to fan the fire:
Lot of bluster from the Juve suit saying Vidal will stay. Unsure Vidal will leave but he's hardly gonna say: "Yeah, he's off. Bollocks."

— Alex Shaw (@AlexShawESPN) July 16, 2014
United can take heart from the fact that Shaw was "not for sale" before he made the move, and that things are rapidly changing at Juventus. Vidal's sale could fund plenty of investments for Allegri, who will want to stamp his authority over a squad built under Conte's rule.
Every player has their price, and if United wish to land one of the world's top midfielders, they will need to stump up the cash.