When the American League team has an opportunity to win Game 7 of this year's World Series in the bottom of the ninth inning in front of its home fans, don't forget the 2014 All-Star Game.
The American League won 5-3 and notched its 13th victory in the past 17 Midsummer Classics. Bleacher Report summarized the action, while SportsCenter pointed out just how important earning home-field advantage could be come October:
The AL beats the NL 5-3 in the 2014 All-Star Game and the American League has home-field advantage in the World Series.

— Bleacher Report (@BleacherReport) July 16, 2014
Home, sweet home. American League is 9-3 since All-Star Game started deciding home-field advantage in World Series. pic.twitter.com/nXQTVSXQyo

— SportsCenter (@SportsCenter) July 16, 2014
The victor will certainly matter when the World Series rolls around, but there were plenty of other storylines on display Tuesday. Here are a few of them.
There may have been stars all over the field, but one shone brighter than the rest Tuesday.
This was Derek Jeter's night. He received an extended standing ovation from the crowd and his National League opponents when he stood in the batter's box in the first inning, heard his name chanted throughout the proceedings and gave a curtain call after he was removed from the game in the fourth.
Jeff Roberson/Associated Press
"New York, New York" even played over the speakers at Minnesota's Target Field, and television viewers were treated to a goosebumps-inducing commercial for the legend from the Jordan brand.
Bleacher Report and SportsCenter once again described the proceedings:
VIDEO: Derek Jeter hugged each teammate after being removed from his final All-Star Game. http://t.co/ia9k7JRuX2 pic.twitter.com/XiwuEDqFRa

— Bleacher Report (@BleacherReport) July 16, 2014
Derek Jeter's 14th & final All-Star Game is in the books. The Captain walks off to long & loud standing ovation. #ASG pic.twitter.com/fXNXI27OO1

— SportsCenter (@SportsCenter) July 16, 2014
In true Jeter fashion, he seemed a bit uncomfortable with the whole thing and simply wanted to play the game. It was Jeter who urged Adam Wainwright to go ahead and pitch during the standing ovation in the first inning.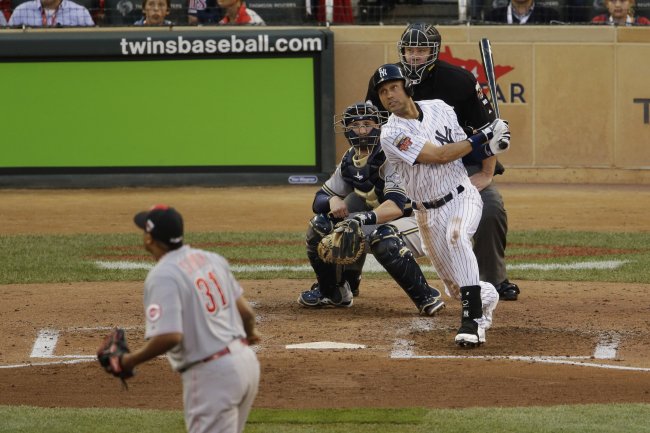 Paul Sancya/Associated Press
National League manager Mike Matheny discussed as much, according to the Associated Press (via Fox Sports): "The guys on our side have the utmost respect for him and would like to have been standing out there for a little while longer. I think Derek was the one that was uncomfortable with it."
All Jeter did under the spotlight was record two base hits, including a first-inning double. He now sports a .481 All-Star Game average, which is second all-time for players with 20 or more at-bats in the Midsummer Classic.
Mike Trout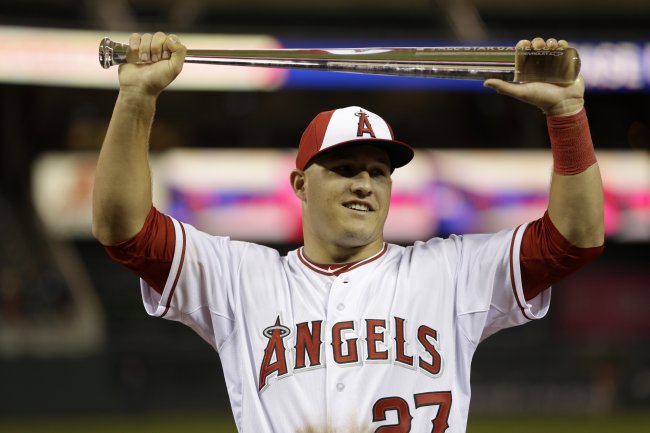 Jeff Roberson/Associated Press
While the proceedings were all about Jeter, one of the game's brightest young stars looked ready to accept the face-of-the-game torch from the Yankees shortstop.
Mike Trout earned MVP honors by going 2-for-3 at the plate with a tiebreaking triple in the first inning (that drove in Jeter) and a go-ahead double. He tallied two RBI and scored a run. Trout discussed how special it was to play so well alongside his childhood hero Jeter, according to the Associated Press (via Fox Sports): "Growing up and him being my role model, it's pretty special."
ESPN Stats & Info pointed out just how impressive Trout's night was given his age:
Youngest All-Star Game MVPs Ken Griffey Jr. age 22, 236 days Mike Trout age 22, 342 days Roger Clemens age 23 (via @eliassports)

— ESPN Stats & Info (@ESPNStatsInfo) July 16, 2014
As @jaysonst noted-- Mike Trout: 3rd player to get 2 extra-base hits in an All-Star Game before turning 23. (Ted Williams & Ken Griffey Jr.)

— ESPN Stats & Info (@ESPNStatsInfo) July 16, 2014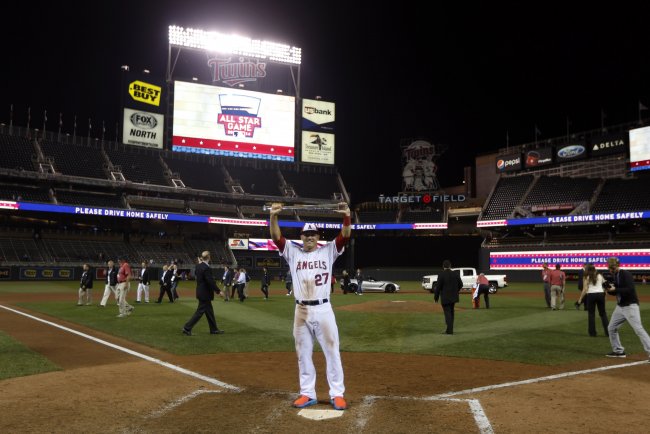 Jeff Roberson/Associated Press
Next up for Trout is a pennant chase. His Los Angeles Angels sit at a formidable 57-37 and will likely be battling the Oakland Athletics in the American League West the rest of the year.
Home-field advantage will be waiting in the World Series for whichever team wins the division and the American League as a whole. That squad can thank Trout for that when the time comes after his All-Star Game MVP performance.
American League Bullpen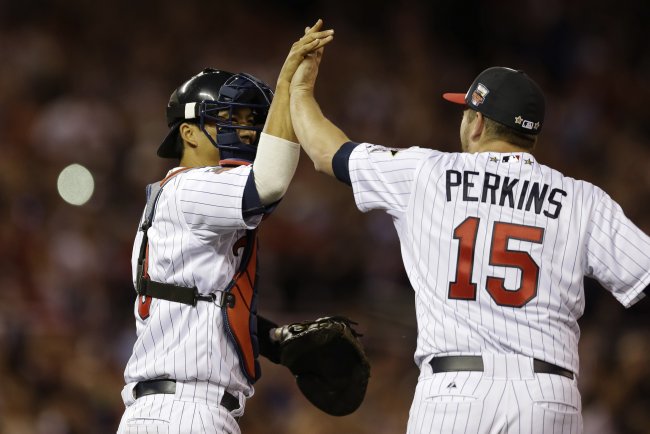 Jeff Roberson/Associated Press
When the American League seized a 5-3 lead, it unleashed an army of shutdown closers from the sixth inning on, ending any hope the National League had at a late comeback.
Koji Uehara of the Boston Red Sox, Greg Holland of the Kansas City Royals, Sean Doolittle of the Oakland Athletics, Fernando Rodney of the Seattle Mariners and Glen Perkins of the Minnesota Twins combined for six strikeouts. What's more, they only allowed a single hit and a single walk.
It was fitting that Perkins got the chance to close the game out in front of the home fans in Target Field.
Even a lineup of National League All-Stars didn't have a chance against this bullpen.
Follow me on Twitter: