The free-agency period has slowed down just a bit after the biggest superstars announced their decisions, but there are still several players on the market. Along with the remaining free agents, quite a few trades are rumored to possibly take place.
For the Boston Celtics, one of those players that's had rumors swirling around him for a while is Rajon Rondo. The floor general is the last remaining player from the glory days for Boston, but could be a huge piece in trading for the future this offseason.
The Celtics are also still searching for players that they can add this offseason, with an eye on Evan Turner, who could have a future with the team. Though several rumors have fallen short this summer, Boston is apparently slightly interested in a player that can add offense this season.
Here's a look at the latest rumors surrounding the franchise.
Rajon Rondo
Ray Allen is long gone. Kevin Garnett and Paul Pierce have been off the team for an entire season. Rondo, well, he's waiting for pieces to be added around him to rebuild the Celtics.
The once-proud superstar dealt with injury last season and returned to a team with no hope of making the postseason. Steve Bulpett of the Boston Herald passes along the latest about the point guard:
According to league sources, Danny Ainge has been pretty firm in the past on his need to get a major player in return for his All-Star point guard, and while the president of basketball operations has to realize Rondo's impending 2015 free agency may change the game a bit, he is still under no time pressure to pull the trigger.
Bulpett goes on to reiterate that Rondo wants to re-sign next summer, but the Celtics might not want to take any chances.
Playing in just 30 games last season, Rondo averaged a total of 11.3 points, 9.8 assists and 5.5 rebounds for the offensively challenged team. Those numbers were slightly down from the previous two seasons, but still some of the best in the league.
Tack on the fact that the Celtics just took a point guard in Marcus Smart, who has been a standout during the Summer League. With Boston building toward the future, Rondo might not be in the plans. But with the veteran still providing plenty of firepower, it might be best to re-sign him next offseason.
Evan Turner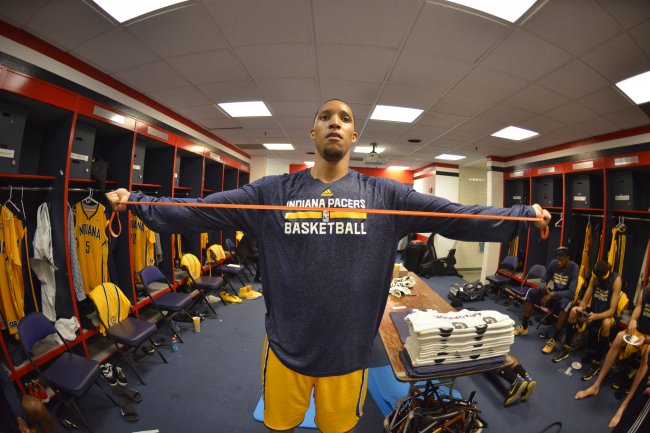 David Dow/Getty Images
After being traded to the Indiana Pacers last season from the Philadelphia 76ers, Evan Turner is now a free agent looking for a home.
Though he doesn't offer the same ability as a player like LeBron James or Carmelo Anthony, Turner is still a young player with upside. Jeff Goodman of ESPN passed along a note about Turner and the Celtics:
Evan Turner has received interest from Boston and Minnesota, a source told ESPN.

— Jeff Goodman (@GoodmanESPN) July 14, 2014
Michael Scotto of SheridanHoops.com also notes the latest on the team's interest:
Sources: Boston Celtics have mild interest in signing Evan Turner at this time.

— Michael Scotto (@MikeAScotto) July 15, 2014
Which deal is more likely to happen?
Turner hasn't quite lived up to being the No. 2 overall pick by the Sixers back in 2010, but he's still been a steady offensive player. The former Buckeye has improved his numbers each season as a starter, notching a career high 17.4 points with Philly before being traded.
He's also shown good distributing abilities over the last two seasons, averaging over three assists both seasons. On a team that is slowly collecting young talent, Turner might just be the player they add that can help moving forward at a low cost.
With several decisions still remaining for the front office this year, the C's might have several new faces at the start of next season. Turner might just be one of those thanks to his offensive abilities.
Follow @RCorySmith on Twitter.