Should the New York Knicks Trade or Keep Iman Shumpert?
July 16, 2014
After ending below .500 last season, the New York Knicks are looking to add another superstar to pair with Carmelo Anthony. Their only trade asset right now is Iman Shumpert, but should they part with the talented young guard?
If the Knicks want to be a championship-caliber team, they will need another superstar. Trading Shumpert (along with other players and/or draft picks) could potentially bring in Rajon Rondo or Kevin Love.
Having either one of those superstars next to Carmelo Anthony would make any Knicks fan salivate.  
Shumpert is clearly not a superstar, and will probably never be an All-Star caliber player, but he does have worth. ESPN New York's Robin Lundberg seems to have a similar opinion:
I am not overvaluing Shumpert, stop telling me that. I see him as nothing more than a solid rotation guy (but those guys are important).

— Robin Lundberg (@robinlundberg) July 8, 2014 
Throughout his three years in New York, Shumpert has always been their go-to defender.  Whenever they face great teams, Shumpert is always guarding their best scorer.  
Not only is he a great defender, but he's also an incredible athlete (as seen in the GIF below).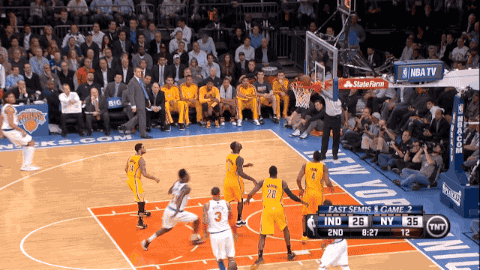 Shumpert is also currently the only two-way player on the Knicks.  Anthony and Tim Hardaway Jr are both gifted offensively, but they are liabilities on defense.  Shumpert is the only player on the Knicks who has excelled on both sides of the court.    
The biggest knock on Shumpert (besides his hair) is his inability to stay healthy. After a torn ACL and several other nagging injuries, it's hard to predict how durable the young guard can be down the road.  
Fortunately for the Knicks, during his ACL recovery, Shumpert worked hard and greatly improved his three-point shooting (as seen in the GIF below). He has shot 34.2 percent from three throughout his career.  His best three-point shooting came in 2012 when he shot over 40 percent from the arc.  
It's even possible that the Knicks could trade for Marc Gasol of the Memphis Grizzlies.  
If the Knicks want to trade Shumpert for a top-tier player, it would make sense. Role players are easy to find. Superstars are not.
Really, it comes down to whom they are trading for. If the Knicks want Rondo, Love or Gasol, all three of those players will be free agents in 2015, and the Knicks will have an abundance of cap space.  
In a perfect world, the Knicks could wait a year, sign one of those three superstars and still keep Shumpert.
Unfortunately, if the Knicks don't trade for one of those players, someone else might.   
Shumpert would be a great addition to any team. He brings energy and tenacity to every game he plays, but if the Knicks can get a Robin to Carmelo's Batman (or vice versa), then Shumpert must be traded.