Chelsea are reportedly close to a deal that would see out-of-favour striker Demba Ba leave the club during the summer transfer window. But the Blues shouldn't accept just any deal that is made for the Senegalese forward.
Turkish side Besiktas are ready to take Ba on loan with an option to make the move permanent at the end of the season, per the Daily Telegraph's Matt Law, while Jose Mourinho still prefers an immediate, permanent departure for the striker.
Speculation Ba could be on his way to Turkey has steadily risen throughout the past few days, but the player is yet to give any indication a departure is imminent. Via Twitter, he made it clear to his fans he is still training with Chelsea and focused on his responsibilities there:
Training day finish! Going home. Can't wait fir iftar ⚽️😜🙏💪🍟🍗 go follow the captain johnterry.26 http://t.co/MWZvV3vdfV

— Demba Ba (@dembabafoot) July 14, 2014
The Blues are trying to revamp the team's attacking unit during the summer of 2014, and part of that means departures. Trying to offload Ba is one thing—settling for an offer well below his worth or the club's expectations is a different matter.
The Senegal international may not have lit up the scoreboards last season, but he wasn't exactly put in a position to succeed either. Per WhoScored.com, he was given only six starts in the Premier League and UEFA Champions League all season, scoring three times.
He did some damage as a substitute, including scoring the winning goal in the team's win over Paris Saint-Germain, arguably the highlight of the season. Mourinho hailed the player's work ethic and attitude after that match:
Ba holds value for the Blues, both as a player off the bench and an asset in the transfer market. Could Chelsea find a better option off the bench? Yes, undoubtedly. But it doesn't mean they should just gift the player to Besiktas.
If Mourinho wants a permanent solution, that's what he should look for. Besiktas are keen on signing Ba, and they're offering to take him on a loan deal. The option is there, and it will likely remain an option for the time being.
But there are, undoubtedly, plenty of other teams that could use a powerful, productive striker looking for a fresh start. Besiktas' offer doesn't have to be the end station—there is still plenty of time left in the transfer window.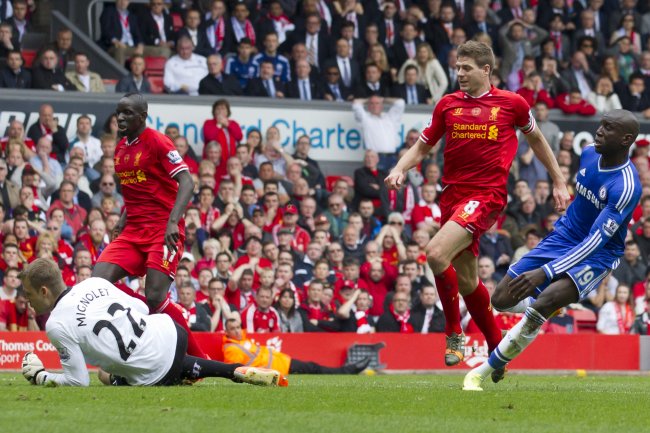 Jon Super/Associated Press
This isn't just about money or trying to get the best offer for one of your players. By selling a player for a fee well below his market value, or loaning him out when you've made it clear you'd prefer a permanent solution, you're essentially showing him the least respect possible.
Ba is not a superstar, and he never produced like a superstar for the Blues. But he did what he was told, put in the work and gave the fans plenty of reasons to cheer against the likes of PSG and Liverpool.
If he is to leave the club (and that looks all but guaranteed at this point), he deserves to leave the right way. No loan deals or settling for a subpar offer for the sake of getting rid of Ba. Listen to what every interested party has to offer, and decide on the offer that's best for both club and player.