Not every franchise can be the Cleveland Cavaliers.
Free agency has been a fun romp for fans and an even better time for franchises such as Cleveland that won big on the market, but beneath it all resides a sad state of affairs, a laundry list of franchises that gambled it all and lost.
Take Houston, for example. James Harden and Dwight Howard are around, sure, but the front office's continued roll of the dice has left the team worse off than when it entered the market.
More on that catastrophe later, though. The rumor mill is not near a reduction in speed, so let's hit the pause button and highlight some of the most critical rumblings.
Mike Miller's Decision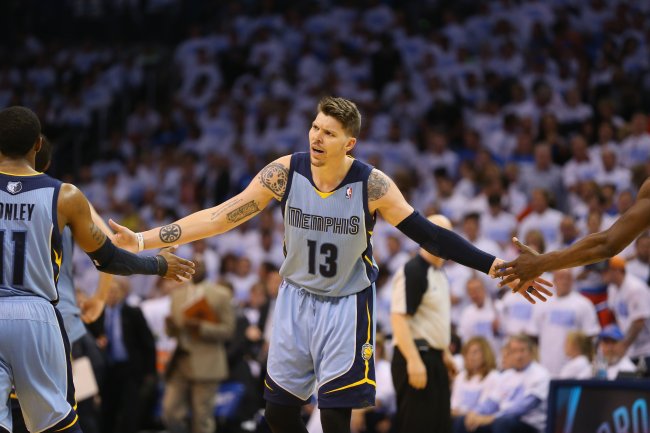 Ronald Martinez/Getty Images
Everybody gets a Decision these days.
Mike Miller won't get his own television special, nor will he freeze the market and act as a kingpin domino and he certainly won't upset fans too much either way with what he elects to do, but he's still interesting nonetheless.
Will Miller chase rings, or defer to copious amounts of coin?
It's such a hard life for pro athletes, right? According to Jeff Goodman of ESPN, two franchises have an offer out for Miller's services:
Cavs offer to Miller is for two years and about 5.5 million while Denver offering 3 years and 12 million, source told ESPN.

— Jeff Goodman (@GoodmanESPN) July 13, 2014
With the Denver Nuggets representing a superb cash flow and the Cleveland Cavaliers acting as a great chance at a title, Goodman hears Miller clearly prefers one to the other:
Denver currently the frontrunner to land Mike Miller, source told ESPN. Houston and Cleveland also in mix, but Nuggets offering best deal.

— Jeff Goodman (@GoodmanESPN) July 14, 2014
The oft-injured Miller, now 34 years old, played in 82 games last season for the first time since his rookie year. With the Memphis Grizzlies, the Florida product posted averages of 7.1 points per game on 45.9 percent shooting from deep.
He's pigeonholed as a deep shooter only, sure, but there is clearly a major price on such an asset. Miller's health is certainly up in the air as always, so there is an inherit risk for all teams involved. Which route he goes is anyone's guess.
Boiling Point for DeJuan Blair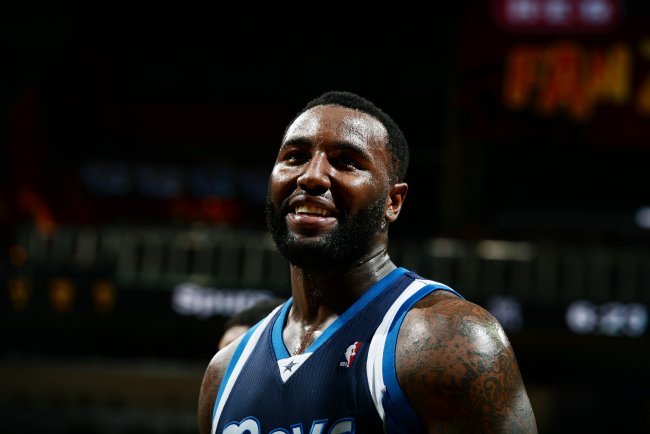 Garrett Ellwood/Getty Images
A rather quiet element to free agency that is set to come out from underneath the rug is the drama surrounding DeJuan Blair.
After four seasons with the San Antonio Spurs, Blair wound up in Dallas last season and is not of the mind to settle for veteran-esque compensation at the age of 25, so it makes sense that ESPN's Marc Stein is hearing a wealth of rumors about the former Pittsburgh star:
Washington and Dallas are in advanced discussions on a potential sign-and-trade deal that would land DeJuan Blair with Wizards

— Marc Stein (@ESPNSteinLine) July 14, 2014
As Eddie Sefko of the Dallas Morning News adds, for the Mavericks, the potential deal with the Washington Wizards does not offer much in the way of compensation:
Hearing the Mavericks will take nothing back from Wizards if they do a S-T with them for DeJuan Blair. Would only help salary for Blair.

— Eddie Sefko (@ESefko) July 14, 2014
But for Washington, what has been a rather tumultuous offseason gets much brighter with the addition of another talented post player.
With the news that Trevor Ariza has joined Houston, per Sam Amick of USA Today, and has since been swapped out with the aging Paul Pierce, per Stein, the Wizards need some good news. Adding Blair to a bunch that includes Marcin Gortat and Nene certainly qualifies:
| | | | | | |
| --- | --- | --- | --- | --- | --- |
| SEASON | TEAM | GP | FG% | REB | PTS |
| '09-'10 | SA | 82 | .556 | 6.4 | 7.8 |
| '10-'11 | SA | 81 | .501 | 7.0 | 8.3 |
| '11-'12 | SA | 64 | .534 | 5.5 | 9.5 |
| '12-'13 | SA | 61 | .524 | 3.8 | 5.4 |
| '13-'14 | DAL | 78 | .534 | 4.7 | 6.4 |
ESPN
The transition would mean Trevor Booker is fully shown the door, which is fine. Blair is a young piece who fits well with the long-term plan in Washington, and there is no such thing as too much quality depth in the interim.
For Washington, the move would also act as a small semblance of retribution for the front office's decision to pass on Blair in the second round of the 2009 NBA draft, when they instead added Jermaine Taylor.
Houston's Redemption Tour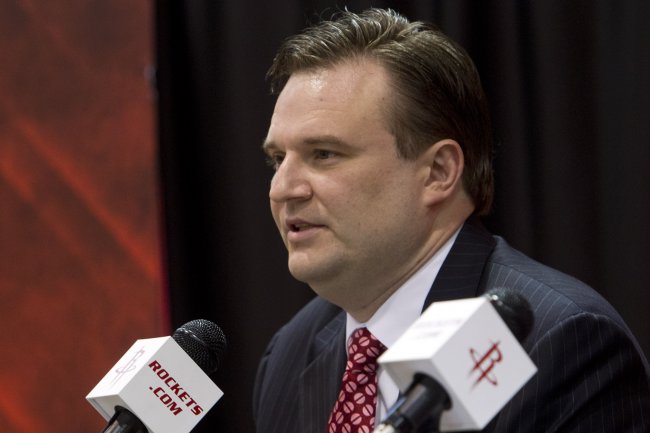 Bob Levey/Getty Images
Rockers general manager Daryl Morey has dug himself quite a hole.
On one hand, he deserves a salute for being brave enough to purse his own version of the Big Three, even if that sort of superteam seems to be falling by the wayside.
The center of Morey's attention was on Chris Bosh, who elected to take his talents back to South Beach rather than move to Texas, per Yahoo Sports' Adrian Wojnarowski.
Morey paid dearly for Bosh's decision. In an effort to make room, he shipped effective backups Jeremy Lin to the Los Angeles Lakers, per ESPN Basketball Insider Jeff Goodman, and center Omer Asik to the New Orleans Pelicans, while also apparently causing a major rift with first-round pick Clint Capela, per Comcast Sportsnet's Chris Haynes.
Got all that? No, because that goes without mentioning that while Morey added Ariza to the fold, he lost Chandler Parsons, per Stein.
So how does Morey atone for all of this? By trading for Rajon Rondo or Kevin Love, of course. Stein has the scoop:
So look for Rockets to re-enter trade game for longtime Houston target Rajon Rondo as well as try to work their way into mix for Kevin Love

— Marc Stein (@ESPNSteinLine) July 14, 2014
Either would, of course, be a major win. Rondo enters this season after a serious injury, but as a facilitator with Harden and Howard, he would form an elite trio and title favorite. Love next to Howard in the paint would give Houston the most dominant duo in the paint by far and perhaps one for the ages.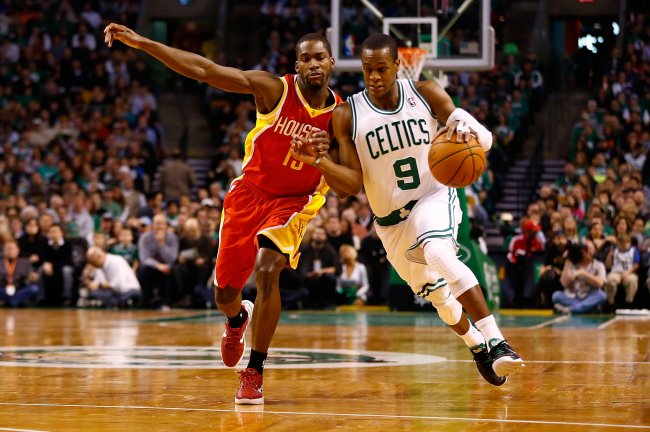 Jared Wickerham/Getty Images
That said, Morey does not exactly have a ton of assets to surrender to appease either of the franchises. Minnesota has been averse to trading Love for anything, and Danny Ainge in Boston has to like what he has in place with Rondo and Marcus Smart.
Should Morey fail in these gargantuan aspirations and both superstars remain with their current teams, then the Rockets will have a great shot at both next offseason with both slated to become unrestricted free agents.
In the interim, expect the Rockets to remain linked to the two, but anything coming to fruition would require an epic turn of fortunes.