Preseason Picks for NFL All-Pro: NFC, Pt. 2 (Defense and Special Teams)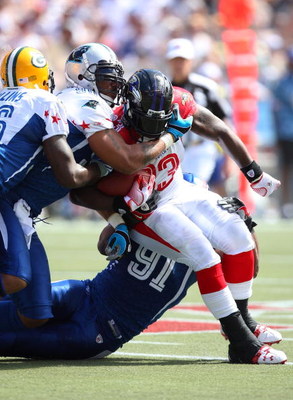 This a follow-up to "Preseason Picks for NFL All-Pro: NFC, Pt. 1", which focused on my predictions for the best offensive players in the NFC for 2009. If you have not read my offensive picks yet, here is the link:
http://bleacherreport.com/articles/206809-preseason-picks-for-nfl-all-pro-nfc-part-1-offense.
With that being said, it should not be a surprise that this slide will honor the top defensive and special teams players in the National Football Conference.
It will be of a similar format to its predecessor, one player for every position on a standard defense.
Defensive End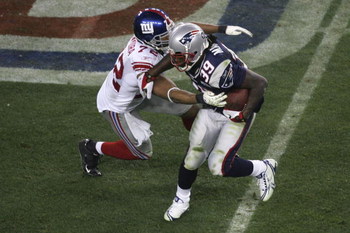 Osi Umenyiora: New York Giants DE
Height: 6'3" Weight: 261 lbs Age: 27
After missing the entire 2008 season due to a knee injury, Umenyiora is back to wreak havoc and lead the Giants defense to greatness.
His last appearance in an NFL game was Superbowl XLII (42) against the Patriots. This was a fantastic game for Umenyiora, as was the rest of that season. Since there are no stats to give for last year, here is what Osi did in 2007: 52 tackles, 13 of which were sacks, 5 forced fumbles, and 2 fumble recoveries, which he returned for a total of 75 yards and 1 touchdown. During the season, although he could not play, Osi made it a priority to stay in shape.
He can now out-bench teammate Justin Tuck, and that is saying a lot. I expect Osi's hard work to transcend onto the gridiron, too. He is a warrior on the field, and one of the spiritual leaders of the Giants' defense. His teammates feed off of his intensity, making the whole group better.
In 2008, opposing quarterbacks were lucky to have him on the sidelines, but now, he is back and ready to go.
Defensive End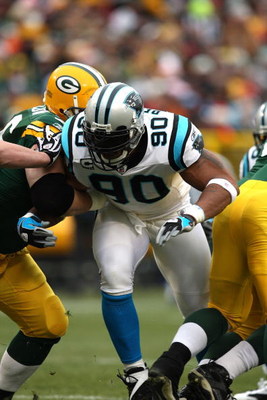 Julius Peppers: Carolina Panthers DE
Height: 6'7" Weight: 283 lbs Age: 29
After a long hold-out, Julius Peppers has finally agreed to a contract with the Panthers. This is a huge move for the Panthers, as they have now locked up one of the most dominant defenders in the NFL.
After a down year, Peppers cam storming back with a magnificent season in '08. His 51 tackles, 14.5 sacks, 5 passes defensed, and 5 forced fumbles were among the best in the league. His great size, strength, and athleticism put him in the exclusive group of the NFL's supreme players.
After an exceptional season last year, Peppers will be hungry to perform at an even higher level in 2009, and once you get him going, there is almost no stopping him.
Defensive Tackle
Albert Haynesworth: Washington Redskins DT
Height: 6'6" Weight: 320 lbs Age: 28
Haynesworth reeled in a heap of money when he signed with the 'Skins this offseason; 100 million dollars to be exact. Over the next seven years, Haynesworth is guaranteed 41 million bucks.
With a big contract comes huge expectations. Last year, Albert had a monstrous season, compiling some of the best stats for a defensive tackle we have seen in recent years. In fact, his stellar stat-line included 51 tackles, 8.5 sacks, 2 passes defensed, 3 forced fumbles, and 1 recovery.
Now, he is no longer a Titan, but his team change should not affect his performance. Haynesworth was quite a scare to Tennessee's opposing offensive lines and the guys they blocked for.
If Haynesworth comes close to matching last season's production this year, Washington will definitely get their money's worth.
Defensive Tackle
Kevin Williams: Minnesota Vikings DT
Height: 6'5" Height: 311 lbs Age: 28
Kevin is one of the two D-tackles that make up the "Williams Wall", the other being Pat Williams. This arguably the best defensive tackle combo in the NFL.
As a whole, the Vikings run defense has been ranked No. 1 for the past three years, and Kevin is a huge part of it. Solid and well-built, Williams is one of the most destructive forces in the league.
Last year, he consistently clogged holes and was a threat to opposing quarterbacks, compiling 60 tackles, 8.5 sacks, 4 passes broken-up, a forced fumbles, and a pair of blocked kicks in 2008.
With a drug-related suspension still lingering as a possibility, Williams may miss a few games in 2009. This might hurt his numbers, but there is a high chance that when he returns, he will quickly make up for the time he loses.
If the Vikings are to hang onto there crown as the NFL's premier run defense, they will need Kevin Williams to serve as the anchor, something he has already proven himself capable of.
Middle Linebacker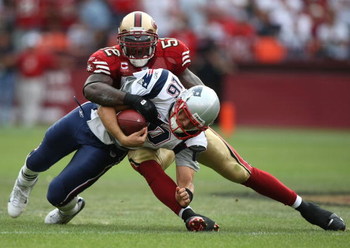 Patrick Willis: San Francisco 49ers MLB
Height: 6'1" Weight: 240 lbs Age: 24
Willis is one of the best young players the NFL has to offer. Going into his third season, he has already played in two Pro Bowls, has two All-Pro selections, and was the defensive rookie of the year his first year in the league.
Early on, Willis had some struggles adjusting to a 3-4 defense, but ever since he figured it out, he has been astounding. Just two years into his career, he has quickly established himself as an unstoppable force.
Already, he has reached 315 tackles, 5 sacks, 15 passes defensed, 1 interception, which he returned 86 yards for a touchdown, 3 forced fumbles, and 2 recoveries in his brief career. He is a pure athlete, possessing fantastic speed and agility.
He also has great strength and superb tackling ability. In addition, he is one of the fiercest and most competitive guys in the sport.
All of this leads me to believe that we have not even seen his best yet, and that we will see Patrick Willis amongst the NFL's best for years to come.
Outside Linebacker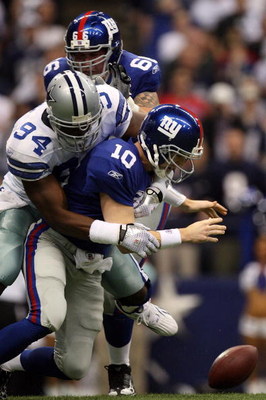 DeMarcus Ware: Dallas Cowboys OLB
Height: 6'4" Weight: 262 lbs Age: 26
Ware is a phenom and terrific talent, demonstrating all of the qualities necessary for a complete NFL linebacker. He is gigantic linebackers compared to most other linebackers, and yet he is still able to play bigger than he actually is.
This is because he is incredible at translating his unbelievable strength into his hits. He also has top-notch speed, which allows him to track down running backs and keep opposing QBs on their backs.
Ware's 84 tackles, 20 sacks, 2 passes defensed, 6 forced fumbles, and 1 recovery are some of the best numbers in the league. DeMarcus is an exceptional player, versatile, powerful, fast, and intimidating above all.
Stopping him is one of the toughest tasks for any offense to accomplish, as he is only improving and does not look to slow down any time soon.
Outside Linebacker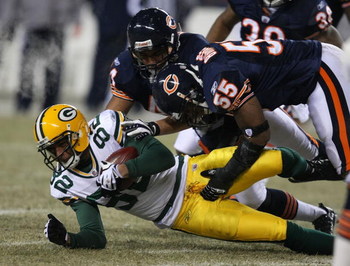 Lance Briggs: Chicago Bears OLB
Height: 6'1" Weight: 240 lbs Age: 28
Briggs is one of the most dynamic linebackers in pro football. He is a talented athlete, possessing outstanding strength and impressive speed. He is a vicious tackler and is not afraid to make contact with anyone.
Last year, he had a spectacular season for most linebackers, although it is only what we have come to except out of Briggs, being the magnificent player that he is.
He posted 110 tackles, half a sack, 10 passes defensed, 3 picks, which were returned for a total of 12 yards, 1 forced fumble, and 2 fumble recoveries, which he took back for a total of 21 yards and 1 score.
Briggs is young, and is still nearing his prime. In 2009, it seems Briggs is destined to put up numbers that exceed even these, and remain one of the league's best football players.
Cornerback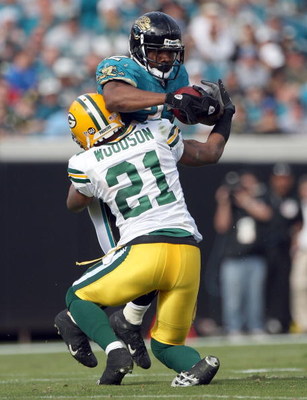 Charles Woodson: Green Bay Packers CB
Height: 6'1" Weight: 202 lbs Age: 32
Woodson is one of the NFL's most skilled cornerbacks. He has been one of the premier ball hawks in the sports' highest level ever since his inception into the pros back in 1998.
He is a constant threat to snag a pass away from opposing receivers, and makes quarterbacks think twice about throwing in his direction. He is a sure-handed defender, which he has proven through his 36 career picks.
Last season alone he had 7, along with 62 tackles, 3 sacks, 17 passes broken up, and 1 forced fumble and fumble recovery each.
Also, his 7 interceptions were returned for 162 yards and a pair of pick sixes. It is no wonder that he won the Heisman Trophy at Michigan. His magnificent hands and lightning speed have secured a spot in the elite class of NFL defensive backs.
Because of his unbelievable talent and natural ability, Woodson has won countless prestigious awards in both college and the NFL.
2009 should be no different, as he looks to be selected to the All-Pro to team for the third time in his illustrious career.
Cornerback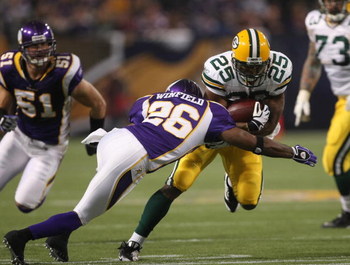 Antoine Winfield: Minnesota Vikings CB
Height: 5'9" Weight: 180 lbs Age: 32
Winfield has become one of the NFL's most feared cornerbacks, known for his bone-rattling hits. Most receivers cannot match his physicality, although Winfield is one of the league's smallest defenders.
However, his sub-par stature has not limited him so far in his career, and his reputation for being a hard hitter will probably not change any time soon. He is excellent at shutting down the run game, making terrific open-field tackles and stopping running backs in their tracks.
He is one of football's most athletic players, quick and speedy, yet far stronger than he appears. In 2008, Winfield had an impressive campaign, racking up 95 tackles, 2 sacks, 11 passes defensed, 2 interceptions, 4 forced fumbles, 2 recoveries, which he returned for a total of 29 yards and a touchdown, and 1 blocked field goal recovery which he took to the house from 59 yards away.
Winfield has proven himself to be reliable and easily trusted out in the lone corner, taking down running backs at will and delivering big-time blows to any receiver unlucky enough to cross his face.
Strong Safety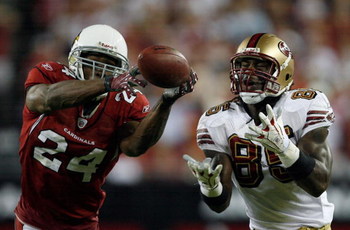 Adrian Wilson: Arizona Cardinals SS
Height: 6'3" Weight: 230 lbs Age: 29
In 2008, Adrian Wilson continued to prove that he was one of the best safeties in the league. He is a top-notch run defender and is reliable against the pass.
He definitely has made a few devastating hits in his career, and is a tough player who fights through injuries. Against the pass, Wilson does a nice job of staying with his receiver and pouncing on the ball once it gets in range.
Once the ball is in his hands, he knows what to do with it, as he has scored his fair share of touchdowns throughout his career.
Just this past year, he had 75 tackles, 2 and a half sacks, 5 passes defensed, 2 INTs, 37 return yards, and 2 forced fumbles. He is the ideal size for a safety in any coaches eyes. He is also a very strong and powerful tackler. This is deadly when combined with his speed and instincts.
Wilson is superb at stopping the run and getting after the quarterback, and is also a great coverage man, whose mind-set switches to that of an offensive player as soon as he finds the pigskin.
Adrian Wilson is a hard worker and a physical prototype, making him one of the NFL's superior defensive backs.
Free Safety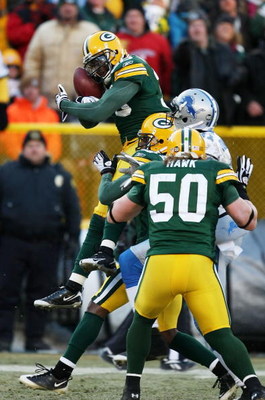 Nick Collins: Green Bay Packers FS
Height: 5'11" Weight: 207 lbs Age: 25
Collins had what was probably his best season in 2008, and was a constant problem for any offense who had to face Green Bay. Nick has a knack for finding the football, causing turnovers left and right.
All year long he flashed his brilliant hands and instinctive ability in coverage. He also did an incredible job stopping backs in receivers in the open field. Collins is lightning fast and able to keep up with any receiver.
At the same time, he is strong and tough, which allows him to clean up anyone who slips through the Packers' first two layers of defense.
Last year, he posted 72 tackles, 15 passes disrupted, 1 forced fumble, and an outstanding 7 interceptions, 295 INT return yards, and 3 touchdowns.
Kicker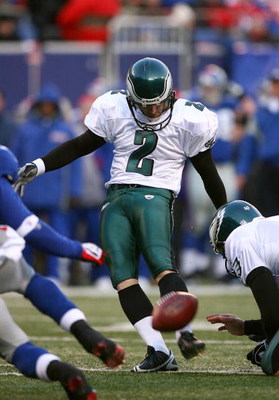 David Akers: Philadelphia Eagles K
Height: 5'10" Weight: 200 lbs Age: 34
Akers has one of the strongest and most accurate legs in all of football. He is going into his eleventh year with Philly, where he has played for all but one year of his career.
After joining the Eagles, Akers' success came quickly. Now, he is one of the NFL's most revered kickers, and this is rightfully so. He is reliable in the clutch and a sure thing from anywhere within fifty yards of the goal post.
His range exceeds that of most other kickers, as his career long of 57 yards is something most others cannot accomplish. In '08, Akers made 33 of his 40 field goal attempts, including a long of 57, giving him a percentage of 82.5, hit all 45 of his extra point tries, and finished with a 65.8 average on kickoffs.
He has been one of the most important players in Philadelphia, contributing to their string of productive years.
Akers has done a great deal of good throughout his career, and is now considered one of the best players at his position.
Punter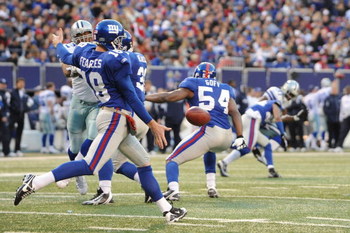 Jeff Feagles: New York Giants P
Height: 5'11" Weight: 215 Age: 43
Like fine wine, Jeff Feagles only gets better with age. He is deemed by most to be one of the best punters of all time. Some consider the best ever. Wherever you have him ranked, you have to admit, he is one fantastic player.
Feagles is one of the toughest guys in the league, setting a record for most consecutive games with 336, a streak that become upon his arrival in the NFL with the Patriots in 1998. 21 seasons later, Feagles has compiled some of the best stats in history.
Just this past season he recorded 2,814 gross yards on a 44.0 yard average that tied for second highest in his career. He also had a career best 40.2 net average. In addition, the future Hall of Famer pinned the opposition inside their own twenty yard line 23 times on the year.
While Feagles does have a very strong leg, his best gift is his accuracy. He is the definitely one of the best angle-punters in the league's history, putting the ball wherever he needs to in order to make for a difficult return.
Although it is not always a good thing for the Giants when Feagles is on the field, they can rest assured that when he is punting, the return team will have a hard time getting any significant gain due to his big boot and unrivaled ball placement skills.
Kick/Punt Returner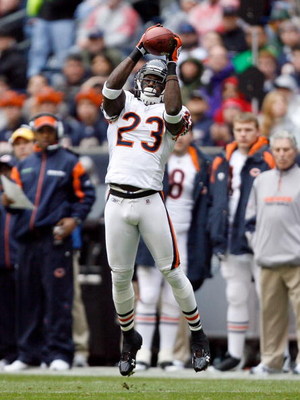 Devin Hester: Chicago Bears WR/KR/PR
Height: 5'11" Weight: 190 lbs Age: 26
Hester is the popular pick for the NFL's top return man, while some proclaim him to be the best of all time. He has electrifying speed and keen field vision, allowing him to maneuver his way down field and reach the end zone.
In addition to being the Bears' return specialist, Hester also sees time as a wide receiver. In his rookie season, Chicago worked him in at cornerback, as they wanted to find as many ways as possible to incorporate such a great talent into their lineup.
However, it is returning punts that Hester has found the most success with during his three years in the league. Over those three seasons, he has amassed 1,449 punt return yards and 7 touchdowns.
Although he has more yards returning kickoffs, with 2,141, that si a much easier task than handling the punts. He also has 4 kick returns for TDs, including a 108 yard missed field goal return. He added one on the opening kickoff of Superbowl XLI, something that had never occurred until then.
Finally, Hester has 71 receptions going for 964 receiving yards and 5 scores, 51 rushing yards, and 13 tackles, making him one of the most versatile players in the NFL. Being as young as he is, it looks like Hester has not even reached his pinnacle.
Opposing teams will have a few more years to wait until they are relieved of the ever-present threat of Devin Hester taking kicks and punts the distance.
Reserves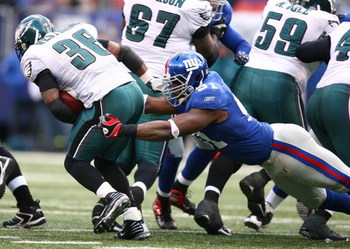 As with the offense, there are defense and special teams players who do not make the cut for best at their position, but are still worthy of getting their due recognition.
This is the Honorable Mention list, made for the guys who aren't number one, but are close to it. If the previously mentioned players were the starters on an all-star team, then these guys are their back-ups:
DE: Justin Tuck
Jared Allen
Aaron Kampman
Patrick Kerney
DT: Jay Ratliff
Pat Williams
Chris Canty
Darnell Dockett
MLB: Jon Beason
Jonathan Vilma
Antonio Pierce
Brian Urlacher
OLB:Karlos Dansby
Julian Peterson
Lofa Tatupu
A.J. Hawk
Keith Brooking
CB: Ellis Hobbs
Ronde Barber
Asante Samuel
Corey Webster
SS: Quintin Mikell
Atari Bigby
Roman Harper
Sean Jones
FS: Oshiomogho Atogwe
LaRon Landry
Ken Hamlin
Darren Sharper
K: Jason Elam
Ryan Longwell
*John Carney would be selected, but is unknown whether he will be signed before the season.
P: Donnie Jones
Andy Lee
KR/PR:
Reggie Bush
Clifton Smith
Danieal Manning
Long Snapper:
Patrick Mannelly
Zak DeOssie
Additional Special Teamer:
Sean Morey
Keep Reading

Minnesota Vikings: Like this team?