Read between the lines, and Philipp Lahm's post-match remarks are a not-so-veiled tribute to Joachim Loew.
"Whether we have the best individual players or whatever does not matter. You have to have the best team," stated the Germany captain following his side's 1-0 defeat of Argentina in Sunday's World Cup final, according to Tom Rostance of the BBC.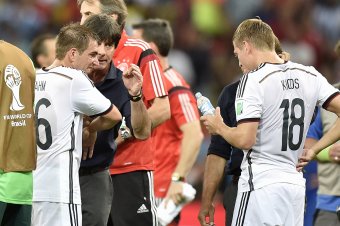 Martin Meissner/Associated Press
He went on: "We stepped up time and again in the tournament, did not let ourselves get distracted by any disruption [and] went on our way."
Team-building is not something a group of 23 players can achieve by themselves just as the collective quality of mental fortitude is not a given when a squad is assembled. Those sorts of elements are provided through guidance, and as far as Germany are concerned, they were supplied in abundance and meticulously cultivated over the course of their World Cup campaign.
And that means manager Joachim Loew, as much as any of his players, is deserving of plaudits following Sunday's victory at the Maracana.
Götze the first substitute to score the winning goal of a World Cup final. Take a bow Joachim Löw.

— Stefan Bienkowski (@SBienkowski) July 13, 2014
Naturally, the 54-year-old will be hailed for the pair of substitutions that ended up winning the match and the World Cup seven minutes prior to a prospective penalty shootout. The combination of Andre Schuerrle and Mario Goetze produced a moment of magic the tense, anxious affair almost didn't deserve.
And he will also, or should also, be credited with his approach in a potentially tricky semi-final showdown with Brazil in which the pressing game he espouses held back until the host nation had made themselves vulnerable and then punished them repeatedly for a series of similar and costly mistakes.
Joachim Löw here says maybe highlight of his career was when German bus drove to airport after 7-1, and Brazilians lined streets to applaud

— Simon Kuper (@KuperSimon) July 13, 2014
Those things speak to the type of preparation and tactical nous most top-level managers should be expected to possess in the first place. But as far as Loew is concerned, management is about far more than numbers, game tape and Xs and Os.
Since replacing Jurgen Klinsmann as Germany manager in 2006, the former Stuttgart boss has retained a tactical and systemic familiarity while bringing through and then nurturing a particular cluster of players.
#GER coach Joachim Loew: "I told Goetze, show to the world that you're better than Messi." pic.twitter.com/JDym1RTSfH

— FOX Soccer (@FOXSoccer) July 13, 2014
Horst Hrubesch, who managed the country's under-21 team to the 2009 UEFA European Under-21 Championship, is worthy of mention at this point as six of his starters from five years ago were named to the team-sheet to face Argentina. (Sami Khedira was forced to pull out of the line-up through injury.) Four of them went up against Spain in the 2010 semi-final.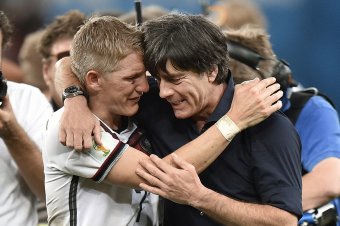 Martin Meissner/Associated Press
Add to the mix the veterans of 2006, when Loew was an assistant—including Lahm, Lukas Podolski and Bastian Schweinsteiger—and you have a roster brimming with youth, augmented by experience and united in a sort of familial bond under the father figure that Loew has become.
Sure, his longevity has helped, but rather than tear up the blueprint following the set-backs of 2010 and Euro 2012, he used the influence of his tenure to bolster his philosophy, entrench his faith in his players—and they in him—and ultimately deliver the definitive success.
"A player who cannot learn is not a good player" ~ Joachim Low, Germany coach on #leadership + #innovation pic.twitter.com/HFhFyatppk

— Dr. Max Mckeown (@MaxMckeown) July 13, 2014
Joachim Loew, as Lahm hinted at, did not become a World Cup-winning manager because he had the best players but because he turned what he had into the best team of the tournament.
That's what wins championships, as various other national setups would do well to make note of.