For Mario Goetze, Oktoberfest will now be an eternal celebration.
The Bayern Munich midfielder scored the winner in Germany's 1-0 extra-time victory over Argentina in the 2014 World Cup final. And what a winner it was. Goetze brilliantly chested Andre Schurrle's cross and beat Sergio Romero with a left-footed volley, as shared here by Bleacher Report UK:
#ger 1-0 #arg - Gotze goal - this is how to settle a #WorldCupFinal https://t.co/rQUMND65DX

— Bleacher Report UK (@br_uk) July 13, 2014
ESPN Stats & Info has a visual representation of the touches leading to the score:
Here's a look at the build-up that led to Mario Gotze's game-winning goal for #GER #GERvsARG pic.twitter.com/xdWT5Jb0Jm

— ESPN Stats & Info (@ESPNStatsInfo) July 13, 2014
You'd be hard-pressed to get a better World Cup-winning goal.
Goetze also became the youngest player to score in a World Cup final in nearly 50 years, per OptaJohan:
22y 39d - Mario Götze is the youngest scorer of a goal in a World Cup final since Wolfgang Weber in 1966 (22 years, 33 days). Decisive.

— OptaJohan (@OptaJohan) July 13, 2014
After the match, he was at a loss for words, per football journalist Miguel Delaney:
Goetze: "I don't know how to describe it. As you shoot, you don't really know what's happening."

— Miguel Delaney (@MiguelDelaney) July 13, 2014
Some will be discussing how this one moment will impact Goetze's overall legacy, despite the fact that he's got at least another 10 years left on the pitch. All of that talk is extremely premature.
What you can do is view this achievement through the spectrum of what the 22-year-old has done so far. For somebody who's shown as much promise as Goetze has for the last four or five years, Sunday night felt like a coronation ceremony. Now he can finally ascend to the throne.
His talent has never been in doubt, but injuries have prevented Goetze from truly fulfilling his massive potential. According to WhoScored.com, he's never started more than 29 games in a league season, and that total came back in the 2010/11 campaign.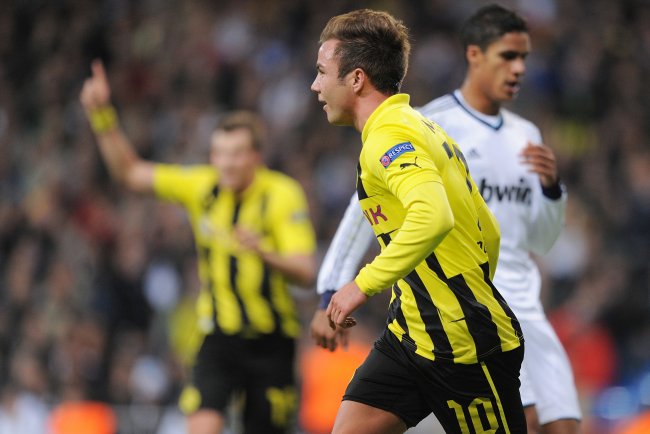 Denis Doyle/Getty Images
Those early years at Borussia Dortmund helped to anoint Goetze as one of the future torchbearers of German football. However, over the course of the next few years, what he accomplished never surpassed what many expected him to accomplish.
As a result, guys like Thomas Mueller, Mesut Ozil and Toni Kroos have often overshadowed him in the national team. According to Transfermarkt, Goetze has appeared in 34 international matches compared to 61 for Ozil, 50 for Kroos and 55 for Mueller.
Granted, those players have a couple of years on Goetze, but it still seems surprising that Kroos and Ozil would have 16 and 27 caps on him, respectively.
What will likely be forgotten over time is that in both the semifinal and final, Goetze started on the bench. That would've been almost unthinkable a couple of years ago, when he helped lead Dortmund to the Champions League final.
Joachim Low might have an embarrassment of riches in midfield, but you surely would've believed Goetze to be one of his key players this summer.
Most stars can use their talent to ride the path of least resistance. Goetze, on the other hand, hasn't been afforded that luxury. Sure, football comes much easier to him than most, but outside factors have conspired to provide roadblock after roadblock.
After the match, Goetze sounded like a man with a 500-pound monkey off his shoulders, per ESPN's Jeffrey Carlisle:
Mario Goetze: "It wasn't a simple year for me, it wasn't a simple tournament." Thanks family, girlfriend, & teammates for their belief.

— Jeff Carlisle (@JeffreyCarlisle) July 13, 2014
From here on out, maybe Goetze can transition from very, very good player to great player who's vying for the Ballon d'Or. He's got the skill to become one of the best footballers of his generation and take the throne as top of the world when Cristiano Ronaldo and Lionel Messi begin to decline.
The 2014 World Cup was supposed to be the one at which either Neymar or Lionel Messi created history. Instead, Goetze stole the spotlight and positioned himself as possibly the biggest star of the next generation.