Updates from Wednesday, August 6
Fox Sports' Ken Rosenthal reports Byrd's waiver status:
#Phillies' Byrd also claimed on revocable trade waivers by an unidentified club. Papelbon cleared waivers; has limited no-trade protection.

— Ken Rosenthal (@Ken_Rosenthal) August 6, 2014
Updates from Thursday, July 31
Jayson Stark of ESPN talked about trade talks for Marlon Byrd:
Now hearing #Yankees are out on Marlon Byrd. #Phillies could be out of places to send him

— Jayson Stark (@jaysonst) July 31, 2014
Earlier, CBS Sports' Jon Heyman reports the Phillies' current asking price in negotiations involving Byrd:
The asking price for Marlon Byrd is said to be extremely high, with interested teams saying the Phillies would have to lower it to move him.

Byrd should be among the Phils' most movable pieces, but there's no certainty he goes at this point.

[...]

But, according to a person with knowledge of the talks, the Phillies believe what they've been offered for Byrd, considering his production, is 'embarrassing.' In some cases, that person said, the bids are pitchers with 5-plus and 6-plus ERAs.
Updates from Wednesday, July 30
Fox Sports' Ken Rosenthal has the latest on the Phillies' trade outlook:
Sources: #Phillies have not received acceptable offer for ANY of their players. Surprised teams not more aggressive. About 17 hours to go.

— Ken Rosenthal (@Ken_Rosenthal) July 31, 2014
Jayson Stark of ESPN provides the latest on Marlon Byrd:
Source says #Mariners are "out" on Marlon Byrd. Still some legs to rumblings linking Byrd & #Yankees but Yankees wary of 2016 vesting option

— Jayson Stark (@jaysonst) July 30, 2014
Philly.com reports Byrd is in the lineup:
Today's Phillies lineup: Revere CF, Sizemore LF, Utley 2B, Howard 1B, Byrd RF, Asche 3B, Nieves C, Blanco SS, Kendrick RHP

— Philly.com Sports (@phillysport) July 30, 2014
Updates from Tuesday, July 29
Todd Zolecki of MLB.com reports Marlon Byrd is not in the lineup:
Tonight's lineup. pic.twitter.com/ZV2jVjH9nK

— Todd Zolecki (@ToddZolecki) July 29, 2014
Jim Salisbury of CSN Philadelphia reveals the reason behind his absence:
Marlon Byrd took ball off left foot last night. Sandberg thinks he will be good to go tomorrow. Was hobbling a little.

— Jim Salisbury (@JSalisburyCSN) July 29, 2014
Updates from Monday, July 28
Ken Rosenthal of Fox Sports reported on trade talks involving Marlon Byrd:
Sources: #Phillies' Byrd not option for #Royals. Talks remain stalled with #Mariners; Byrd will waive no-trade only if '16 option exercised.

— Ken Rosenthal (@Ken_Rosenthal) July 28, 2014
Jon Morosi of Fox Sports had more on the market for Byrd:
Phillies talking with multiple teams about Antonio Bastardo and Marlon Byrd, sources say. A lot of action on those 2 players. @FOXSports1

— Jon Morosi (@jonmorosi) July 28, 2014
Updates from Tuesday, July 22
ESPN's Jim Bowden reports on the latest trade buzz surrounding Marlon Byrd:
Reds and Phillies continue trade talks regarding Marlon Byrd according to sources

— JIM BOWDEN (@JimBowdenESPNxm) July 23, 2014
Updates from Monday, July 21
Jon Morosi of Fox Sports reported on another team interested in Marlon Byrd:
Royals have interest in trading for Marlon Byrd, sources say, but it's no longer certain they will be deadline buyers. They are 48-48.

— Jon Morosi (@jonmorosi) July 20, 2014
Updates from Sunday, July 20
Jim Salisbury of CSNPhilly.com reports one NL team currently interested in Marlon Byrd:
Byrd is coveted by teams looking for a right-handed power bat. Seattle and Cincinnati fit that description. Byrd has a no-trade clause to Seattle so he'd likely want his $8 million option for 2016 guaranteed to go there. Byrd's 2015 salary is already guaranteed at $8 million.


Cincinnati is not on Byrd's no-trade list and the Reds do have interest in him. Sources say they also have interest in lefty reliever [Antonio] Bastardo. The Reds have scouted the Phillies recently.
Updates from Thursday, July 17
Jon Morosi reported the latest in Seattle's pursuit of Marlon Byrd:
Mariners' talks regarding Price and Zobrist come at a time when progress has stalled in their efforts to acquire Marlon Byrd. @FOXSports1

— Jon Morosi (@jonmorosi) July 17, 2014
Original Text
In the midst of a career renaissance on a cellar-dwelling Philadelphia Phillies team, it was but a matter of time before Marlon Byrd's name hit the MLB trade rumor mill.
Byrd, 36, comes equipped with a hot bat and a contract worth $8 million per season through 2016, per Spotrac, so interest from fringe contenders with the deadline approaching at the end of July was a given.
The first major franchise to make its interest known is the Seattle Mariners, according to Ryan Divish of The Seattle Times:
Source said that #Mariners have had serious discussions with Phillies about Marlon Byrd. Said he is willing to waive his no trade clause.

— Ryan Divish (@RyanDivish) July 13, 2014
Of course, the interest stems from a major slump the Mariners encountered near the end of June and into early July, although manager Lloyd McClendon has remained adamant that he is not going to act like a seller because of a minor hiccup, via Adam Jude of The Seattle Times.
"To think about where we've come from at my introductory news conference, and I think you guys would all agree, the negativity that was surrounding this club, the doubts, I think this organization has come quite far," he said.
McClendon and Co. have since reinforced their words by looking to add Byrd. As his current pace suggests, the journeyman has found a new fire at the plate:
| | | | | | | |
| --- | --- | --- | --- | --- | --- | --- |
| YEAR | TEAM | GP | HR | RBI | AVG | OBP |
| 2011 | CHC | 119 | 9 | 35 | .276 | .324 |
| 2012 | BOS/CHC | 47 | 1 | 9 | .210 | .243 |
| 2013 | NYM/PIT | 147 | 24 | 88 | .291 | .336 |
| 2014 | PHI | 95 | 18 | 54 | .265 | .316 |
ESPN
The biggest hurdle to any potential deal for Byrd was recently revealed—his latest contract featured a no-trade clause that permits him to block a move to four franchises.
The Mariners, of course, are one of the four.
"I don't want to get traded," Byrd said, per Jim Salisbury of CSN Philly. "I signed a two-year deal here for a reason. The thought process was to retire as a Phillie. At the same time, this is a business and I know how it works. If trading me makes the organization better, I have to go with it."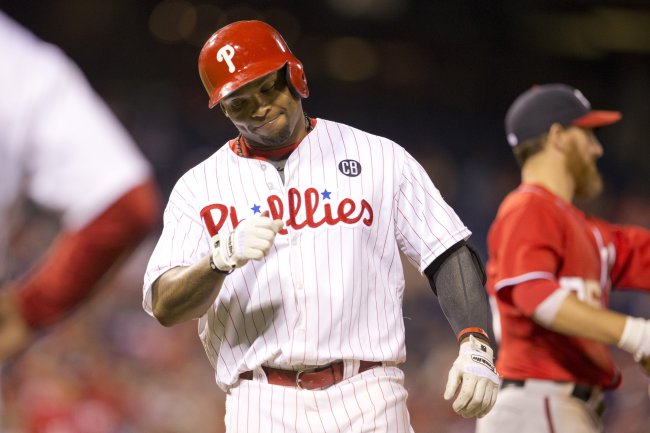 Mitchell Leff/Getty Images
So it is interesting, then, that Divish suggests the veteran is now willing to waive the clause. The verbiage indicates that Byrd must consider a team a contender to waive his clause, which will speak volumes about the Mariners as a whole, considering they sit in third place in the AL West, more than five games behind Oakland.
Seattle could certainly use more right-handed power in the lineup on a nightly basis, with only Robinson Cano hitting over .300 and two players, Kyle Seager and Mike Zunino, breaking the double-digit home run barrier.
Should the Mariners trade for Byrd?
Byrd has 18 home runs to date, which ranks him No. 15 in the league and would be tops on the Seattle roster. His 54 RBI would be just second to Seager (53) and Cano (56). His 95 hits would result in the same placement—Cano has 117, Seager has 93.
Expect more to come of the trade talks during the Midsummer Classic, as the Phillies are obvious sellers at this stage of the season.
It may not be where Bryd wants to retire, but Seattle gives him a sound chance at a World Series over the course of what may be his last two years in the league. Regardless, he seems to be destined for a relocation one way or another.