The 2014 FIFA World Cup ended following Sunday's intense, passion-infused final that saw Germany defeat Argentina 1-0 in extra time to win the ultimate prize. That was presumably tough to take for native fans who witnessed the Germans knock off host Brazil 7-1 in the semifinals.
Two of international football's premier powers squared off in the grand finale, which is about all that could have been asked for. John Cross of the Daily Mirror provided fitting analysis when the outcome was decided:
Heartbreaking for Mascherano. Still think he was the best player on the pitch. Messi's late free kick summed up his tournament. #worldcup

— John Cross (@johncrossmirror) July 13, 2014
Now that Germany have been crowned champion, visit FIFA.com for the final bracket.
There was no shortage of chances amid Sunday's action, but neither Argentina nor Germany could capitalize on them in over 90 minutes of regulation, which ended in a scoreless draw. ESPN Stats & Info highlighted the historical significance of the deadlock:
This is the third #WorldCup Final to be scoreless at the end of regulation (2010 and 1994). #GERvsARG

— ESPN Stats & Info (@ESPNStatsInfo) July 13, 2014
For the second straight match, Argentina superstar striker Lionel Messi was held in relative check, but just after the halftime intermission, he had one of the best opportunities to score. Messi's attempt beat stalwart German keeper Manuel Neuer, only to curve just inches wide of the far post.
Bleacher Report UK had footage of the narrow Messi miss:
Lionel Messi's chance to write history... Not this time. https://t.co/tkSufZvgNd #ger #arg [Vine: @ActualFutbol]

— Bleacher Report UK (@br_uk) July 13, 2014
Gonazlo Higuain had some golden openings to find the net, and his failures to ultimately convert were costly, too. Super German substitute Mario Goetze came to the rescue, scoring the latest goal ever in a World Cup final in the 113th minute:
#ger 1-0 #arg - Gotze goal - this is how to settle a #WorldCupFinal https://t.co/rQUMND65DX

— Bleacher Report UK (@br_uk) July 13, 2014
Ironically, Goetze replaced the World Cup's all-time leading scorer in Miroslav Klose, per BBC Sport's Phil McNulty:
Miroslav Klose's night is done. The veteran is replaced by Mario Gotze.

— Phil McNulty (@philmcnulty) July 13, 2014
The Big Lead's Jason McIntyre noted how strong the German roster was in his post-match take:
2 German subs combine on game-winner. One of the biggest U.S. issues at the World Cup - depth. Not there in '14, but it'll be there in '18

— Jason McIntyre (@jasonrmcintyre) July 13, 2014
Sergio Romero, goalkeeper for Argentina, understood his nation's tradition of excellence on the pitch and what was at stake for his side before the championship, per FIFA.com:
The most important thing is that our team and our country provide the best image in the eyes of the world, that the world will speak well of Argentina. We will remember what the champions of 1978 and 1986 achieved but by we will also try to achieve glory by the fight and heart of this team.
There was no lack of valor, but unfortunately, Romero could do little on Goetze's brilliant winning strike, an extraordinary moment that revealed Germany had the superior overall team. They were dominating possession in the minutes leading up to Goetze's winner; it seemed only a matter of time before Germany would make Argentina pay.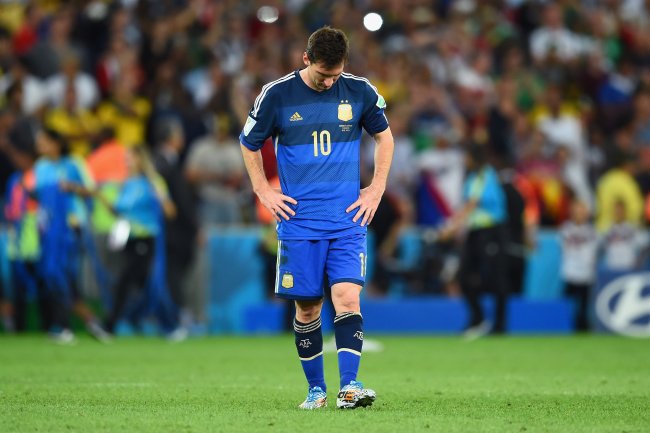 Matthias Hangst/Getty Images
Messi, voted best player of the tournament, had one last chance on a free kick from approximately 25 yards away toward the end. His attempt sailed well above the goal, securing the victory for Germany.
The Daily Mirror's Oliver Holt pulled no punches in strong disagreement with Messi's accolade:
Joke decision to award Messi the player of the tournament. Pathetic. He's a dream of a player but he's not the player of this tournament

— Oliver Holt (@OllieHolt22) July 13, 2014
Which semifinal side is best positioned for success in 2018?
The tournament was an overall thriller, with a massive amount of goals and a number of surprises in the early going. In the end, though, many of the globe's elite rose to the occasion on the grand stage, setting up a World Cup that was a sensational success.
Germany have a lot of momentum to carry forward after grabbing their first World Cup championship since 1990. With the depth they possess and a talented core of players like Goetze returning in 2018, there's reason to believe the Germans will be competitive in the next edition of this sporting spectacle.
There wasn't much more Argentina could have hoped for in making it to the final. Many close outcomes defined their gallant run along the way, but beyond Messi, their attack didn't have quite enough firepower to keep defenses honest. That finally caught up with them toward the end of the World Cup, yet it was nevertheless an exceptional campaign.
Only one team can leave this event totally satisfied. A triumph for Germany was well-deserved, as they proved time and again they were indeed worthy, punctuated with an epic Sunday final win.