Germany have completed one of the greatest achievements in sports, winning the 2014 World Cup with a 1-0 extra-time win over Argentina.
Mario Goetze scored the only goal of the match in the 113th minute, giving the championship to the squad Grant Wahl of Sports Illustrated called the best team in the tournament:
FT Germany 1:0 Argentina 0. The Germans win their fourth World Cup on Mario Götze's late goal. Totally deserving by the WC's best team.

— Grant Wahl (@GrantWahl) July 13, 2014
While forward Thomas Mueller can celebrate his team's success, he did fall short of James Rodriguez in the race for the Golden Boot. The Colombian star finished with six goals in the tournament, giving him the most in Brazil.
Still, you can imagine the Germany star is satisfied with taking home the World Cup trophy in a dramatic battle in the final.
The match did not see much scoring, but there was plenty of excitement in the first half. Argentina had a few chances, the best of which was called back when Gonzalo Higuain was offside. Germany then thought they had gone ahead on a header, but it hit the post, as described by Martin Rodgers of Yahoo Sports:
What a chance for Germany. Hoewedes with a thunderous header from a late run, crashed it onto the post. Argentina fortunate to escape there.

— Martin Rogers (@mrogersyahoo) July 13, 2014
Sam Borden of The New York Times provided his recap of the first half:
Halftime. Germany 0, Argentina 0. Higuain rueful. Howedes wasteful. Messi inspired. Kramer dazed. FIFA ignorant. Fans enthralled.

— Sam Borden (@SamBorden) July 13, 2014
After intermission, the two sides continued to waste good opportunities, as no one could get the ball into the net. Once extra time started, Germany were by far the more aggressive side:
#GER completed over 100 more passes than #ARG in the first period of extra time (128-23) #GERvsARG

— ESPN Stats & Info (@ESPNStatsInfo) July 13, 2014
This led to one great opportunity from Mario Goetze, who was able to volley a shot into the goal for the game-winner in the 113th minute. Fox Soccer Trax provided a good description of the impressive play:
Gotze had room in the box to chest down and volley past Romero from Schurrle's cross from the left - goal of the highest quality

— FOX Soccer Trax (@FOXSoccerTrax) July 13, 2014
Argentina had a few chances late, but Germany held on to narrowly win the title.
While most people were focused on the match to see which side would come out as the winner, the Golden Boot—the award given to the top scorer in the World Cup—was also decided in this final match. As the tournament's Twitter account noted, there were a few possibilities heading into this match:
RACE FOR GOLDEN BOOT: One of Muller, Messi or James will be crowned #worldcup top scorer today http://t.co/lV7YHLT7EN pic.twitter.com/f2PTAgGdZa

— FIFAWorldCup (@FIFAWorldCup) July 13, 2014
This is a rare situation, according to the Elias Sports Bureau:
The last time the Golden Boot was determined by goals scored in the World Cup Final was 1982—Paolo Rossi (Italy vs. Germany). #ARGvsGER

— Elias Sports Bureau (@EliasSports) July 13, 2014
Mueller needed just one score to tie James Rodriguez with six goals, although his three assists were enough to win the tiebreaker and take home the prestigious award. Messi had a chance as well, but he needed a hat-trick to take the lead.
While Mueller was able to finish with a strong performance, he could not get that final goal to put him ahead, preventing him from getting a second career Golden Boot. The good news is he can still be satisfied with building off his previous success with a strong tournament.
When discussing his success in 2010, Mueller explained, "I basically got lucky, I hit form at just the right time," via Oliver Todd of the Daily Mail.
After an incredible amount of success at his second World Cup, it is clear that the skill is much bigger than his luck.
Still, this is a chance to recognize what was a fantastic performance Rodriguez had throughout this tournament.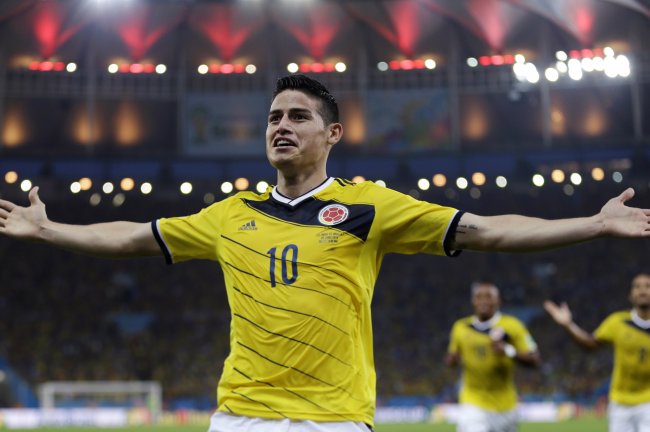 Natacha Pisarenko/Associated Press
The 23-year-old player—whose latest birthday only came after his World Cup was over—was always in position to make big plays and was a big reason Colombia were able to go all the way to the quarter-finals before losing to Brazil.
While he had a number of talented teammates, he created many of his own opportunities before finishing in different ways. His goal against Uruguay might have been the best of the tournament, as captured by Tom McKendrick of Fairfax Media:
Best World Cup goal? - our winner is James Rodriguez. Do you agree? https://t.co/dIfuhwBDV9 #worldcup #GERARG

— Tom McKendrick (@tommckendrick) July 13, 2014
As long as he keeps improving, he will have a lot more success in his future at both the club and international level.
In the meantime, he will already have a chance to celebrate this impressive accomplishment as one of the best players in the biggest tournament in the world. He will celebrate along with Germany, which were able to bring home their first title since 1990.
All that comes now is the four-year waiting game leading up to next World Cup in Russia, wondering which teams and players will get a chance to shine.
Follow Rob Goldberg on Twitter for the latest breaking news and analysis.