After Arsenal signed Alexis Sanchez from Barcelona, could Schalke defender Benedikt Howedes be Arsenal manager Arsene Wenger's next major summer transfer?
To cover that hypothetical scenario, here is a scouting report on Howedes, a 26-year-old, 6'2", 176-pound German international.
Howedes Positives
Erik Durm morphed from a struggling centre-forward to a top-flight left-back in one season.
But his inexperience gave German national team manager Joachim Low pause for thought.
Low opted to play the steadier and seasoned Howedes out of position at left-back (predominantly a centre-back, who has slotted in at right-back for Schalke).
Interesting that after Erik Durm's positive debut, Löw has opted for Höwedes at LB. Big night for Schürrle, who will want a start.

— DW - Sports (@dw_sports) June 6, 2014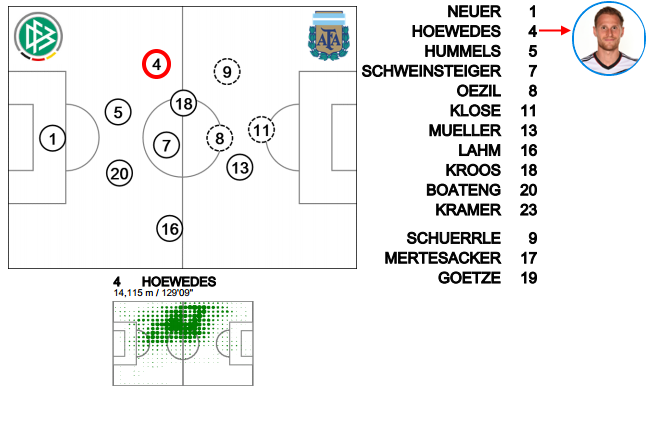 Credit: FIFA.com
Perpetually singled out as a weak link at the 2014 FIFA World Cup, Howedes did not make an error leading to the goal conceded in Germany's 1-0 World Cup final win over Argentina.
EXKLUSIV: Julian #Draxler und @BeneHoewedes mit dem #WM-Pokal. #WorldCupFinal #S04inBrazil pic.twitter.com/BX0dXmQF25

— FC Schalke 04 (@s04) July 13, 2014
Argentine right attacking midfielder Ezequiel Lavezzi had the advantageous match-up against Howedes.
A fleet-footed, nippy and immensely gifted dribbler, Lavezzi was lively, but he failed to cash in.
Then-Argentine national team manager Alejandro Sabella did Howedes a big favour by subbing Lavezzi out.
Sabella says Aguero for Lavezzi was tactical. Pretty bad mistake, then.

— Dan Colasimone (@ArgentinaFW) July 13, 2014
... #Arg balance in attack. Lavezzi was doing Howedes every time and stretching #Ger backline

— Carlo Garganese (@carlogarganese) July 13, 2014
Aguero for Lavezzi… #walkawayafooloraking

— Gabriele Marcotti (@Marcotti) July 13, 2014
Lavezzi was the one player who looked the most likely to leave Howedes chasing a shadow like Hans-Peter Briegel desperately running after Jorge Burruchaga, who scored Argentina's winning goal against West Germany in the 1986 World Cup final.
The antithesis of a modern-day left-back, Howedes acknowledged he was "no Roberto Carlos."
"[Lionel] Messi is one of the best players in the world, but just as I said before the Portugal game when we faced [Cristiano] Ronaldo, we have to defend as a team," Howedes said, per Sky Sports. "We have to stifle his opportunities to score a goal."
Yet, Howedes came closer to scoring (hitting the post with a header) than Messi, the World Cup Golden Ball recipient (Thomas Mueller, Manuel Neuer, James Rodriguez and Toni Kroos deserved the award more than Messi).
The closest #GER have come to a goal Benedikt Höwedes's header destined to hit the post at #GER and #ARG stay 0-0 pic.twitter.com/PJHjADJJQ4

— Bundesliga (@Bundesliga_EN) July 13, 2014
Ridiculous decision to give the Player of the tournament to Messi. I would have given it to Neuer

— Guillem Balague (@GuillemBalague) July 13, 2014
Furthermore to playing at left-back for Germany, Howedes is tactically adjustable starting at right-back and centre-back for Schalke.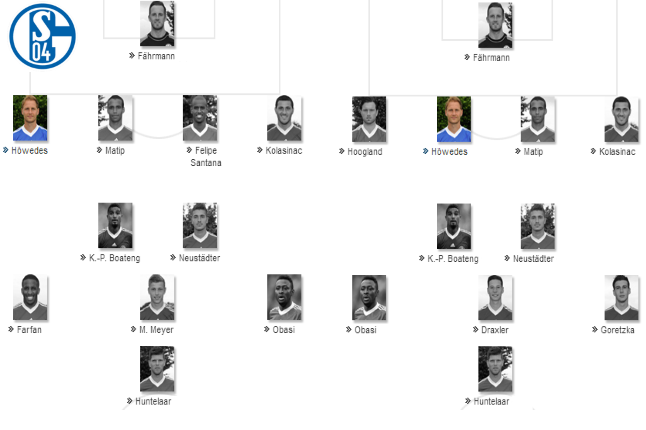 Credit: Kicker.de
A reactionary tackler, Howedes committed 18 fouls in 19 Bundesliga games.
| | | | | |
| --- | --- | --- | --- | --- |
| League Only | Benedikt Howedes | Laurent Koscielny | Per Mertesacker | Thomas Vermaelen |
| Tackles Per Game | 1.6 | 1.7 | 1.2 | 1.0 |
| Fouls Per Game | 0.9 | 0.9 | 0.3 | 0.4 |
| Tackles Per Foul | 1.7 | 1.8 | 3.4 | 2.3 |
| Interceptions Per Game | 2.7 | 2.8 | 1.7 | 1.4 |
| Blocked Shots Per Game | 0.7 | 0.7 | 0.5 | 0.1 |
Howedes prefers waiting to the last possible moment and intervening, as evident when he stopped Hoffenheim centre-forward Sven Schipplock from scoring.
Howedes Negatives
Carrying injury baggage will make Howedes less desirable to Wenger, who is trying to figure out why his players are injury-prone, per Paul Doyle at The Guardian.
March 20, 2014: Howedes "suffered a muscle tear to his left adductor," per FourFourTwo.

December 12, 2013: "Howedes suffered a torn muscle in his right thigh after a 29th-minute clash with Basel striker Marco Streller," per Bundesliga.com.
March 4, 2012: "The Germany defender [Howedes

]

suffered a torn muscle fibre in his left thigh in Bundesliga action on Saturday," per UEFA.com.
November 17, 2011: "The central defender [Howedes

]

partially ruptured ligaments in his right knee during Germany's 3-0 friendly success against the Netherlands," per UEFA.com.
Though, the red flag in Howedes' game is his mental lapses.
Despite being on a yellow card against Borussia Monchengladbach, Howedes inexplicably raised his arm to divert the shot of Gladbach deep-lying forward Max Kruse.
Not only did Howedes concede a penalty, he was also dismissed by referee Felix Zwayer for two bookings.
Howedes failed to close down Bayern Munich left-back David Alaba, who delivered a cross to then-Bayern (now Atletico Madrid) centre-forward Mario Mandzukic.
Even with Eintracht Braunschweig centre-forward Orhan Ademi telegraphing a turn, Howedes let Ademi spin away.
Howedes has executed some ghastly challenges.
There were two reasons why Howedes received a red card when he cut down then-Hannover 96 (now Stoke City) centre-forward Mame Biram Diouf from behind.
Using excessive force
Denying an obvious scoring opportunity
Not only was it a low-percentage challenge, but Howedes could have also seriously injured Diouf by sliding in from behind with velocity and following through.
You witnessed a snapshot of Howedes' recklessness in the World Cup final when he hacked Argentine right-back Pablo Zabaleta.
¡Analizamos esta polémica jugada! ¿Debió ser expulsado Höwedes? #ElChiringuitodelMundial http://t.co/aljpzlzNsM pic.twitter.com/UN2l6b5fwB

— El Chiringuito TV (@elchiringuitotv) July 13, 2014
El árbitro le perdonó la roja a Höwedes por esta dura entrada http://t.co/rOrZm2Mrof pic.twitter.com/zb64R9KnIG

— Diario SPORT (@sport) July 13, 2014
In an injury-ravaged past season, Howedes was mediocre when he played for Schalke.
Twenty-five defenders were ranked ahead of

Howedes

in Kicker's Bundesliga player rankings.
Bild were harsher placing Howedes as the 55th-best defender in the

Bundesliga last season.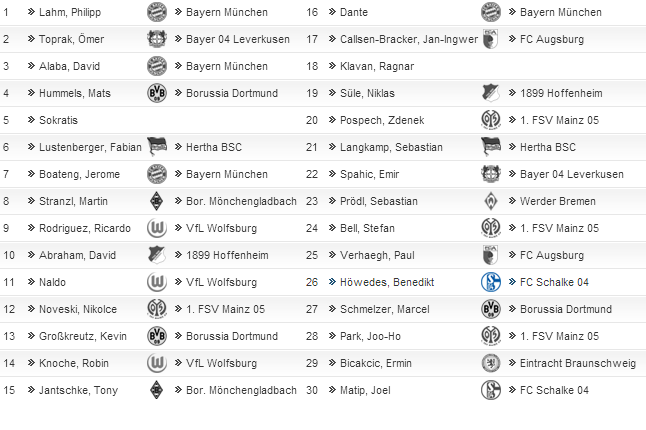 Credit: Kicker.de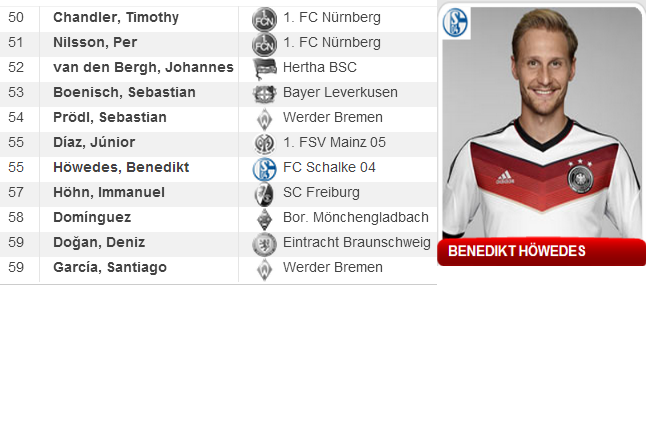 Credit: Bild.de
Bottom Line
Arsenal defender Thomas Vermaelen "is set to meet with Arsenal to finalise his future," per Graeme Bailey at Sky Sports.
Vermaelen is linked with Manchester United, per Ian Herbert at The Independent, so Howedes would be a viable replacement.
Arsenal captain Thomas Vermaelen agrees deal to join Manchester United this summer http://t.co/A56JYNfJgG (Getty) pic.twitter.com/fu6hwyL9KF

— Telegraph News (@TelegraphNews) June 16, 2014
While Howedes' injury history is concerning, there are reasons why he should be a Wenger target.
Howedes brings experience as a World Cup winner.
He can play across the defence.
He would fit in with

Arsenal's

German clique (Gedion Zelalem, Lukas Podolski, Mesut Ozil, Per Mertesacker, Serge Gnabry and Thomas Eisfeld).
Statistics via WhoScored.com