Should Liverpool challenge Newcastle United's approach to sign Feyenoord right-back Daryl Janmaat?
While Feyenoord rejected Newcastle's initial bid for Janmaat, the "deal is far from dead," according to Neil Cameron at the Evening Chronicle.
If Cameron is right, then Feyenoord are open to entertaining offers for Janmaat.
With Glen Johnson markedly deteriorating in performance, Liverpool need to sign a right-back, so how about Janmaat?
To cover that hypothetical scenario, here is a scouting report on Janmaat, a 24-year-old, 6'1", 187-pound Dutch international.
Janmaat Upgrade Over Johnson?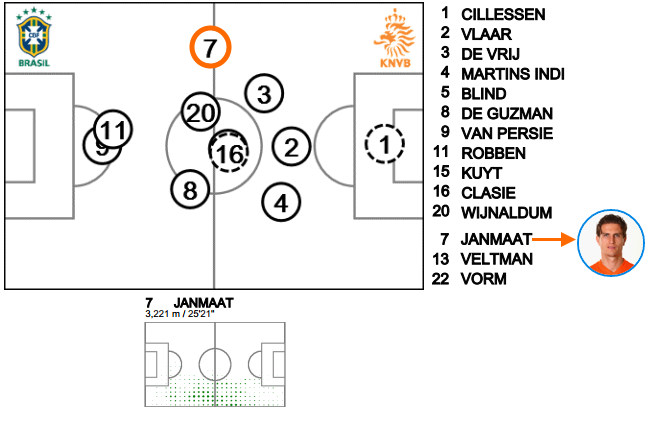 FIFA.com
As demoralised Brazilian centre-back David Luiz watched on, Janmaat sent in a precise cross unchallenged to Dutch central midfielder Georginio Wijnaldum, who capped off the Netherlands' 3-0 win over Brazil in the 2014 FIFA World Cup third-place play-off.
David Luiz's World Cup in a Vine https://t.co/zXnhGsrxHE

— Bleacher Report UK (@br_uk) July 12, 2014
#BRA 0-3 #NED http://t.co/6wqibuH43W Wijnaldum tucks home Janmaat's cross to complete another nightmare for Brazil pic.twitter.com/QZekfZBuKo

— FourFourTwo (@FourFourTwo) July 12, 2014
It was Janmaat's second assist of the tournament meaning he created more goals than Brazil's Neymar (one), Chile's Alexis Sanchez (one) and Ivory Coast's Yaya Toure (zero).
Janmaat can offer more in the attacking half for Liverpool than Johnson.
| | | |
| --- | --- | --- |
| League Only | Daryl Janmaat | Glen Johnson |
| Assists | 5 | 2 |
| Key Passes Per Game | 1.2 | 1.0 |
| Passes Per Game | 47.5 | 50.2 |
| Pass Completion % | 81.5 | 84.1 |
| Completed Crosses/Attempted Crosses | 24/102 | 5/51 |
| Cross Completion % | 23.5 | 9.8 |
Raiding AZ's vacant left flank, Janmaat curled the ball to Feyenoord central midfielder Lex Immers.
Creating separation, Janmaat whipped in a low, first-time cross to then-Feyenoord (now Southampton) centre-forward Graziano Pelle against Utrecht.
Against NEC Nijmegen, the two combined again, which was a by-product of Janmaat's overlapping run.
Feyenoord centre-forward Mitchell te Vrede scored against the Go Ahead Eagles via a precise incisive pass from Janmaat.
Janmaat is not purely a set-and-cross footballer, which was evident when he cut in and slipped a left-footed pass to Immers against Heerenveen.
Scoring an audacious half-volley against PSV Eindhoven proves Janmaat can emulate Johnson's threat of pulling something out of the bag.
.@Glen_Johnson wallpaper! Check out the #CarlsbergTalk piece done by @davewi11. Download: http://t.co/XkHTFrZRTY pic.twitter.com/NW4jzl3y6c

— Carlsberg (@carlsberg) March 27, 2014
Defensively, Janmaat is more solid (67 tackle success percentage, per Squawka.com) than Johnson (56 tackle success percentage, per Squawka.com).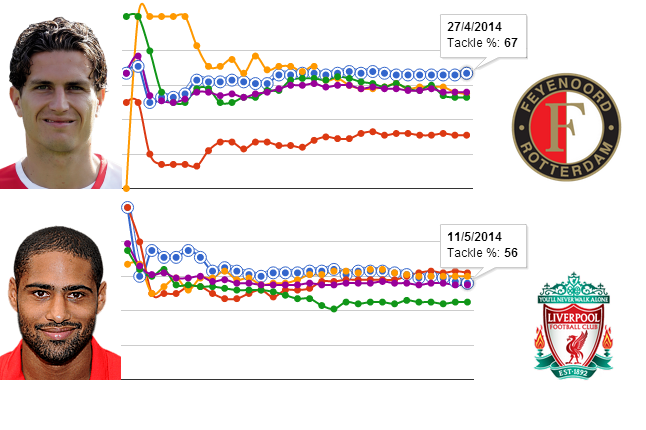 Squawka.com
| | | |
| --- | --- | --- |
| League Only | Daryl Janmaat | Glen Johnson |
| Tackles Per Game | 2.6 | 2.2 |
| Fouls Per Game | 0.8 | 0.8 |
| Tackles Per Foul | 3.2 | 2.9 |
| Interceptions Per Game | 1.4 | 1.7 |
| Possessions Won Back Per Game | 4.0 | 3.9 |
Bottom Line
Johnson's capitulation against the mercurial Crystal Palace left-winger Yannick Bolasie was a big red flag.
Yannick Bolasie's run past Glen Johnson? 👊 The DRC international made the England international look like a proper 'learner'.... #africa

— Oluwashina Okeleji (@oluwashina) May 11, 2014
Liverpool need a right-back to compete with Johnson.
Janmaat is defensively solid and more productive in the attacking half than Johnson.
While Newcastle are front runners to sign Janmaat, there is a precedent when it comes to Liverpool hijacking deals.
Liverpool capitalised when Arsenal failed to resolve their differences with Feyenoord over Jerzy Dudek in 2001, per Steve Hunter at Liverpool's official website:
Many fans and pundits alike thought [Jerzy] Dudek was on his way to Arsenal as manager Arsene Wenger had expressed a strong interest in the Pole and it was common knowledge the Gunners were looking for a long-term replacement for David Seaman.

However, the £8.5 million move to London didn't materialise and the rest is history as they say as Arsenal signed Richard Wright instead.
Wright lasted a year at Arsenal while Dudek won a UEFA Champions League title with Liverpool.
The story of why Fernando Morientes missed Jerzy Dudek's Istanbul penalty heroics: http://t.co/6TevGX3Wbb #FiveTimes pic.twitter.com/zJOo5hcXMf

— Liverpool FC (@LFC) May 25, 2014
With Newcastle yet to seal the deal for Janmaat, Liverpool should consider vying for the Dutch international right-back's signature.
Statistics via WhoScored.com