The Opening 2014 showcased more than 150 top high school prospects from around the nation, and the Miami Hurricanes were well-represented at the event.
Seven key targets and three commits, both of the undecided and elsewhere verbally pledged variety, earned invitations to the prestigious camp.
After three days of madness, re-evaluating where the Hurricanes stand with those 10 recruits following The Opening clarifies what to expect heading into the 2014 high school season.
From performances at the camp to recent updates in their respective recruitments, it was an eventful stretch for Miami's 2015 class.
Top Targets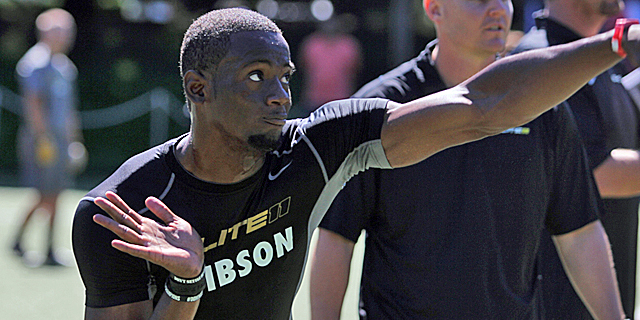 Credit: 247Sports
Very unsurprisingly, Torrance Gibson posted the highest SPARQ score of all Miami targets and commits. His 107.01 mark trailed only Brandon Wimbush at quarterback.
JC Shurburtt of 247Sports said Gibson was also playing receiver at The Opening, which is the 5-star's backup plan. Gibson participated with the position after working out with quarterbacks, where he did not make the Elite 11 finals.
While the Hurricanes are still in the picture, they certainly are not the focal point currently. Snaring Gibson appears to be a long shot at best, but Miami will not officially exit the picture unless he eliminates the hometown program.
Barton Simmons of 247Sports placed wide receiver Calvin Ridley on his all-camp first-team offense, calling him "the best player on the best team." Fellow 'Bama commit Shawn Burgess-Becker also took part in the event on the Nike campus, and the 'Canes are hanging on in their respective recruitments.
However small the chances may be at landing Tevon Coney, he is the top linebacker priority in the 2015 cycle. Luke Stampini of GatorBait.net (subscription required) noted Coney struggled early, but he still garnered some praise with superb poise during a one-on-one test.
LB @TevonConey isn't having any of this. Good rep from the talented defender. #TheOpening https://t.co/yguU1ORLka

— Jeremy Crabtree (@jeremycrabtree) July 8, 2014
Following the necessary dismissals of Alex Figueroa and JaWand Blue, the unit is even thinner than initially anticipated. The position was already an obvious need, but now the 'Canes will utilize the full-court press for Coney.
Cornerback and FSU pledge Tyrek Cole remains a top target in addition to Miami's continued pursuit of safety and The Opening attendee Jaquan Johnson. Adding the pair of local defensive backs is a key goal for Al Golden and Co., and they are the most likely pulls from this group.
Miami Commits
The Hurricanes watched three verbal pledges enter The Opening, and the coaching staff was surely ecstatic as a fourth walked out in Jordan Scarlett.
He was easily one of the most discussed participants, especially after a ridiculous move in one-on-ones that is pretty hard to stop appreciating. Scarlett will likely be one of the highest-rated Miami targets by the time national signing day eventually arrives.
Want to know why RB @Famousscarlett is wanted by everybody? Watch this --> https://t.co/VX0rhmJfcT

— Jeremy Crabtree (@jeremycrabtree) July 8, 2014
Jordan Cronkrite, Dexter Williams and Mark Walton, a trio of 4-star in-state running backs, were the previously committed prospects. Now, the 'Canes face a fantastic uphill battle: keeping them all locked in.
A common question following Scarlett's addition was how Cronkrite would react to Scarlett's commitment at The Opening. Per Ryan Bartow of 247Sports (s/r), Cronkrite said the UM staff told him he was atop the recruiting board at the position.
Williams shared similar sentiments, telling GatorBait.net staff (s/r), "It doesn't concern me at all because it's competition. It's football. You're going to have a couple players there that you're going to have to beat out for the position." Williams will be visiting Florida, though, and the Gators are considered the biggest competition.
Bartow also said Walton was "lethal out of the backfield" catching swing passes. According to David Lake of InsideTheU (s/r), the running back told Miami coaches in early July that he is still 100 percent committed.
You have to love what Golden Al and staff are doing with #miami #canes, recruiting taking the next step

— Mike Farrell (@rivalsmike) July 10, 2014
The Hurricanes are almost certain to keep at least two of the running backs, which gives them a dynamic backfield alongside Joe Yearby and Gus Edwards. Of course, Miami needs commitments from other positions too, but a stable of running backs is extremely important.
And it's hard to beat what the 'Canes have.
Note: All recruit information courtesy of 247Sports.
Follow Bleacher Report CFB Writer David Kenyon on Twitter: @Kenyon19_BR.