The 2014 World Cup semifinal match against Germany will go down as one of the worst days in Brazilian football history. Things didn't get much better for the host nation in the third-place match against the Netherlands.
Be it another case of disappointing defense or just a general apathy toward finishing out the tournament, the Selecao came up short once again, losing to the Dutch 3-0. Squawka Football tweeted out the result:
Brazil 0-3 Netherlands FT. Shots: 11-8 Pass completion: 86%-83% Crosses: 21-11 Take ons: 24-20 #BRA #NED pic.twitter.com/oeOXBYyo0a

— Squawka Football (@Squawka) July 12, 2014
With the win, the Netherlands put a nice finishing touch on a campaign that came up just short of an appearance in the final.
However, the $22 million, per Mike Collett of Reuters, the Oranje will take home as the third-place finisher should serve as a nice consolation prize. Here's a look at the updated bracket and scores after Brazil's latest disappointment:
2014 World Cup Results

| | | | | |
| --- | --- | --- | --- | --- |
| Date | Round | Matchup/Result | Time (ET) | Where |
| July 8 | Semifinal | Germany 7, Brazil 1 | - | Belo Horizonte |
| July 9 | Semifinal | Argentina 0, Netherlands 0 (4-2) | - | Sao Paulo |
| July 12 | 3rd-Place Match | Netherlands 3, Brazil 0 | - | Brasilia |
| July 13 | Final | World Cup Final | 3 p.m. | Rio de Janeiro |
FIFA.com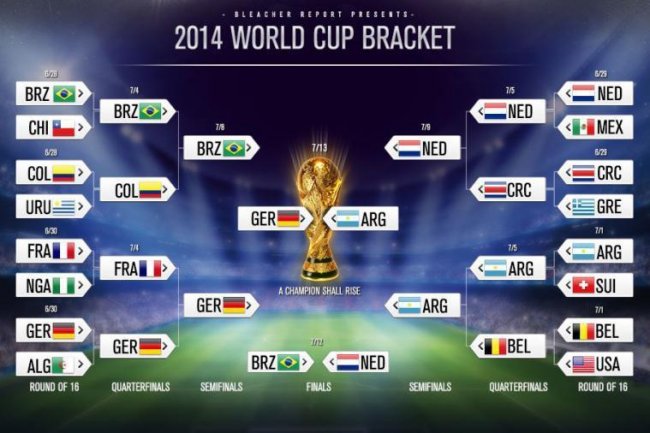 B/R
Day 31 Recap
Coming off a 7-1 thrashing at the hands of the Germans, Brazil needed to come out with energy and strong defense to keep things from going downhill quickly against the Dutch.
They didn't.
Just two minutes into the match, Thiago Silva drew a penalty against Arjen Robben to set up a penalty kick for Robin van Persie. World Soccer Talk tweeted out a vine of the penalty that led to the demoralizing goal:
Here's Thiago Silva's questionable challenge. #BRA v #NED https://t.co/QlkEjWkhYt

— World Soccer Talk (@worldsoccertalk) July 12, 2014
Given Silva's absence in the semifinal due to penalties and the egregious nature of this challenge, Silva's World Cup campaign will be a sore topic for Brazilians for a long time. But things were only bound to get worse.
Just 14 minutes after Brazil conceded Van Persie's goal, it was Daley Blind who found the net for the Dutch to make it 2-0. As Bleacher Report UK pointed out, it was Brazil's David Luiz who headed the ball to the opposition:
£50M man David Luiz assists Daley Blind. Brazil defence in shambles. #bra 0-2 #ned. (via @ActualFutbol) https://t.co/3tQJao7Xxo

— Bleacher Report UK (@br_uk) July 12, 2014
Once again, it was Brazil's anemic attack (sans Neymar) and loose defense that caused struggles for the host nation. As 101 Great Goals noted, the final score could have been much worse if Netherlands had chosen to be more aggressive:
Brazil are so tactically undisciplined. If Holland attacked with the verve they did against Spain this game would be another 7-1.

— 101 Great Goals (@102greatgoals) July 12, 2014
The Dutch managed to keep some form of pressure throughout the match, though. To add insult to injury, Georginio Wijnaldum capped his brilliant performance off with a goal at the 90-minute mark to make it 3-0.
Squawka Football detailed the attacking midfielder's comprehensive performance:
Georginio Wijnaldum game in numbers: 2 shots, 1 goal, 93% pass accuracy, 4 take ons, 2 headers won. #NED pic.twitter.com/6R9oZpeiNu

— Squawka Football (@Squawka) July 12, 2014
For the Netherlands, this was an emphatic ending to an excellent run. The Dutch should continue to be a force to be reckoned with on the international stage and should be proud of what they accomplished in Brazil.
For the Selecao, this was a sad ending to a disastrous run to end the World Cup. After entering the tournament as the odds-on favorite to walk away as champions, the Brazilians have more questions than answers as they look to the future.