Free agents continue to dominate the NBA offseason, but the league landscape could still be shifted by one or more high-profile trades.
The biggest free-agent stars are beginning to find their homes, which in turn has helped establish which teams will be most active in the trade market.
The Cleveland Cavaliers are the biggest example, following LeBron James' return to the team. They're looking to do whatever it takes to ensure he remains with the team in the long run and is best positioned to win titles.
The Cavs are only one of a few teams working the phones feverishly hoping to get deals done.
Kevin Love
Now that James is back with the Cleveland Cavaliers, most expect the Cavs' next big move to be a trade for Kevin Love.
Almost everybody thinks the Minnesota Timberwolves will trade Love at some point before he leaves at the end of next season. The longer Minnesota waits, the more leverage it loses, so the offseason might be the best chance to get anything worthwhile in return.
Along with Cleveland, the Boston Celtics have thrown their name into the Love sweepstakes. However, Baxter Holmes of The Boston Globe reported that the Celtics have little chance presently:
If the Celtics were ever really in the hunt for Kevin Love, well, one league source says, "That's done now."

— Baxter Holmes (@BaxterHolmes) July 12, 2014
Celtics are also well aware that Cavs have the assets to get a Kevin Love deal done immediately, provided they include Andrew Wiggins.

— Baxter Holmes (@BaxterHolmes) July 12, 2014
Even if they don't include Andrew Wiggins in a possible deal, the Cavaliers arguably have more to offer the Timberwolves, not to mention that Love is reportedly interested in signing an extension with Cleveland, per ESPN.com's Marc Stein:
Source close to situation says Kevin Love indeed "intrigued" by idea of being dealt to Cavs and would commit long there if traded there

— Marc Stein (@ESPNSteinLine) July 11, 2014
The Cavs are very much in pole position at the moment.
Andrew Wiggins
Wiggins is fresh off an 18-point performance against the Milwaukee Bucks in Friday's 70-68 win for the Cavs. Reading too much into Summer League is never a good idea, but it was hard not to get swept up in the hype when watching the rookie.
At least for the time being, Cleveland is refusing to consider throwing Wiggins into a deal for Love, per ESPN.com's Brian Windhorst:
Andrew Wiggins will play in summer league tonight for Cavs. They have no plans to include him in trade talks for Kevin Love, sources said.

— Brian Windhorst (@WindhorstESPN) July 11, 2014
Cavaliers head coach David Blatt is also operating under the belief that Wiggins will be in the fold for the 2014-15 season, per Ryan Wolstat of the Toronto Sun:
"He's not going anywhere, as far as I've heard." David Blatt on Andrew Wiggins. Says nothing for Wiggins to worry about.

— Ryan Wolstat (@WolstatSun) July 12, 2014
Blatt was pretty adamant he sees Wiggins and LeBron James teaming up. Is already thinking about the possibilities.

— Ryan Wolstat (@WolstatSun) July 12, 2014
Some may disagree, but Minnesota might find itself in a position where it has to accept some combination of Dion Waiters, Anthony Bennett, Tristan Thompson and first-round draft picks for Love.
Tim Kawakami of the San Jose Mercury News reported that the Golden State Warriors have essentially taken themselves out of contention by their insistence on keeping Klay Thompson:
Multiple sources indicate that Steve Kerr wants to coach this roster the way it is, especially Klay Thompson paired with Curry.

— Tim Kawakami (@timkawakami) July 11, 2014
Second NBA source: The Warriors have no plans to offer Klay Thompson to Minnesota, even if CLE comes in aggressively for Kevin Love.

— Tim Kawakami (@timkawakami) July 11, 2014
Getting LeBron and Love while keeping Wiggins would be the best-case scenario for the Cavaliers.
Amar'e Stoudemire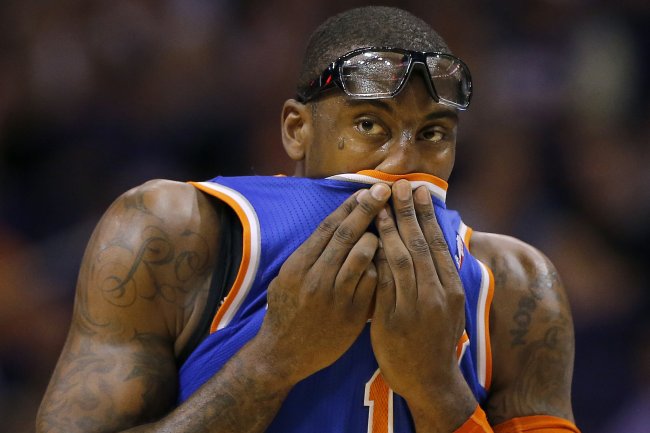 Matt York/Associated Press
The New York Knicks got some good news with Carmelo Anthony's decision to remain with the team, per USA Today's Sam Amick and Jeff Zillgitt. Cutting ties with Amar'e Stoudemire would be more good news, but it would appear that move is dead.
Earlier in the week, Marc Berman of the New York Post reported that the Knicks were looking into offloading Stoudemire's expiring contract to the Philadelphia 76ers. In order to facilitate the possible trade, New York would likely have to include Iman Shumpert.
Bleacher Report's Jared Zwerling reported that any such deal is unlikely to happen:
Source close to Amar'e: Don't think trade w/ 76ers happens along w/ Shump. "Bron's not coming to NY; only 1 made sense." Love unlikely too.

— Jared Zwerling (@JaredZwerling) July 12, 2014
Stoudemire's contract has been an albatross from the moment it was signed. Since it only has one year remaining, the Knicks might be able to find a taker. The more realistic scenario is that they once again are forced to eat that sizable amount of money with little in return.