Host country Brazil and the Netherlands took to the pitch on Saturday in the 2014 World Cup's third-place game, in an effort to gain some redemption from their previous losses.
Brazil was once again without star player Neymar and entered the contest longing to bounce back from its embarrassing 7-1 loss to Germany in the semifinals.
As for the Netherlands, goalscoring was a priority, as the team was forced into penalty shootouts in each of its last two matches, following respective 0-0 draws after extra time.
Ending the World Cup with two consecutive losses after an impressive deep run is a fate both the Brazilians and Dutch were looking to avoid. So, which team emerged victorious?
Let's take a look at the match's final score, the updated tournament bracket and recap Saturday's action.
Third-Place Game Results
2014 World Cup Third-Place Game Final Score

| | | |
| --- | --- | --- |
| Team 1 | Score | Team 2 |
| Brazil | 0-3 | Netherlands |
Updated Bracket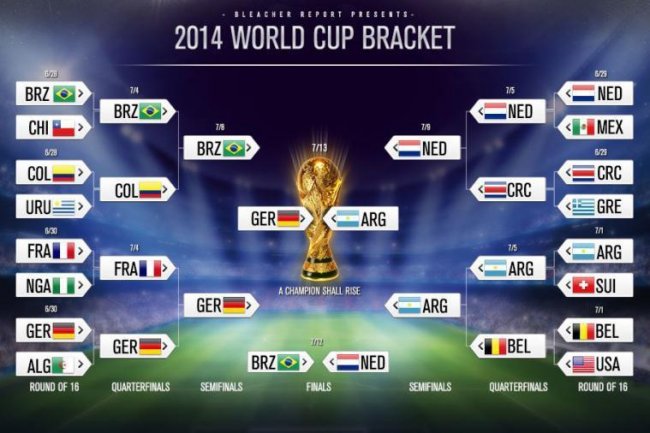 B/R
The full tournament bracket can be viewed at FIFA.com.
Game Recap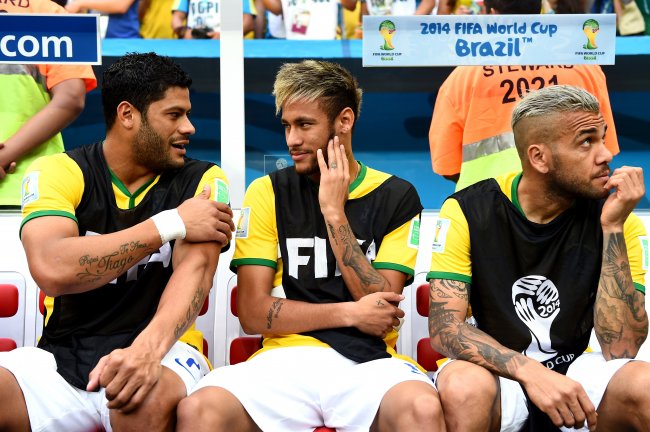 Buda Mendes/Getty Images
After giving up seven goals to Germany in the semifinals, the last thing Brazil wanted to do was concede an early score once again—especially to a dangerous Dutch attack. Well, Thiago Silva didn't exactly make that easy for his team.
Here's a look at Silva's mishap that somehow didn't lead to a red card, courtesy of Bleacher Report UK:
So how exactly did Thiago Silva escape a red card? (via @SBNationSoccer) https://t.co/nKj0VjEr9f

— Bleacher Report UK (@br_uk) July 12, 2014
That may not have led to a sending off, but it sure led to a penalty kick for the Dutch.
Robin van Persie quickly got the Netherlands on the board with this fine strike from the spot:
The nightmare deepens for #bra. Quick penalty equals a quick goal for #ned. Robin van Persie (via @FootballVines): https://t.co/SPun0s9aG0

— Bleacher Report UK (@br_uk) July 12, 2014
Certainly, giving up a goal in the third minute was not in Brazil's plans. But that would mark the end of the team's ongoing struggles, right?
Not so fast.
Just 14 minutes later, Daley Blind made it 2-0 for the Dutch after this horrid play from David Luiz:
£50M man David Luiz assists Daley Blind. Brazil defence in shambles. #bra 0-2 #ned. (via @ActualFutbol) https://t.co/3tQJao7Xxo

— Bleacher Report UK (@br_uk) July 12, 2014
This goal led to a two-score lead for the Netherlands at the half, and set an unfavorable new World Cup record for Brazil, via Fox Soccer:
No #WorldCup host country has ever allowed as many goals as Brazil's 13. #BRAvsNED

— FOX Soccer (@FOXSoccer) July 12, 2014
The second half featured the Dutch finding some more opportunities to increase their lead; however, they came mostly on the counter attack due to some poor Brazilian passing.
Brazil maintained the majority of the possession, and it seemed as though it was poised to bring the game within a goal when Oscar broke into the penalty area, but the referee saw it differently.
ESPN FC begs the question:
This is the play that generated the first yellow card for diving. How is this not a penalty? #BRAvsNED pic.twitter.com/OMFffGYrQP

— ESPN FC (@ESPNFC) July 12, 2014
Here's a great up-close look at the incident, courtesy of LiveFootball:
Oscar booked for this. #BRA http://t.co/uxIVDTxYTk

— LiveFootball (@livefootball) July 12, 2014
Unfortunately for the Brazilians, that would turn out to be the team's most legitimate chance of coming away with an elusive score for the remainder of the contest.
The Dutch would also add insult to injury, scoring one final goal in the 91st minute, courtesy of Georginio Wijnaldum. This tweet from Bleacher Report UK pretty much sums things up for Brazil:
Brazil's defence in their last two matches. #bra 0-3 #ned. http://t.co/fAj5IDz3Io

— Bleacher Report UK (@br_uk) July 12, 2014
With the 3-0 victory, the Netherlands officially finish in third place for this year's World Cup while Brazil will attempt to figure out how things went drastically wrong without Neymar on the pitch.