Will any of the 2014 Home Run Derby's participants best Josh Hamilton's incredible 28 first-round jacks in 2008—or Bobby Abreu's total of 41 in 2005 for that matter?
Given this year's talent, it's certainly a possibility.
Although, the 10 participants will have their hands full as they take Target Field on Monday. Due to recent rule changes, this year's sluggers will have to generate big numbers despite being afforded just seven outs rather than a total of 10 in years past.
Still, the Derby should be immensely fascinating given the diversity of hitters involved. So, who has what it takes to win it all?
Let's take a look at this year's participants and predictions for the slugfest.
Participants
2014 Home Run Derby Participants

| | | |
| --- | --- | --- |
| AL Hitter | Team | 2014 Home Run Tally |
| Jose Bautista | Toronto Blue Jays | 17 |
| Yoenis Cespedes | Oakland Athletics | 14 |
| Adam Jones | Baltimore Orioles | 16 |
| Brian Dozier | Minnesota Twins | 16 |
| Josh Donaldson | Oakland Athletics | 20 |
| NL Hitter | Team | 2014 Home Run Tally |
| Troy Tulowitzki | Colorado Rockies | 20 |
| Yasiel Puig | Los Angeles Dodgers | 12 |
| Giancarlo Stanton | Miami Marlins | 21 |
| Todd Frazier | Cincinnati Reds | 17 |
| Justin Morneau | Colorado Rockies | 13 |
ESPN.com
Predictions
Honorable Mention: Troy Tulowitzki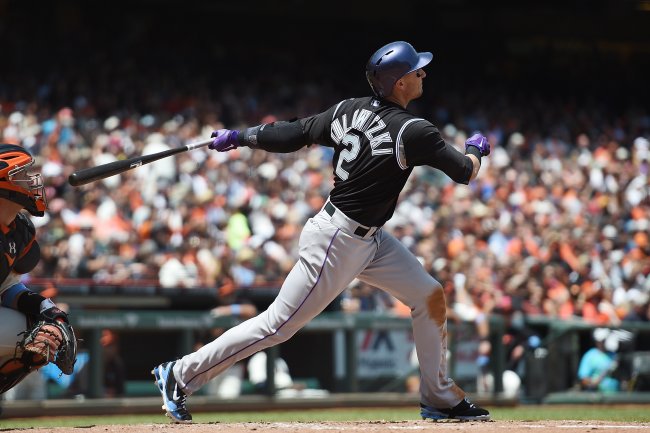 Thearon W. Henderson/Getty Images
The NL's captain gets the nod for an honorable mention.
A very talented hitter, Tulowitzki has already recorded 20 home runs this year and at least 24 in five of his last seven seasons.
The shortstop is also a versatile hitter with the ability to work with many pitches that come his way. ESPN Stats & Info tweeted a great graphic of Tulowitzki's habit of sending a variety of pitches out of the park:
Rockies SS Troy Tulowitzki now has 6 seasons with 20 or more HR & he hits them when thrown inside/outside/down middle pic.twitter.com/9AuBi1XyUC

— ESPN Stats & Info (@ESPNStatsInfo) July 10, 2014
Not only can he generate quick runs, but Tulowitzki's been incredibly efficient at the plate this season, currently batting a league-leading .351.
What may hold him back at the Home Run Derby is the fact he's averaging 399.40 feet per home run this season with 10 of his 20 jacks being very close calls.
If a few hits come up just short on Monday, so will Tulowitzki.
Runner-Up: Jose Bautista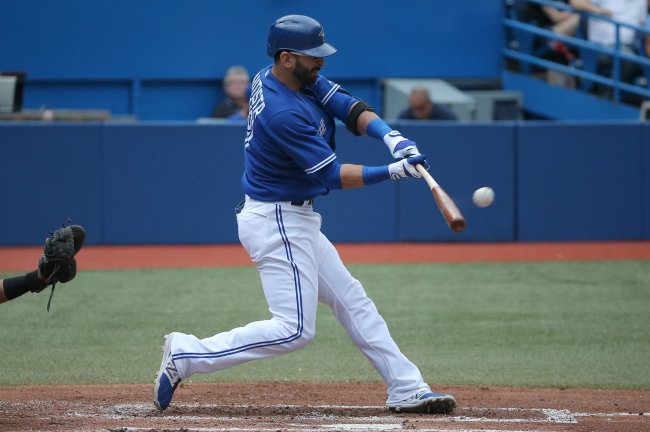 Tom Szczerbowski/Getty Images
The AL's captain comes up just short and settles for runner-up.
Bautista is a severe threat whenever he's at the plate. A great mix of power and efficiency makes him one of the most valued hitters in the majors.
Over the years, the outfielder has found some nice success at the plate, but his power really began to shine in 2010 when he sent the ball out of the park 54 times. He has yet to match that number, but has been extremely consistent since.
This season, Bautista already accumulated 17 home runs and his current .292 batting average is his highest since he hit .302 in 2011.
Bautista is averaging 404.59 feet per jack this season and only two of his long balls have come close to staying in the park.
Here's a look at some of his handiwork from earlier this season:
The 33-year-old slugger certainly has a great chance to come away with the title on Monday, but there's one NL hitter who's poised to edge him out.
Winner: Giancarlo Stanton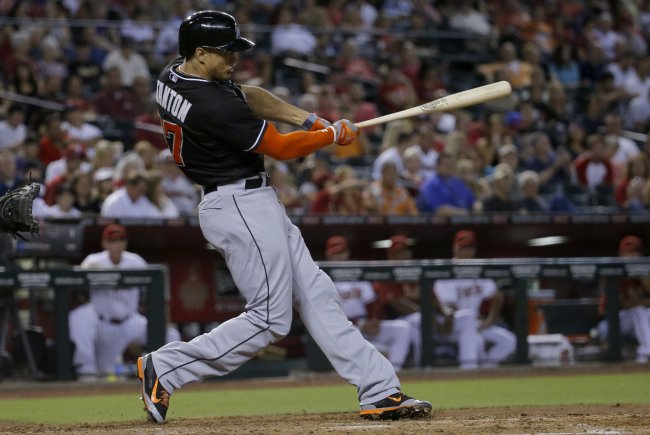 Matt York/Associated Press
Stanton has been an absolute monster this year and it's only fitting he gets the win.
The outfielder has been simply impressive for the Marlins since joining the team in 2010. Over his first four years, he hit no fewer than 22 jacks in each season with his biggest number being 37 in 2012.
Well, he's on pace to shatter that number in 2014.
So far this season, Stanton's already recorded 21 home runs while batting what would be a career-high .299.
But, wait. There's more.
Stanton's also averaging an incredible 423.76 feet per home run which is a great deal longer than any other participant in the Home Run Derby. This statistic from ESPN Stats & Info sums it up nicely:
Giancarlo Stanton has actually hit more 450+ foot HRs than any TEAM in MLB this season. pic.twitter.com/MS5nXi4kU4

— ESPN Stats & Info (@ESPNStatsInfo) July 10, 2014
If Stanton gets hot during Monday's event, the rest of the contestants may not stand a chance.