When David Blatt was hired as the Cleveland Cavaliers head coach, the team was very much in flux. It had yet to draft Andrew Wiggins, Kyrie Irving's contract situation was still up in the air and we were waiting for LeBron James to enter free agency.
Well, the Cavaliers struck gold across the board, as all three of these players appear to be in the fold for the long run.
Fox News reported Irving had signed a five-year deal to remain in Cleveland.
Sam Amico of Fox Sports tweeted Wiggins would not be traded from the team:
FYI: Again, Thursday afternoon, Cavs source told @FOXSportsOH: "Andrew Wiggins is not being traded."

— Sam Amico (@SamAmicoFSO) July 11, 2014
James returned to the city in which he began his NBA career:
All of a sudden, this isn't only a legitimate roster, this team appears to be a contender. Talk about an exuberant amount of pressure on a rookie head coach.
Obviously, Blatt is extremely excited about James' decision, according to an interview with ESPN.com's Jeff Goodman, "I'm thrilled with the news. It's exciting for the team, the state and for basketball. Life is full of surprises."
Although, with that jubilation comes a great deal of expectation.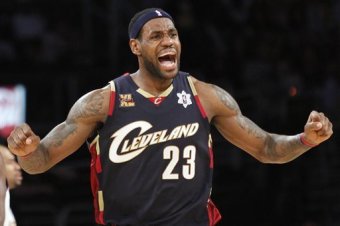 Lori Shepler/Associated Press
When James joined the Cavaliers back in 2003, the team was coming off a 17-win season and had very little talent on its roster—Ricky Davis was Cleveland's leading scorer.
This time around, the talent is there and it's up to Blatt to put it all together.

Even though he's considered a rookie head coach as far as the NBA is concerned, Blatt is highly experienced at the position.
In 2012, he won a bronze medal with the Russian team at the London Olympics and followed that up with a 2013-14 Euroleague title as head coach of Maccabi Tel Aviv.
Adrian Wojnarowski of Yahoo Sports certainly thinks highly of Blatt's experience overseas:
David Blatt will be tremendous coach for LeBron James, an innovative, creative mind. He'll learn a lot from ways Erik Spoelstra used him.

— Adrian Wojnarowski (@WojYahooNBA) July 11, 2014
Yes, those are some rather impressive accolades; however, one thing still looms large for Blatt this season: He's never coached a player with James' kind of talent. But, something must be said for his ability to earn an Olympic bronze medal with a team led by Andrei Kirilenko.
ESPN's Marc Stein put Blatt's roster at Maccabi into perspective as well:
David Blatt's top three players last season at Maccabi: Ricky Hickman, Tyrese Rice & my man @AlexTyus23. Now you know him as LeBron's coach

— Marc Stein (@ESPNSteinLine) July 11, 2014
James spoke about his expectations with Lee Jenkins of Sports Illustrated:
Of course, I want to win next year, but I'm realistic. It will be a long process, much longer than it was in 2010. My patience will get tested. I know that. I'm going into a situation with a young team and a new coach. I will be the old head. But I get a thrill out of bringing a group together and helping them reach a place they didn't know they could go. I see myself as a mentor now and I'm excited to lead some of these talented young guys.
There's a couple of things to take away from this statement.
How many wins does Blatt get in 2014-15 season?
First, LeBron preaches patience. That's good news for Blatt; however, how patient will owner Dan Gilbert be? After all, Paul Silas didn't last too long the first time James came around, and Blatt has even more talent at his disposal in 2014.
Also, LeBron considers himself the "old head" and looks forward to mentoring the younger players. Again, that seems great, but how much of the Cavaliers' success will be credited to James rather than Blatt?
This isn't a bad situation for Blatt at all. He's in a great position and is poised for success. However, this is far from a win-win for the rookie head coach. He will be under plenty of scrutiny from here on out, as the city of Cleveland yearns for a championship.