This season isn't looking too great for the Chicago Cubs or Chicago White Sox in the standings, but the two teams sure know how to engineer an online campaign to get their stars to the MLB All-Star Game.
The results are in, and the final two MLB All-Star roster spots are filled. The White Sox's Chris Sale and the Cubs' Anthony Rizzo were named as the winners of the online fan vote.
MLB's official Twitter account has the word:
A Windy City sweep! @ARizzo44 (8.8 million votes) and Chris Sale (6.7 million) win #FinalVote sponsored by Experian. pic.twitter.com/ioQwE5SKKK

— MLB (@MLB) July 10, 2014
Per Mark Newman of MLB.com, there were a total of 52.5 million votes cast for the candidates. Here's a look at the final order after the votes were cast.
MLB 2014 All-Star Game Final Vote Results

| | |
| --- | --- |
| American League | National League |
| 1. Chris Sale, LHP, Chicago White Sox | 1. Anthony Rizzo, 1B, Chicago Cubs |
| 2. Garrett Richards, RHP, Los Angeles Angels | 2. Justin Morneau, 1B, Colorado Rockies |
| 3. Rick Porcello, RHP, Detroit Tigers | 3. Justin Upton, OF, Atlanta Braves |
| 4. Corey Kluber, RHP, Cleveland Indians | 4. Anthony Rendon, 3B, Washington Nationals |
| 5. Dallas Keuchel, LHP, Houston Astros | 5. Casey McGehee, 3B, Miami Marlins |
MLB.com
The Chicago White Sox fans and media personnel deserve a ton of credit for getting Sale recognized. Obviously, Sale did his job on the field with an 8-1 record and an ERA of 2.08, but White Sox fans and media have proven to be a force in the Final Vote process.
This was the fourth time a member of the team has won the Final Vote. That's a record for the relatively new process of selecting the final two All-Stars.
Sale came away with 6.7 million votes to beat out the Detroit Tigers' Rick Porcello, the Houston Astros' Dallas Keuchel, the Los Angeles Angels' Garrett Richards and the Cleveland Indians' Corey Kluber.
Most believe the 25-year-old, hard-throwing left-hander should have been selected for the team conventionally, but he was one of the more notable snubs. The Final Vote effectively righted a wrong.
Check out how Sale's numbers compare to the Los Angeles Dodgers superstar Clayton Kershaw:
Clayton Kershaw puts his scoreless streak on the line, while Chris Sale becomes an All Star. How do they compare? pic.twitter.com/CppaHS2JWt

— ESPN Stats & Info (@ESPNStatsInfo) July 10, 2014
This is Sale's third-straight All-Star selection.
He joins White Sox teammates Jose Abreu and Alexei Ramirez in representing the American League this year.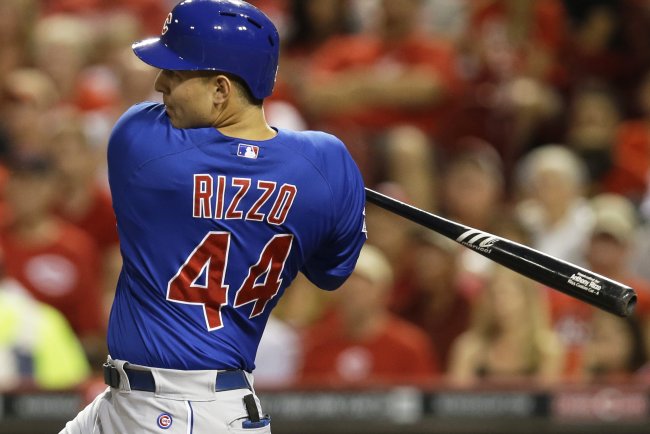 Al Behrman/Associated Press
Anthony Rizzo had his own strong case to be part of the National League All-Star team before the Final Vote. Heading into Thursday, Rizzo's 20 home runs were second only to Miami Marlins outfielder Giancarlo Stanton's 21 in the National League.
Still, Rizzo had to mount 8.8 million votes to beat out the Colorado Rockies' Justin Morneau, Miami Marlins' Casey McGehee, Atlanta Braves' Justin Upton and the Washington Nationals' Anthony Rendon.
Cubs broadcaster Len Kasper says the fans got the right guy:
Anthony Rizzo is a very deserving All-Star. As I said, he's our guy and we wanted him in, but he was the best candidate on that list.

— Len Kasper (@LenKasper) July 10, 2014
To go along with the 20 dingers, Rizzo is hitting .277 with 49 RBI and an OPS of .890. This is the first All-Star selection for the 24-year-old.
After word came down that Rizzo was the one selected to represent the Cubs and the National League, he tweeted this gratuitous message:
This process shows that @Cubs fans and Rizzo fans are the BEST fans! Thank you for your tweets, texts and votes! Now let's get a W ---Sarah

— Anthony Rizzo (@ARizzo44) July 10, 2014
Some might shun the concept of allowing the fans to select two more spots on the All-Star rosters, but it's hard to criticize Rizzo or Sale's inclusion.
If the Final Vote continues to ensure that worthy players get recognized in the All-Star Game, then it would seem that the process is working just fine. Also, anything that encourages millions of baseball fans to participate can't be a bad thing.