Five Chicago Bears To Watch at Training Camp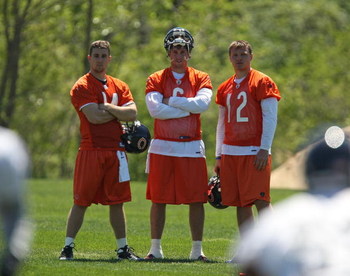 When the Chicago Bears open Training Camp on July 31, they are doing more than just running drills and weeding out a roster.
They are carrying the hope of the NFL's largest market. A hope that might surpass that of the Super Bowl bound Bears of 2006.
A wise man once said, however, you can hope in one hand and crap in the other and see which fills up first.
If the Bears are to make good on big-dance dreams, here are five under-the-radar guys not named Cutler who can have a big say in what can transpire this season.
Marcus Harrison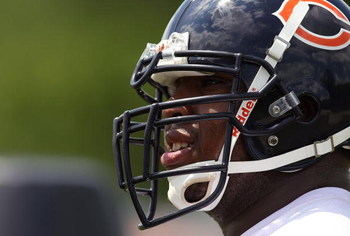 The Bears have always been known for their defense.
At least historically speaking.
Even though they ranked fourth in rush defense and second in takeaways, a good share of losses can be blamed on the defense.
Many are quick to point to demoted coordinator Bob Babich and his 12-man box. Regardless of opinion, the fact is it helped the Bears shut down running games.
The downfall, however, was a horrid exploitation of a depleted secondary through the air.
Enter Marcus Harrison.
While spelling the interior of the line last year, Harrison emerged as a surprisingly explosive player who lived up to the billing as a first-round caliber talent despite a third rounder.
This year, the Bears are putting him in the middle of a battle at Nose Tackle which features incumbent starters in Dusty Dvoracek and Anthony Adams, who is believed to be the favorite.
Recent whispers, however, point to Marcus Harrison as a real contender. Word is, defensive line coach Rod Marinelli is in love with Harrison's potential and has readying the former Razorback to become the Bears new Nose Tackle.
Many inside the organization feel Harrison has the ability to become the force the Bears have been missing at NT since Ted Washington. Harrison, however, profiles as a player who can beat you both with a bull rush and an unexpected first step.
That, in turn, should free up the NFL's statistically most profilic LB corps to make plays away from the line of scrimmage.
Brandon Rideau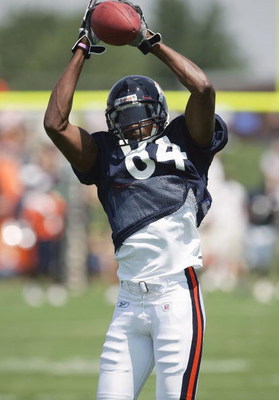 Stop me if you've heard this one: The Bears' receiving corps is suspect.
Wait. Nevermind.
This is actually a group that is plenty talented, but low on production. That, however, comes from a lack of opportunity.
This season, like it or not, the opportunity for guys like Earl Bennett and Brandon Rideau is great.
The former, Cutler's go-to guy in his Vandy days and the latter, the first receiver Cutler singled out after OTAs.
Rideau has not been a stranger to the first team offense this offseason, and at 6'3", he provides the size the Bears are so desperately looking for. With an intimate knowledge of the playbook, this might just be the year this training camp star shines.
Corey Graham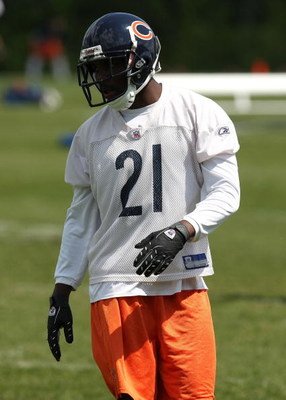 Michael Green. Chris Harris. Danieal Manning. Brandon McGowan. Kevin Payne. Craig Steltz. Mike Brown.
Those are all the guys who have started at Free Safety under Lovie Smith. It's the new QB for the Bears.
Hey, if Cutler can do it, so can Corey Graham.
And why not? The six foot CB had the highest percentage of play involvement last year. He filled in admirably for Nathan Vasher, who has fallen back in favor of the coaching staff to the point where there will be no competition for his job.
Where others have failed, however, Graham will not. He has the range too many have lacked at the position, but he has the smarts and tackling ability to come up on run support.
In short, he is what the Bears wanted Danieal Manning to be. If Graham can stay healthy, he will be hard to beat for the FS job.
Chris Williams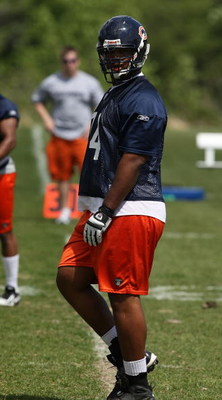 How does a first rounder become an under the radar player?
If he does not play his rookie season, his team makes the biggest trade of the last 15 years, and a future Hall of Famer is signed to man the position he was penciled in at.
Chris Williams is in such a position. The Bears projected Right Tackle has shown the right stuff so far...in non-contact drills.
His trademark has always been pass protection, but he must get a better push in the run game, especially on the right side, where bigger ends are common.
If Williams plays well, he will solidify two positions: Right and Left Tackle. Orlando Pace cannot play forever, and with Williams in place, the Bears have a long term answer at the position.
Williams cannot take the spot for granted, however. Kevin Schaffer is making considerable money and is talented enough to start.
Training Camp will be crucial for Williams, accented by the fact he has never been through an NFL training camp.
Zackary Bowman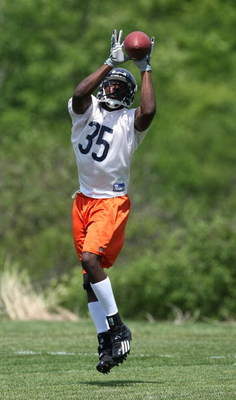 Former Nebraska standout Zack Bowman has been turning heads this offseason.
He surgically repaired knees are regaining that 4.3 speed, and he's posted an unofficial 12 INTs in OTAs and mini camp, a team high.
That definitely turns heads.
But what Bowman might have going for him the most in his quest to get on the field has nothing to do with the strides he's making.
If the Bears have learned anything about the Devin Hester experiment, its that asking a dynamic returner to be more is...well...too dynamic.
Using that same principle to current KR stud Danieal Manning, the Bears would be wise to relieve him of his Nickel duties.
After the work Bowman has put in, one would think he would top the list of potential candidates.
Keep Reading

Chicago Bears: Like this team?