Updates from Friday, July 18
John Fay of the Cincinnati Enquirer reports the latest on Bailey's status:
Bailey threw a full bullpen. Price expects him to be ready for Tuesday start. Same with Latos #reds

— John Fay (@johnfayman) July 18, 2014
Original Text
Just five months after signing a massive contract with the Cincinnati Reds, Homer Bailey appears to have suffered an injury while pitching Thursday against the Chicago Cubs.
The team's official account reported the news on Twitter:
Bailey left with pain in patellar tendon, right knee.

— Cincinnati Reds (@Reds) July 10, 2014
John Fay of the Cincinnati Enquirer reveals the seemingly insignificant nature of the injury:
Bailey slight strained knee. Expect him to make next start.#reds

— John Fay (@johnfayman) July 10, 2014
Jeff Passan of Yahoo Sports provided more on the scene from the ballpark:
Homer Bailey out in the sixth inning after a messy-looking delivery. Heading straight for the clubhouse.

— Jeff Passan (@JeffPassan) July 10, 2014
Fay hilights Bailey's history with knee injuries:
Pretty sure that Bailey had knee surgery in the minors. Was on L'Ville DL with sprained knee in 2008. Right one, however. This is left #reds

— John Fay (@johnfayman) July 10, 2014
Correction: It is Bailey's right knee. That's one that put him on DL in Louisville. #reds

— John Fay (@johnfayman) July 10, 2014
On the year, Bailey has gone 8-5 with a 4.21 ERA and 105 strikeouts including Thursday's contest. Prior to the season, he agreed to a new six-year, $105 million contract with a mutual option for a seventh year.
Bailey landed on the disabled list due to a shoulder injury in 2011 but has been a consistent force since that point.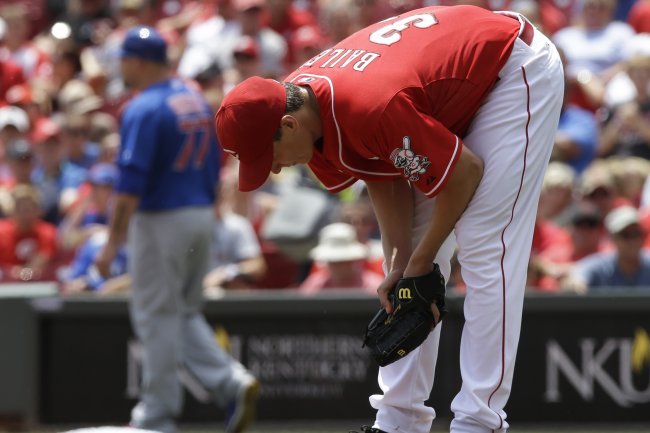 Al Behrman/Associated Press
While his numbers haven't been spectacular this year, he's still toed the rubber over 30 times in each of the last two seasons. He's also pitched over 200 innings each of those years, making him a durable option for any rotation.
Entering Thursday, the Reds were 49-42 and clawing their way back into the NL Central race thanks to a five-game winning streak. With the Milwaukee Brewers and St. Louis Cardinals still atop the standings, Cincinnati can't afford to lose the consistent starter for any length of time.
Luckily for the Reds, the All-Star break is coming, which will allow Bailey some time to recuperate. With no word on whether or not Bailey will have to miss time, the Reds now are just hoping the pitcher's injury is minor.
Follow @RCorySmith on Twitter.