Can Rolando McClain Revive His Career in Dallas?
July 11, 2014

USA TODAY Sports
The odds are not in Rolando McClain's favor. 
The good news for the Dallas Cowboys, who acquired McClain from the Baltimore Ravens for next to nothing last week, is that both they and the former No. 8 overall pick have little to lose at this point. 
If things don't pan out, Dallas can release McClain without surrendering a draft pick or paying him a penny. 
But if the former Alabama star makes the 53-man roster and gets his career back on track, the Cowboys could end up losing a sixth-round pick in that condition-laced trade with Baltimore. A cheap price to pay for help at a position that lost Sean Lee earlier this offseason. 
Can that happen? 
McClain didn't even participate in a single Baltimore practice over a 15-month span. The Ravens took a swing at him for the same reason as the Cowboys—they saw the raw talent and were desperate for help at linebacker.
But beyond the talent, McClain appears to be nothing but trouble. He's been arrested three times in two-and-a-half years, he failed a conditioning test with the Ravens earlier this offseason, and he has retired twice in an 11-month span. 
Now he is attempting yet another comeback despite having not suited up for an NFL game since November of 2012—just before the Oakland Raiders grew tired of his poor play on the field and antics off it. 
But can the 24-year-old regain what made him so good in college half a decade ago? Can he recapture some of what made him a top-10 pick in the 2010 NFL draft? 
McClain has to know that, despite all of that talent, this is probably his final shot. That's not always enough—as we saw with Tanard Jackson this week in Washington, for example—but Dallas might also be an ideal spot. Not only is there an opportunity with Lee out for the year, but Justin Durant is a trustworthy veteran who can offer support, and Bruce Carter has the ability to provide a push as well. 
Plus, he's in good hands with defensive coordinator Rod Marinelli, who has helped revive multiple careers. McClain only needs to ask new teammate George Selvie about Marinelli's magic touch. 
But first, McClain has to prove that he's dedicated to the game. He has walked away twice prior to his 25th birthday, which is a concern. His agent, Pat Dye, told ESPN.com's Todd Archer that McClain "sounds as excited about football as I've ever heard him."
But only three months ago, in a text message to ESPN's Seth Wickersham, this is how he described his decision to retire from the Ravens: "I gotta follow my heart. It ain't football. If football made me complete I would play. But whenever I think of it my heart pulls me away from whatever reason. ... This means I'm done."
At the very least, there's a strong indication McClain isn't entirely committed to being a football player. And until he can prove otherwise, the Cowboys can't afford to lean on him. 
And in addition to that, McClain will have to prove that he has the physical ability to be relied on in NFL games. His 2010 rookie season is forgivable, and 2012 was a mess for several reasons. He didn't play in 2013. But if you want a feel for what McClain might be able to bring to the table moving forward, you'd be best served viewing tape from his rather solid 2011 campaign. 
That year, as a sophomore, McClain led the Raiders with 79 tackles in 15 games and 14 starts. After watching every play he made for Oakland that year, we've drawn some conclusions.
First, despite some embarrassing moments and shabby performances, the good outweighed the bad when it came to his tackling ability. That was always a strong point of McClain's in college, and his run defense was actually superb that year in Oakland. 
Again, he had some bad days. These whiffs in Week 1 against Denver got a little out of hand:
NFL Game Pass
And at one point, even Tom Brady was able to make him miss:
NFL Game Pass
But McClain got better as the season wore on, becoming more disciplined in his approach and improving his ability to read opposing backs. 
Here are three examples of plays where McClain displayed tremendous instincts and smart reads, despite being only 22 years old:
NFL Game Pass
NFL Game Pass
NFL Game Pass
McClain also has stellar pass-rushing chops for a guy who has spent the majority of his career at inside linebacker. Here is evidence in a top-notch Week 14 performance against Green Bay: 
NFL Game Pass
A lot of folks wonder if McClain can hold up in coverage, and that's a reasonable question. It's obvious he's a little stiff, and the NFL game sometimes appears to be a little too quick for him. He's sometimes too slow getting across laterally, but we actually found several very impressive plays in coverage from McClain in both zone and press-man coverage. Three examples: 
NFL Game Pass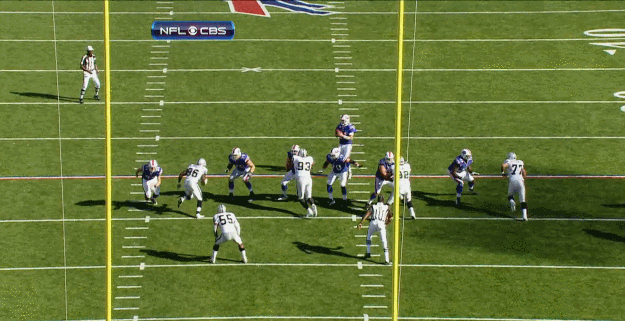 NFL Game Pass
NFL Game Pass
McClain's advanced stats at Pro Football Focus (subscription required) have typically been above average. As a rookie, he was graded as the 14th-best inside linebacker in the game, and in 2011 he was graded as the fourth-best pass-rusher at that position. 
Rolando McClain: PFF grades in Oakland
Year
Grade
Rank at ILB
Highlight
2010
9.7
14th out of 50
8th-best run defender
2011
1.9
23rd out of 51
4th-best pass-rusher
2012
9.5
11th out of 53
8th-best tackler/run defender
Pro Football Focus
For whatever reason—probably a lack of experience and an aggressive style—when he misses tackles, he really misses tackles. But his numbers in that area have always been relatively strong. 
McClain might never be the perennial All-Pro many expected he'd become, but despite some glaring flaws, he does have the ability to become a Pro Bowl-caliber, jack-of-all-trades linebacker. After studying the tape closely, we're prepared to conclude that—intangibles notwithstanding—he's probably the most skilled linebacker on Dallas' active roster.
The question now is whether he can finally get his head straight.