After finishing fourth in the English Premier League during the 2013-14 season, Arsenal are working toward improving in the upcoming campaign. One way of doing that, of course, is through transfers.
The Gunners have been busy this offseason looking to build toward a strong season, hoping to bring in players who will help them remain as one of the top clubs in the EPL.
Following strong showings on the World Cup stage, quite a few players could be joining Arsenal through transfers.
With recent news coming out about myriad players who might be transfer targets, here's a look at the latest for Arsenal.
Alexis Sanchez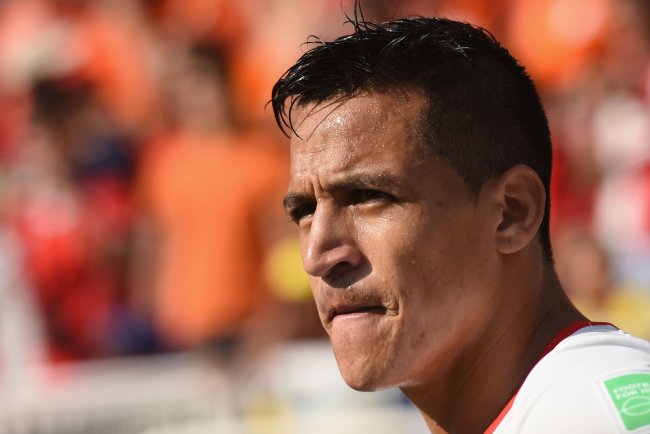 Matthias Hangst/Getty Images
It's official, Alexis Sanchez is now a Gunner.
The Chile forward agreed to leave FC Barcelona to join Arsenal on Thursday, per the Arsenal official account:
It's official! Alexis Sanchez has agreed to join @Arsenal! http://t.co/EL64o0m3j7 pic.twitter.com/gbDWNgdo2y

— Arsenal FC (@Arsenal) July 10, 2014
Sanchez had a brilliant World Cup and is now hoping that translates over to the pitch with Arsenal. The club also provides a photo of the player in his new kit:
PICTURES: Alexis Sanchez in his @Arsenal training kit: http://t.co/d2RurUCykA pic.twitter.com/BKYRCmoyYc

— Arsenal FC (@Arsenal) July 10, 2014
After scoring two goals and notching one assist in Brazil, Sanchez proved he can be a consistent offensive weapon. The 25-year-old tallied one goal against Australia in the opener but also found the back of the net in the 1-1 draw with Brazil in the round of 16 match that ended with Brazil winning on penalties.
Several moves might still be made for Arsenal, but Sanchez helps them on offense for next year. Though Sanchez's country might already be out of the World Cup, Arsenal might be targeting a player still in the running.
Sami Khedira, Real Madrid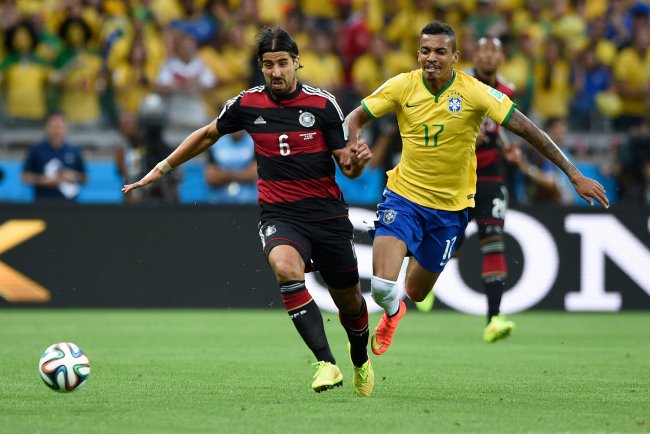 Witters Sport-USA TODAY Sports
Following a blowout performance by Germany over Brazil, Sami Khedira came away with his first goal of the 2014 World Cup.
Along with that, he is also drawing quite a bit of attention for his play on football's biggest stage. One club that he has turned down is his current team, per Metro:
Now respected El Confidencial newspaper says Khedira has rejected the opportunity to sign a new two-year extension with Madrid, and is pushing to join Arsenal.


[...] Khedira has just 12 months left on his current Madrid contract so the Champions League winners may be forced to sell now.
With Khedira showing his consistent play at the World Cup level, he's sure to be an attractive player to several clubs. But if the news is true, Arsenal might have the upper hand in transfer talks with the German midfielder.
His wage demands might be high, according to Metro, but the 27-year-old has a chance to help the team compete next year. The midfielder was a huge issue during the World Cup semifinal against Brazil, as Sam Tighe of Bleacher Report notes:
Sami Khedira's vertical running with the ball already looking a real problem for Brazil. #GER #BRA

— Sam Tighe (@stighefootball) July 8, 2014
The rejection of a Real Madrid offer appears to be a good sign for the Gunners, but nothing is official at this point for Khedira. If Arsenal are able to bring him in, the midfielder still has a lot to offer for the club.
Bernard, Shakhtar Donetsk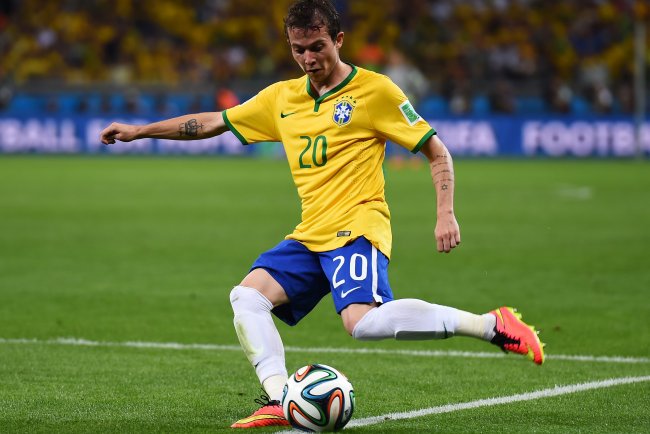 Buda Mendes/Getty Images
Despite the fact that Brazil are coming off a game where they were dismantled by Germany, one player might still be on Arsenal's radar.
Bernard, who played in his third match during the World Cup in the semifinal, is a winger with plenty of potential for Brazil. Wayne Veysey of Goal.com reports the latest on the club's interest in the 21-year-old:
Shakhtar value Bernard at around the £20m mark and Arsene Wenger is understood to be keen on making a move as Arsenal put the finishing touches to the capture of Sanchez.

The Gunners manager wants a second elite forward who can provide further mobility and pace to an attack that was found to be one-dimensional last season.
The news came prior to the addition of Sanchez but appears to be a move that the Gunners will still pursue. Veysey also noted the club has already learned that Bernard is eager to move on from Shakhtar.
Though Brazil were routed in the semifinal, Nikolas Postinger of We Play believes Bernard was one of the bright spots in the World Cup:
Who survives from that Brazil squad after this tournament? Few fit to wear the shirt. Neymar, Thiago Silva, Oscar, Bernard; that's about it.

— Nikolas Postinger (@nikpostinger) July 8, 2014
Though he wasn't able to make up for the loss of Neymar in the World Cup, Bernard is still a young player who can emerge with Arsenal. Nothing is concrete for the winger, but his pace and energy might be a huge get for the Gunners.