Patrick Kane's career path just took a turn from the stellar to the sublime.
Along with running mate Jonathan Toews, the 25-year-old Chicago Blackhawks superstar signed an eight-year contract extension Wednesday, a deal that will keep him in Chicago through the 2022-23 season and pay him $10.5 million per year, beginning with the 2015-16 season.
Kane (and Toews) will earn $6.5 million next year.
"It's great to be able to continue my career in Chicago," Kane told Chris Kuc of the Chicago Tribune. "Playing with the best organization in sports and the best fans in the game is a blessing."
Kane has been special during the first seven years of his career. He won the Calder Trophy as the NHL's rookie of the year in 2007-08. He won the Conn Smythe Trophy as the playoff MVP in 2013. He has been a part of two Stanley Cup championship teams for the Blackhawks and two U.S. Olympic teams. He has also played in three NHL All-Star Games.
The signature on Kane's career at this point has been his ability to come up with big goals at the most important moments. He scored the Stanley Cup-winning goal against the Philadelphia Flyers in overtime of Game 6 in 2010. That goal gave the Blackhawks their first league title since 1961.
In their championship run in 2013, Kane scored the overtime goal that eliminated the Los Angeles Kings in Game 5 of the Western Conference Final when he took a pass from Toews and blistered a shot past Kings goalie Jonathan Quick.
In the pivotal Game 5 of the Stanley Cup Final against the Boston Bruins, Kane scored two magical goals that highlighted his remarkable hand-eye coordination as the Blackhawks won the game and took a 3-2 lead in the series.
In this year's playoffs, he scored eight goals and 12 assists in 19 games to lead the Blackhawks, and his spectacular "Showtime" goal against the Minnesota Wild was just another indication of Kane's remarkable skill level.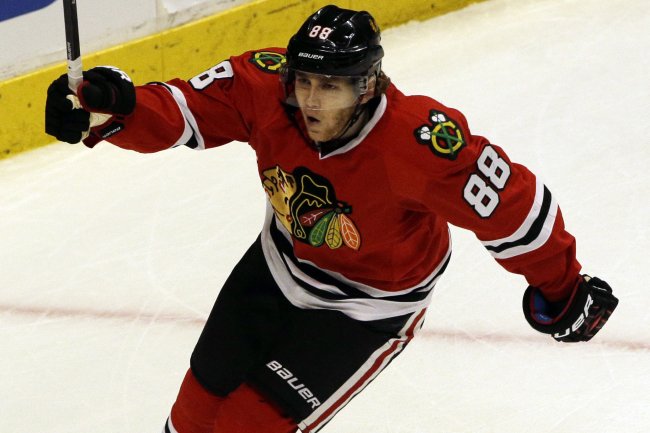 Nam Y. Huh/Associated Press
But for all of Kane's success, and for all of the angst he causes opposing coaches and defensemen, he has never been among the league's scoring leaders.
Players who can come up with huge plays at key moments clearly have dominating ability, but Kane has never scored more than 30 goals or 88 points in any season.
Kane's high-water mark came in 2009-10, the year the Blackhawks won their first title in the Kane-Toews era. That's the year when he scored his 30 goals and 88 points.
Kane scored 27 goals the following year, and he had 29 last season. He does not belong in the same category as Steven Stamkos, Alex Ovechkin or Corey Perry when it comes to scoring goals in the regular season.
One of the reasons for that may have been the Blackhawks' inability to pair him with a center who could take advantage of Kane's remarkable talent and set him up with scoring opportunities on a consistent basis.
Michal Handzus played center for Kane throughout much of the 2013-14 season, and it was not a good match. Handzus was too slow to skate with Kane, and his passes were not accurate enough, either.
Handzus was not re-signed by the Blackhawks after the season, and general manager Stan Bowman and head coach Joel Quenneville were fully aware of the team's inadequacy at the No. 2 center position. As a result, the team brought in former New york Ranger Brad Richards as a free agent to man that role in 2014-15.
Richards, 34, was bought out by the Rangers after they fell short in the Stanley Cup Final against the Kings, as he struggled to keep up with the fast pace.
Richards has probably lost a step or more in the last two seasons, but he still appears to have enough in the tank to work a good partnership with Kane. While he may have a problem keeping up with Kane's quickness, he is quite a bit faster than Handzus.
More importantly, Richards is a slick and accurate passer (31 assists last season). He doesn't need much room to thread the needle and feed a sharpshooter like Kane with glorious passes that lead to first-rate scoring opportunities.
Kane also has to take some of the responsibility for not ranking with the top goal scorers in the business. He had some personal issues early in his career that allowed observers to question his overall commitment to the game.
However, he appeared to outgrow those immaturities in 2013, when the Blackhawks won their second Stanley Cup in four seasons.
How many goals will Patrick Kane score in 2014-15?
If Kane can stay healthy and develop a good rapport with Richards—and the Blackhawks continue to be one of the dominant teams in the Western Conference—this should be the season when Kane blows past the 30-goal mark and perhaps makes a run at 40.
Blackhawks fans are happy with the core leadership they have in Toews, Kane and defenseman Duncan Keith.
However, they wouldn't mind seeing Kane increase his numbers so he can have a goal total that is commensurate with his future salary.