The target will be over the fences at Target Field on July 14, as the 2014 Home Run Derby will feature some of the game's top sluggers competing to see who is the king of the long ball.
It's hard to go wrong when choosing a favorite in the derby. All of the sluggers are in the competition for a reason. Sometimes all it takes is a hot streak during a round to catch fire and win, and that could easily happen in this year's installment of the event.
Troy Tulowitzki and Jose Bautista are the captains for the National League and American League, respectively, but they aren't the guys you should watch during the competition. While they'll certainly put up nice numbers, they won't be able to outdo the performances of three other competitors.
Look out for the following three players to steal the show.
Giancarlo Stanton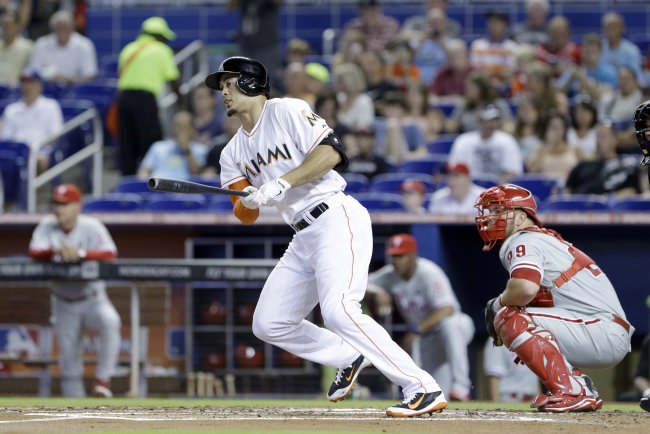 Wilfredo Lee/Associated Press
If you love absolute moonshots, then Giancarlo Stanton is your man.
He leads the majors with an average distance on his 21 homers of 423.8 feet, courtesy of ESPN's Home Run Tracker, making him one of the most dynamic sluggers in the game today.
A good reason why his average distance is so far is because of this monumental shot he launched against the Colorado Rockies:
Yes, @Giancarlo818 will compete in this year's #HRDerby. Get ready for a lot of this: http://t.co/TZNJ9PNpOh http://t.co/jPs4DvIzLJ

— Cut4 (@Cut4) June 28, 2014
Many around the game are excited to watch Stanton mash baseballs on national television. Anthony DiComo, New York Mets beat writer for MLB.com, gets to watch Stanton destroy Mets pitchers on a semi-regular basis. He's even happy to see the Miami slugger in the competition:
Finally! Giancarlo Stinkin' Stanton in the Home Run Derby. That's going to be a much-watch.

— Anthony DiComo (@AnthonyDiComo) July 8, 2014
It's definitely going to be a must-watch. Stanton has power to all fields, but assuming he and manager Mike Redmond (his pitcher for the game) are on the same page, a majority of his home runs should go deep into the left field stands.
If he can hit moonshots to center and right, imagine what he can do when he knows where the ball is going to be. I feel bad for the baseballs, honestly.
Yoenis Cespedes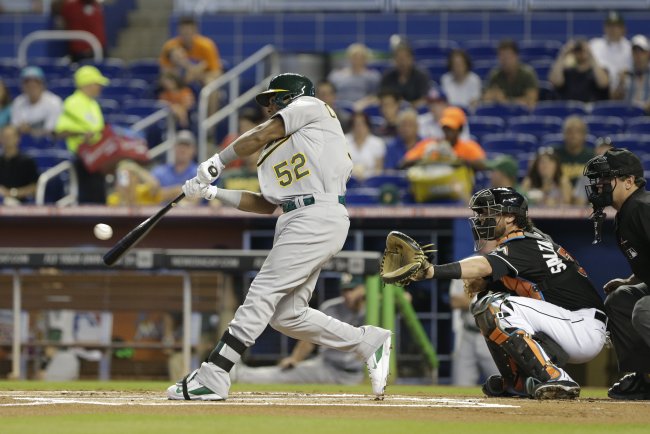 Wilfredo Lee/Associated Press
Yoenis Cespedes won last year's event, and even though the format is different this time around, he has to be considered a favorite again. That said, SportsCenter's Twitter account pointed out that we haven't had a repeat champion in 15 years:
Yoenis Cespedes will try to repeat as Home Run Derby champ. Last man to pull it off? Ken Griffey, Jr., 15 years ago. pic.twitter.com/yitdAAxiNC

— SportsCenter (@SportsCenter) July 8, 2014
The Oakland Athletics outfielder is certainly appreciative of the chance to get to compete again, via Jane Lee of MLB.com:
If there was any doubt of Cespedes doing Derby, he says through Ariel Prieto, "I also feel so happy to again be part of the Home Run Derby."

— Jane Lee (@JaneMLB) July 7, 2014
Like Stanton, Cespedes has been known to crush a few baseballs. Of course, Cespedes is probably most known to the fans for his spectacular throwing arm from left field. Either way, he's generating quite a buzz leading up to the event.
Adrian Garro of Fox Sports is particularly excited to see Cespedes and Yasiel Puig in the same event:
Yasiel Puig AND Yoenis Cespedes in the Home Run Derby? It'll be like bat flip Christmas. #Athletics #Dodgers

— Adrian Garro (@adriangarro) July 8, 2014
Getting into a groove will be crucial for Cespedes. We all saw what he could do last year when he got going, so it's probably only a matter of time. When his swing is right, Cespedes can pose a threat to every other hitter in this contest.
Todd Frazier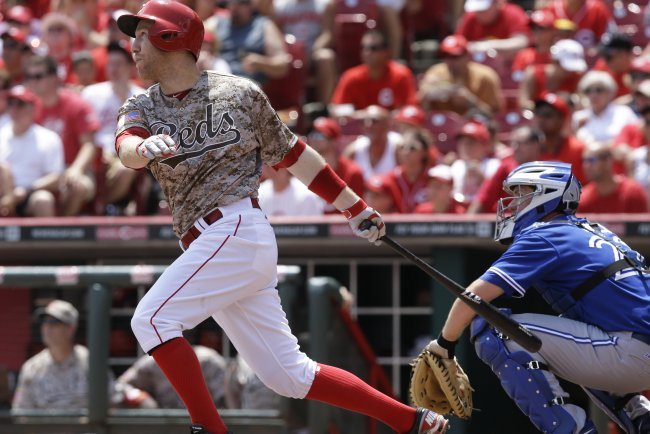 Al Behrman/Associated Press
Todd Frazier is a bit of a dark-horse candidate compared to the other hitters, but he has underrated power and a solid swing that allows him to drive the ball. He'll be carrying all of Cincinnati with him in the event, as he's the first Cincinnati Reds player to participate in the event since Ken Griffey Jr. in 2000:
.@FlavaFraz21 to participate in 2014 Home Run Derby. He's the 1st Reds since Ken Griffey Jr. in 2000. #ASG #HRDerby pic.twitter.com/YDX4UYxU8F

— Cincinnati Reds (@Reds) July 8, 2014
The third baseman has 17 homers in 344 at-bats this season. He has really come into his own as a player after two solid, yet unspectacular, seasons prior. With 19 homers in each of the past two seasons, Frazier is on pace to absolutely shatter his career high.
While he isn't a sexy pick like Stanton or Cespedes, Frazier will surprise the folks at Target Field. His ability to drive through the ball and pick his pitch will help him advance through the competition. He has a good eye at the dish and can recognize where a pitch is going to be. If he doesn't like the offering from his pitcher, then he won't waste an out by swinging.
Even if Frazier doesn't win the competition, he'll put on a show by driving a few balls deep into the Minnesota night.
Follow Kenny DeJohn on Twitter: @KennyDeJohn_BR