It seems like destiny.
It's a new era, but Argentina and Germany were guaranteed to meet in the finals at a World Cup for the rubber match of their historic rivalry.
Flash back to 1986 in Mexico City, when Diego Maradona and the "Hand of God" goal made history in a 3-2 triumph. Four years later in Rome, Andreas Brehme struck gold on a penalty kick to draw the rivalry to an even tie in Finals dances.
The two juggernauts have since awakened from their slumber for a Round 3 under the careful eye of the globe in Brazil. Here's how to catch the contest.
What: World Cup Final
When: Sunday, July 13 at 3 p.m. ET
Where: Maracana Stadium, Rio de Janeiro

TV: ABC
Stream: WatchESPN
Preview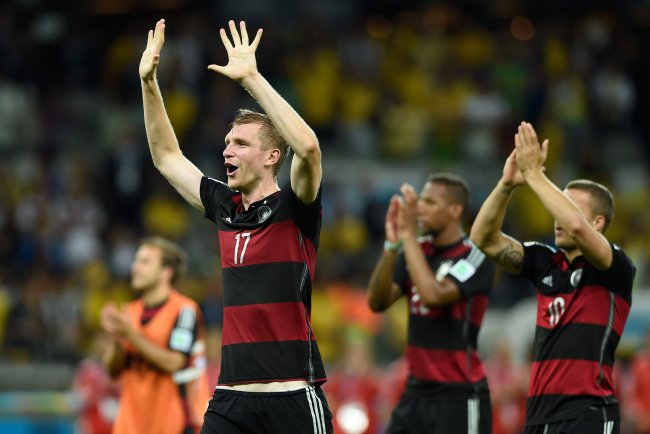 Witters Sport-USA TODAY Sports
Even if the two sides have not been in a Finals match for 24 years, as ESPN Stats & Info illustrates, they have not been without success and similar patterns:
A look at the World Cup histories for Germany and Argentina pic.twitter.com/tGGkVy8zyd

— ESPN Stats & Info (@ESPNStatsInfo) July 9, 2014
But it is important to note that recent history does tend to favor the German side, as Numbers Never Lie was quick to point out:
Just so ya know... Germany has eliminated Argentina from the last two World Cups.

— Numbers Never Lie (@ESPN_Numbers) July 9, 2014
Pair that with the form of the German side and, well, it is hard to blame anyone on the planet outside of Argentina for heading into Sunday's duel thinking the Germans will fell Lionel Messi and Co.
After all, the Germans enter after running roughshod all over the home-side Brazilians in a 7-1 semifinals stinker. That means Germany has yet to lose a game and have posted 17 goals in five matches.
But it is important to put the semifinal match into perspective. Brazil may have been the home side and had the support, but it was clearly one that was downtrodden and had thrown in the towel from the opening gun thanks to a devastating injury to Neymar and a questionable suspension to Thiago Silva (not to mention a questionable attack-minded strategy that left the middle of the pitch naked).
As a result, early indications are about as expected, with Germany as the favorite, as ESPNs RJ Bell reports:
#WorldCup Final: Germany -160 vs. Argentina +140 (via @LVSuperBook)

— RJ Bell (@RJinVegas) July 10, 2014
While not as sexy as seven goals in a semifinal by any means, the Argentinians have been every bit as dominant.
Hailed as an offensive-minded side, Messi and Co. have surrendered just three goals, somewhat thanks to a rock-solid formation but mostly because of the efforts put on by netminder Sergio Romero.
Romero's form was on display the entire time with the Dutch, but most importantly in the penalty shootout:
The @VW #TopPerformance goes to Sergio Romero, who sends #ARG to its 1st final since 1990 with 2 shootout saves vs. #NED #NEDvsARG

— ESPN Stats & Info (@ESPNStatsInfo) July 9, 2014
"Penalties are all about luck, that is the reality. I had confidence and thanks to God it turned out well," Romero said after the 4-2 penalty shootout triumph over the Netherlands that decided the semi-final, via Fifa.com.
Of course, the intricacies of the match will be overshadowed by one simple caveat—Messi's quest to fulfill his destiny, not to mention finally surpass the legend that is Maradona in his own country.
But there is one problem, as the Dutch authored a blueprint on how to silence the star, as Mike Prindiville of Pro Soccer Talk explains:
Argentina needed more out of Messi, they needed a hero to step forward. In the first half a few tough but legal tackles had him looking frustrated and his only chance – a free-kick from 20 yards out – was put directly into the hands of the Dutch keeper. He wasn't finding any space through the middle so in the second half he went wide only to once again find slim pickings.
It's a blueprint that the ludicrously deep German side can utilize to great effect, although one can never discount the propensity for heroics from Messi.
Which side wins the final?
Either way, the Germans continue to roll like a well-oiled machine that is by far one of the deepest rosters ever assembled, so if Romero can get things to penalty kicks, one has to think the clutch factor of that roster would have an advantage.
Translation? Messi, with Argentina content to sit and protect the midfield, will have to end the game in regulation.
No matter the outcome, the matchup—on paper—has the look of a classic.